---
29 February 2012
ALTY LADIES 5 SANDBACH UNITED LADIES 2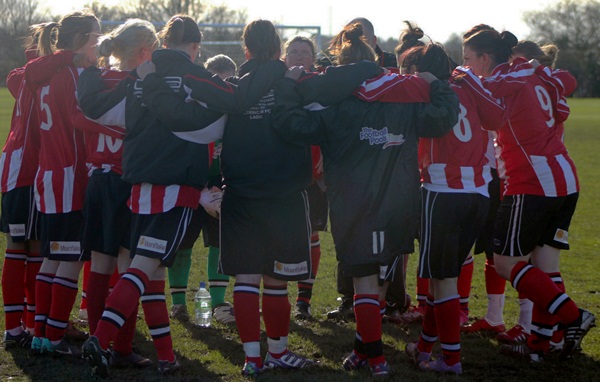 Altrincham Ladies' manager Keith Edleston has kindly provided the following match report on last Sunday's match. The Ladies are at home again this Sunday (2pm) against Stockport County Yellows at Ridgeway Road (Manor Farm).
Ladies in Resounding Cup Win.
It was a great weekend for the Ladies' first-team as we hosted Sandbach United FC Ladies at Manor Farm, It's always a good game when we play each other and this match followed, true to fashion, as both teams played out an entertaining 90 minutes for both sets of supporters to watch.
As in previous weeks when we have played well, the goals haven't materialised from us either because of hitting the woodwork, good defending by the other teams or just not quite putting the right finishing touch to hit the target. Having said that, this week was going to be an exception, with Maya causing their defenders a lot of problems from our left wing. After, maybe, an even start, our first goal came on 37 mins when she beat a defender and crossed the ball into the box, only for another defender to get in the way and divert it over the outstretched hands of the Sandbach keeper and into the net.
Right: Manager Keith Edleston's image of the Ladies' squad last Sunday.
Well, it was then like a bus and, when one comes, inevitably you get another arriving at the same time. So, on 43 minutes, Maya again hit a shot from just outside the box only for it AGAIN to hit a defender and send it the opposite way to which the keeper was diving! We couldn't believe our luck.
Half Time: 2-0
The second half started quite evenly, with both teams attacking, and on 51 minutes Sandbach pulled a goal back, only for Faye to make it back into a two-goal cushion on 57 minutes with a cracking shot from just inside the area.
Well, our tails were well and truly up now and the belief in the players was evident for all to see with them being more confident on the ball and eager to try different things. On 61 minutes, Faye again scored to make it 4-1, followed on 73 minutes by a stunning strike from Natalie to make it 5-1.
The game's pace then slackened off a touch, with Alty taking the foot off the pedal, and Sandbach scored from a corner to make a final winning score of 5-2.
I was very pleased with our performance today and it really does bode well for the future....UP THE ALTY!!"
OLD BOYS
Jack Redshaw made his Morecambe debut on Tuesday night, coming on for the final half hour as Morecambe lost 1-2 at home to bottom club Dagenham & Redbridge. Kevin Ellison scored The Shrimps' goal.
YANKEE'S £5,000 TO BE WON
The Altrincham FC Saturday Yankee produced five winning Trebles last week, each code holder winning £40. But both the £5,000 jackpot and £2,000 reserve jackpot remained unwon as the winning sequence of 3546 was unissued.
NEXT OPPONENTS
News of Alty's next opponents comes from
BSB North
which tells us that "Histon manager David Livermore has revealed his side almost missed out on signing striker Dan Holman last summer. The Northamptonshire-based forward has been a revelation for the Stutes this season, netting an impressive 19 goals. However, Holman may have been playing his football at Evo-Stik Southern League Division One Central side Daventry Town instead.
Livermore told Cambridge News, 'Howard (Wilkins), our club secretary, put us on to him and we had him watched last season before he came and played in a trial game. The first bit of movement he had was a fantastic run in behind, very direct, and the team he was playing for nearly scored. And the next time he got the ball he headed it in. We knew we had to get him back in pre-season and, to be fair, we almost lost him to Daventry. They put an offer in that he was considering because he lives over that way. Between me and Brian (Page, assistant manager) we managed to persuade him to come here for pre-season and he realised this was the right place for him'".
News of Histon's last game (v Colwyn Bay), came before kick-off from the North Wales Weekly News. "Histon, who have been in decline since finishing third in the Conference Premier three seasons ago, have rallied in recent weeks under manager David Livermore. They have lost only twice in their last 11 games to pull clear of the relegation zone and had an excellent 2-0 away win at Corby Town last weekend with top scorer Dan Holman taking his season's goals tally to 19. 'They have changed their style a bit since we beat them at our place (in September) and, for me, they are in a bit of a false position in the table (14th), because they are better than that', warned [Bay manager, Jon] Newby".
"Bay kept a clean sheet and took a good away point at in-form Histon... with better finishing the Seagulls could have taken all three points... Rob Hopley... got the ball in the net from Jon Newby's deflected cross, but the goal celebrations were cut short by a linesman's flag for a debatable offside decision.... Newby [said], 'I thought the goal was good... It wasn't the best of surfaces to play good football on, but we said beforehand that even if we didn't win it was important to keep a clean sheet and we did that... It is another point in the bag and I think 45 points at this stage is a very good haul in our first season at this level and with the small squad we have'".
So, for the second week in succession, Altrincham will meet a side on a good run of results.
BSB NORTH NEWS
Pitchero Non-League
reports that "AFC Fylde have signed vastly experienced striker Lee McEvilly from Colwyn Bay. The Bootle-born 29-year-old joins the Coasters for the remainder of the season, despite interest from a number of other clubs higher up the non-League Pyramid".
According to Pitchero Non-League, "Boston United`s striker Tony Edwards has sealed a loan move to Quorn. The 24-year-old, who made his Pilgrims' first-team debut in December against Stalybridge Celtic, has linked up with Lawrie Dudfield's side on a short-term basis. Edwards...has netted nineteen goals and four hat-tricks for United's reserves this season".
"Corby Town have signed midfielder Tyron Amory, who last played for Barwell" reports Pitchero Non-League. "Fitness instructor Amory failed recently in his bid to win a professional football contract with Swindon Town. The personal trainer from Solihull made the final stages of a nationwide contest to bag a deal with Paulo do Canio's side, [which was won by Jordan Pavett, who scored against Alty for Bishop's Stortford, last Saturday]. But he just failed to clinch a contract. He beat more than 5,000 entrants to reach the last four of the competition... The 22-year-old has earned a consolation prize of a semi-pro contract at Corby after impressing scouts during the contest. Originally on the books at Derby County, Amory went on the represent Atherstone Town, Bedworth United and Barwell before trying out at Swindon".
On Tuesday, Guiseley reported that the Lions "head into tonight's fixture with Farsley FC on the back of two consecutive defeats as they look to return to winning ways and reach the West Riding County Cup Final. Steve Kittrick's side have only suffered consecutive defeats on one other occasion this season, back in September, and he will be keen that his players don't lose three on the bounce.
The Lions are the current holders of the WRCC... Farsley's predecessors, Farsley Celtic, won the competition in the 2005/2006 season [when Lee Sinnott was boss]... The Lions will be struggling to field a team as an injury crisis has emerged at Nethermoor; Gavin Rothery (broken toe), Mark Bower (torn calf), Andy Holdsworth (broken toe), Ciaran Toner (ankle ligaments), Simon Baldry (hamstring), Simon Ainge (knee), Jamie Clarke (back) and Danny Forrest (calf) are all ruled out or doubtful.
Farsley boss and former manager of Guiseley [and ex-Alty player], Neil Parsley, will be relishing the opportunity for his side to spring a surprise on his return to the Nethermoor".
INTERNATIONAL
England C 1 Italy 1, at Fleetwood.
---
28 February 2012
JACK AND JOE DEPART
Altrincham FC said goodbye to two players after Saturday's game. Jack Redshaw returned to Morecambe, who had kindly loaned the former Alty striker back to Moss Lane, for a month after he had signed for the Shrimps on 26 January 2012. Jack's final tally of games with Alty was; played 14(+5), scored 9 times. Jack had made a very great impression in his short time with the club, having joined from Salford City on non-contract terms.

The other player leaving Altrincham was goalkeeper, Joe Collister (right), who impressed during his one-month loan from Tamworth. Two bad-weather postponements meant that Joe played just four times for The Robins.

Altrincham FC wishes both players good fortune in their future careers and thanks them for their services.

Alty's current squad comprises:
Marlon BROOMES
Nicky CLEE
Stuart COBURN
Shaun DENSMORE
Adam FLYNN
Matthew FLYNN (loanee from Fleetwood Town)
James HOLDEN
James LAWRIE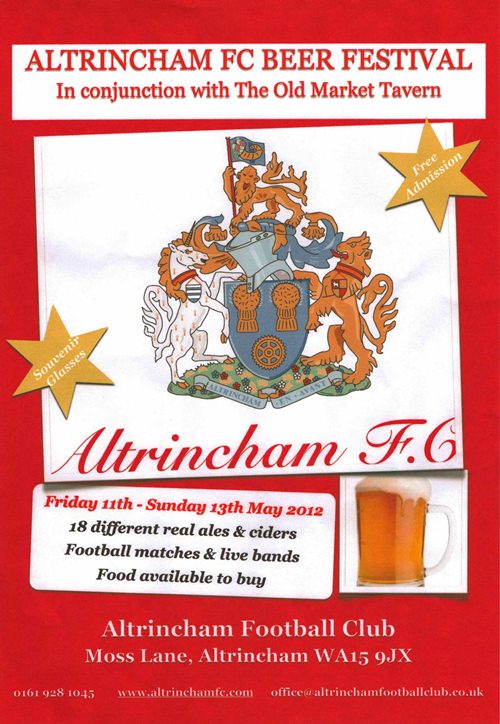 Mark LEES
Chris LYNCH
Mark LYNCH
John MILES
Damian REEVES
Simon RICHMAN
Neil TOLSON
Michael TWISS
Kieran WALMSLEY (loanee from Kendal Town)

In addition, the following are players eligible for both the first- and youth-teams:
Joe COOMBS
Matthew FEARON
Sam GRIMSHAW
Adam REID
Duncan WATMORE

Players who have been at Moss Lane this season, but have since moved on, are:
Ryan BROWN
Joe COLLISTER (loanee)
Anthony DANYLYK
Adam DODD (loanee)
Adrian HAWES (loanee)
Paul JONES
Robbie LAWTON
Astley MULHOLLAND
Josh OLLERENSHAW
Jack REDSHAW
Brian SUMMERSKILL
Rob WILLIAMS (loanee)
Liam TOMSETT (loanee)
LADIES' WIN
Altrincham FC Ladies' manager, Keith Edleston reports that on Sunday his side won, at home, 5-2 against Sandbach United. A report on this match from Keith will follow. The Ladies' next game is against Stockport County Yellows at Manor Farm, Ridgeway Road, Timperley on Sunday, 4 March, at 2pm.
HISTON NEXT
Howard Watts's Through the Years records remind us of previous encounters on the date of Alty's next match on 3 March, at Histon.

You can book to travel on the TASC supporters' coach by ringing the club on 0161 928-1045. Details are on the Away Travel page.
BSBN NEWS
According to BSB North, "Jon Newby got the response he demanded from his Colwyn Bay side with a 0-0 draw at Histon following the previous weekend's 6-1 humiliation at home to Nuneaton. A clean sheet, a fifth away game on the run without defeat, and a point from one of their longest trips of the season to stay eighth in the table was pretty much everything the player-manager wanted.

Said Newby, 'We said beforehand that even if we didn't win it was important to keep a clean sheet. Everybody played their part in that, with Frank (Sinclair) and Danny (Meadowcroft) immense in centre of defence for us'.

Indeed, only a controversially disallowed goal prevented the Seagulls taking all three points home from Cambridgeshire... 'It is another point in the bag and I think 45 points at this stage is a good haul in our first season at this level and with the small squad we have'" said the Bay manager.

BSBN also tells us that "Nuneaton Town manager Kevin Wilkin is eager to see the club's supporters come out in force when Boro take on Halifax Town on Tuesday. Wilkin's side beat the Shaymen 3-0 in Yorkshire last week to take second place in the Blue Square Bet North, and the Boro boss insists he hasn't given up on an unlikely title challenge...

Wilkin told Nuneaton News, 'The game could have a play-off atmosphere. They are a really-well supported club and playing them so soon again adds something to the game. I'm sure everyone would agree it's the match of the day in the league. The crowd will be crucial. They've backed us all season. I know we've taken the slow road to get to this point but we are in a good position in the league. I'm not sure top spot is up for grabs still. (Leaders) Hyde have not had a blip all season and it looks like only Guiseley can catch them. While there are enough games left, though, we won't give up hope."

And the Cambridge News adds "Histon player-manager David Livermore told the News on Friday he wanted to put on a sparkling show to say thank you to the supporters who have raised £5,000 for the club's wages appeal. What materialised was probably the drabbest encounter at the Glass World Stadium of Livermore's reign, with few incidents and even fewer chances. The Stutes never found their rhythm, their passing and control letting them down too often to build a head of steam.

Colwyn Bay's defence, marshalled by former Chelsea defender Frank Sinclair, had too much nous for the hosts, and they appeared quite content to travel back to north Wales with a point.

Said Livermore, 'We were really hoping to put in a good attacking performance and we weren't able to, but it was more due to the opposition than our performance... We weren't at our best and you could see why the opposition are now five unbeaten away from home, setting up with a 4-1-4-1 and playing quite deep, trying to get the ball in behind us. There was no real invention shown by either side. We tried to play, but it's difficult when they have nine or 10 men behind the ball'.

While there was little to get excited about, there were some good performances from men in red and black, most notably from Pelayo Gómez. The Spanish midfielder looked most likely to engineer something dangerous for the hosts, particularly in the first half as his passing radar was working... Dan Holman, as he always seems to do, held the ball up well and tried to get his team-mates involved, but captain Daniel Sparkes was off target with several efforts and Lewis Taaffe and Matt Breeze had afternoons to forget...

'Look at the experience in their team compared to ours. You do the handshake at the start and they're men, whereas they look at us and see not boys, but young men', said Livermore. 'Frank Sinclair had a very, very good game and headed anything that went in the box. From that perspective it was a good point and good performance-wise. It was quite a bobbly pitch – we're getting to the time of year when pitches are starting to dry out again – but it was quite a tactical game and we showed the right attitude'".

Histon: Stadelmann, Roberts, Fitzsimons, Gomez-Pico, Clerima, Livermore, Taaffe, Stevenson, Holman, Breeze (Dowie 85), Sparkes (C). Subs not used: Hawkins, Kitscha, Day, Sessions.
PRAISE FOR ALTY IN DEFEAT
Bishop Stortford's match report says "A goal from substitute Jordan Pavett 20 minutes from time set the Blues on course for one of their finest victories of the campaign over opponents that played, at times, some of the best football seen at Woodside Park this season. The goal from Pavett, who was signed in midweek and had played four matches for Stortford at the back end of the 2009/10, floored the Robins and put a dent in their promotion play-off aspirations...

The winning goal came only seven minutes after Jordan Pavett had replaced Ricky Sappleton. The substitute took control of a superb long ball from the right by Dwight Gayle before coolly beating keeper Joe Collister. Pavett was one of a number of new faces in Rod Stringer's squad although most of them had featured in the midweek friendly against West Ham United. Callum Stewart made his first Blue Square Bet North start and Moses Odubajo a loan signing from Leyton Orient also began the match. On the bench, along with Jordan Pavett were midfielder Ben Seymour-Shove, on work experience from Peterborough United and defender Jack Lampe.

The visitors' passing and movement, showed why they are high up the table but if the Blues had worries before the match concerning leading Blue Square Bet North marksman Damian Reeves who has already notched up over thirty goals this term they needn't have done so as Reeves didn't feature prominently... The Robins had more of the possession from the start and in the 8th minute Jack Redshaw crossed from the left and a flying header by skipper Shaun Densmore hit the top of the bar...

Altrincham nearly went ahead at the other end as Mark Lynch played John Miles into the box but Sean Francis got across quickly to block as Miles bore down on goal. Shortly afterwards James Lawrie crossed from the right and Shaun Densmore's hook shot was held under the bar by Jordan Archer...

The Blues began looking much more lively on the restart... Ricky Sappleton found the net but Gayle was ruled to have been in an offside position during the attack... After Sebastian Dunbar fouled Jack Redshaw a couple of yards outside the box. Nicky Clee stepped up to take the free-kick and rattled Jordan Archer's crossbar...

Gayle then delivered a deep centre that went over defender Matt Flynn's head and fell perfectly for JORDAN PAVETT to take on and the substitute's low shot under Joe Collister found the back of the net... The visitors then came back strongly and after good work by Redshaw Jordan Archer saved from Shaun Densmore. Then in the 76th minute Redshaw hit a first time shot from 12 yards following Damian Reeves' cross but fortunately it was straight at Archer. More pressure from the Robins in the 81st minute saw Nicky Clee cross from the left and Reeves, coming in at the back post, hit the upright with his shot".

In the Herts & Essex Observer "Blues' boss Rod Stringer gives his assessment of last Saturday's 1-0 win over Altrincham...

'The boys worked hard. We stopped them [Altrincham] passing through us. They went long ball in the end. The boys were excellent. It's a massive win. We are not saying the job is done, but we are in a better place... They [Altrincham] shaded it in the first half. I would have taken a point before we got the goal. From our point of view we had 20 minutes to go and you're thinking if we don't concede, we don't get beat. [Dwight] Gayle's hit a fantastic ball [for the goal]. He split the centre-halves. Ricky [Sappleton] gave us 60 minutes and with half an hour to go we threw Jordan [Pavett] on. He had scored [in last week's friendly] against West Ham. He knows where the back of the net is. Jordan has a nice touch on him. I think he has a lot about him. The subs worked for us.

I will have to get the pennies in the jar out and see if we've got some money for him. We don't want to let people go. We've got some really big games coming up. It was a disciplined performance. In the first half they got a lot of change down the left past Callum [Stewart]. We made that change and I gave Jack [Lampe] a debut. He gave us a lot more composure. looked like a full-back. He won his tackles. He was disciplined. I was pleased with him. Jack has been training with us for the last six weeks. He's a centre-half but he can play at right-back."

Stringer also gave a debut to Moses Odubajo. The 18-year-old winger has joined on a month's loan from Leyton Orient. I thought he did quite well for us. He was isolated. He worked hard without the ball'...

Stringer was also pleased with midfielder Matt Johnson. 'He worked very hard. He's an unsung hero. He just needs to chip in with a goal... We want people to drop points. As long as we win games of football we will be all right'".
BSB NORTH NEWS
Halifax have lost a player as Stocksbridge Park Steels confirm that "Chris Willcock, manager of Stocksbridge Park Steels, has signed centre half Brett Renshaw from FC Halifax. Renshaw started his Evo-Stik League career with Garforth before a move to Curzon Ashton. He then joined Bradford Park Avenue before a move to Blue Square Bet North side Hyde. Renshaw then signed for FC Halifax on loan before making the loan permanent...He is a solid centre half who scores his fair share of goals".

According to the Coventry Telegraph Nuneaton Town team boss Kevin Wilkin, following their fourth consecutive league success... Boro's hard-earned 1-0 win over FC Halifax... said, 'This was another excellent win and I'm really pleased we have put in a decent home display after fine away wins at Colwyn Bay and Halifax... It's all come together in such a short space of time. We were drawing games we should have won and it was getting a bit frenzied and the fans were beginning to get a bit uptight. However, these four victories have certainly put a bounce in our step and there's an air of self-belief about us now. While other sides are beginning to show a few cracks, we are hitting a rich vein of form but as I say there's a long way to go'".

In the Eastwood Advertiser, we read that "Teenager Gregg Simmons struck an injury-time winner as Eastwood Town claimed a stunning win at Guiseley on Saturday. The victory was the Badgers' first in the league since October 29, and made amends for a 7-0 hammering at Guiseley in the FA Trophy earlier this season. Francis Green put the Badgers in front just after half-time, but Danny Ellis's equaliser five minutes from time looked to have denied the visitors a shock win. But 16-year-old Simmons was on hand to head home the winner in stoppage time and stretch Eastwood's unbeaten run to four matches".

"Hyde boss Gary Lowe... serving the first instalment of a two-match touchline ban, watched from the stands as his runaway leaders tore the visiting Bloods apart" reports the Manchester Evening News. "It maintained Hyde's eight-point advantage over second-placed Nuneaton with just 12 games now standing between them and automatic promotion to non-League football's top-flight...

The former Curzon Ashton chief added a note of caution... Lowe said, 'I thought we were outstanding, but Nuneaton are having a great run at the moment and, with Guiseley also still in the running despite losing on Saturday, we can't afford to take our foot off the gas. In fairness to the lads, I wouldn't expect that of them for one minute, but we have to keep reminding ourselves that there's still a long way to go'. Reece Gray marked his return for a second month on loan from Rochdale by firing Hyde into a 32nd minute lead with the help of a deflection off Droylsden defender Nat Kerr. But the decisive moment arrived on the hour when Bloods' left-back Shaun Holden was dismissed for bringing down Scott Spencer. [Former Alty man], Andrew Pearson pounced to put the Tigers two-up".
CHESHIRE NEWS
They may have all sorts of problems but, somehow, Northwich Vics have managed to appoint their second ex-League manager of the month as the EvoStik League announces that "Northwich Victoria have appointed former York City boss Martin Foyle as their new manager. Foyle joins as part of the management team, which includes former Aston Villa defender Alan Wright. Speaking to the club website, chairman Jim Rushe stated, 'I'm very pleased to have someone of such a high calibre that has worked in non-league football'. In his playing career, Foyle played for a number of league clubs including Southampton and Port Vale where he made almost 300 appearances.

He was to later manage the Valiants for three seasons but has more recently managed York City - taking them to the Conference Premier playoffs in 2010. Foyle replaces Paul Simpson, who managed the side for a month following the departure of Andy Preece at the end of January".

Barrow confirm that "The Football Conference today announced the opening and closing dates for the 2012/2013 season. The Blue Square Bet Premier Division season for 2012/2013 will commence on Saturday 11 August 2012. The Blue Square Bet North & South season will open on Saturday 18 August 2012. All will close on Saturday 20 April 2013.

The fact that Wembley will once again host the Champions League Final, with the inherent 14 day clear period for games at the Stadium, has [a]ffected the Play-Off dates, with the Conference keen to retain Wembley as the venue for the Premier Division Play-Off Final and not move it elsewhere, as they did last season.

The closing date is therefore one week earlier than has become the norm in recent years due to the required scheduling of the Play-Off matches at the end of the season. The Blue Square Bet Premier Promotion Final will be played at Wembley Stadium on Sunday 12 May 2013; the North & South Finals will be played on the ground of the Club that finished highest in its respective Division, on Sunday 5 May 2013".
FA TROPHY DRAW
"The draw for The FA Carlsberg Trophy Semi-Finals has been made at Wembley, with four teams now in touching distance of playing in a Final at the famous stadium on 12 May. Wealdstone are the intriguing presence. They were the first club to achieve a Trophy and Conference (then Gola League) 'Double' in 1985 but would hardly have been one of the favourites in this season's competition.

Stones are currently in eleventh place in the Ryman League Premier Division, two levels below the Blue Square Bet Premier, but two spectacular Trophy wins in five days – 1-0 at home to Dartford in a replay and 2-1 at Cambridge United – have left the Stones faithful dreaming of another Wembley visit. They will now play Newport County, now 16th in the Blue Square Bet Premier, in the Semi-Finals. The first leg is in Wales on 10 March, with the second a week later.

York City, Wembley Finalists in The Trophy only three years ago, face Luton Town with the first leg at City's Bootham Crescent ground".
---
27 February 2012
BISHOPS' VIEW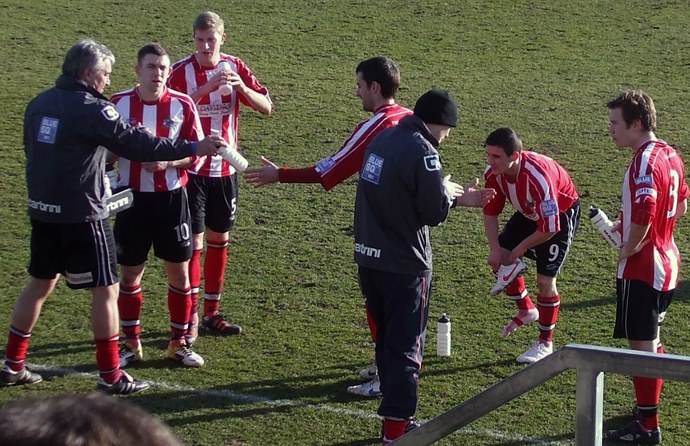 After Saturday's gam,e Bishop's Stortford reported that "Substitute and debutant Jordan Pavett as the difference as the Blues managed to come out on top after a close fought 1-0 win over Altrincham. The Blues defended well against a first half onslaught from the visitors and were probably relieved at the 0-0 scoreline. The Blues created some good chances in the second half and were on the whole the more dominant force">.

Right: Coach Ian Senior dispenses the drinks as Alty take a first-half breather, during an injury stoppage, in the warm sun of Hertfordshire on Saturday. The Alty men, l. to r., are Damian Reeves, Matt Flynn, John Miles, Jack Redshaw and Shaun Densmore, to whom assistant manager Neil Tolson (back to camera) is giving some tactical suggestions.

The Bishops also fielded another debutant as, before the game, they reported that "New signing Moses Odubajo, an 18 year old winger, joins on loan from Leyton Orient. He made his first team debut in a Johnstone's Paint Trophy derby against Dagenam & Redbridge in September 2011. Moses goes straight in to the squad for today's game against Altrincham."

And the local paper, the Herts & Essex Observer indicates that there were actually four debutants who played in the game for the home side as a "Brilliant Stortford FC upset play-off hopefuls Altrincham to move clear of drop zone. The Blues picked up arguably their best win since Rod Stringer took over as manager when they upset non-League giants Altrincham at Woodside Park. Bishop's Stortford may have thrashed a below-par Guiseley, but this latest victory came against an Altrincham side who played some neat football and justified their position on the cusp of the Blue Square Bet North play-off places.

Stortford withheld Altrincham in the first half, largely thanks to excellent displays from Sean Francis and the fit-again Phil Anderson. But Stringer made two changes in the second half, which turned this game around. He put former West Ham United professional Jack Lampe on at right-back for his Stortford league debut at the break as Callum Stewart had struggled in the first half. More importantly, he took off the hard-working Ricky Sappleton in attack and sent on Jordan Pavett, who has returned to Stortford after a year as a pro at Paulo di Canio's League Two leaders Swindon Town.

This move proved key as Pavett got the all-important goal on 69 minutes. Stringer had given Orient loanee Moses Odubajo a first start on the right wing. But it was Altrincham who started the better and Shaun Densmore headed against a post [crossbar] from 8 yards after good work on left from Jack Redshaw after five minutes.

Dwight Gayle twice went close, but Stortford mainly looked a threat on the counter attack in the first half. The visitors looked more dangerous and only some excellent last-ditch tackling from Phil Anderson and Sean Francis denied the Cheshire side a goal... Blues keeper Jordan Archer earned his crust with fine saves from a mazy run from Altrincham striker Jack Redshaw and then moments later from skipper Shaun Densmore's header.

Blues were a different proposition after the break and could have taken the lead on 50 minutes. Reece Prestedge, returning from a ban, played in Gayle on the right and his shot appeared to be going in before the offside Sappleton nudged it over the line at the far post...

Altrincham were awarded a free-kick on 67 minutes in a dangerous position and left-back Nicholas Clee thudded this effort against the bar before it was scrambled wide. The visitors were to rue this miss just two minutes later as Stortford took the lead when Gayle's intelligent ball from the right flank found unmarked sub Pavett. The youngster, who played four games for Blues in the 2009-10 season, showed immense composure to storm into the box and slip the ball under keeper Joseph Collister.

Blues must have thought it might be their day when Clee's centre found Blue Square Bet North top scorer Damian Reeves who headed against the right post with the goal at his mercy on 87 minutes.
ALTY BEER FESTIVAL
May 11th – 13th Altrincham FC Beer Festival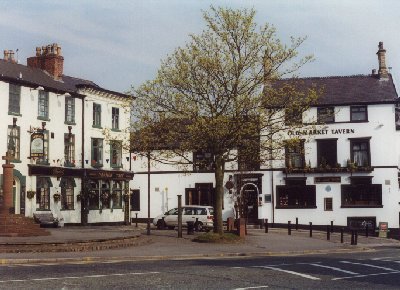 In association with John Glover and the Old Market Tavern (pictured, right), Altrincham FC are holding their first ever Beer Festival at the club. Commemorative glasses and at least 18 Real Ales will be available.
Starting on Friday night with the Staff v Supporters game followed by a night of entertainment, on the Saturday there will be the corporate 7 a side tournament, a ladies' football match and finally two live bands to round the day off. Sunday will be a family fun day with Junior exhibition games, a Past Players v. TV Celebrities game, the final Premiership games live on big screen and finally a balloon race. Then Paco Craig carved out a wonderful chance for Blues on 89 minutes... but having left the keeper in no man's land he blasted a shot against the right post with two defenders on the
YOUTH TEAM
Altrincham Youth lost narrowly, 4-3, at Marine on Sunday, after leading 2-0 earlier in the game. The League Table is on the NWYA site.

Marine's forum reported that it was a "Very entertaining game this afternoon. 0-2 down the youth team fought back to take the lead 3-2 and even had a penalty saved. Alty equalised against the run of play but we got the winner with about 20 mins to go".
DUNCAN STARS AGAIN
Alty Youth striker, who recentl made his first-team debut, is getting match practice at Clitheroe, where the home side lost 1-2 to Durham City but "Special mention should be reserved for Duncan Watmore who was the hosts' brightest spark during this game and a persistent thorn in the side of the Durham backline. All that was lacking from an otherwise excellent all-round performance was a goal, but the effort and quality he displayed throughout was enough to be given the 'Man of the Match' award by the matchday sponsors".
OLD BOYS
Old boys who scored on Saturday in the EvoStik leagues included Ashton United's Aaron Burns, with two against Chorley. Likewise, Wes Baynes netted a brace for Chester against Buxton and Mat Bailey scored for Nantwich Town in a win over North Ferriby United.
BSB NORTH NEWS
Harrogate Town report that they have "Released midfielder Stephen Turnbull from his contract so that he can be re-united with his girlfriend in Australia... Manager Simon Weaver commented, "Stephen is a talented player and has been a great lad in the changing room... He's been a little down recently and that was because he was really missing his girlfriend. He is normally so bubbly and no one wanted to see him unhappy so we felt we had no option but to help him out, release him from his contract and let him be re-united with his girlfriend".

http://www.gainsboroughtrinity.com/latest-gainsborough-trinity-news/mcmahon-on-loan.html">Gainsborough Trinity "Midfielder Lewis McMahon has left the Northolme for a month and has joined Matlock town on a loan deal... McMahon who has made 9 appearances for the Blues this season is hoping to regain match fitness and return to the Northolme... McMahon is Trinity's longest serving player in the current squad, joining Trinity in summer of 2007".

News of our next opponents comes from the Cambridge News which says that "Histon drew 0-0 with Colwyn Bay at the Glass World Stadium. t was a slow start to proceedings as both sides struggled to find their passing game... The game continued in a scrappy fashion, Dan Holman and Jim Stevenson putting efforts wide as the hosts attempted to build up a head of steam. Things did not get much better at the start of the second half, Colwyn Bay finally testing Jorg Stadelmann in the 65th minute through Karl Noon. Sparkes had a couple of half-chances before the visitors did get the ball in the net, but Rob Hopley's goal was disallowed for offside".
---
26 February 2012
FIXTURES
Saturday, 3 March
Bishop's Stortford v Droylsden
Colwyn Bay v Blyth Spartans
Eastwood Town v Hinckley United
FC Halifax Town v Harrogate Town
Guiseley v Gainsborough Trinity
Histon v Altrincham
Nuneaton Town v Corby Town
Stalybridge Celtic v Solihull Moors
Vauxhall Motors v Hyde
Worcester City v Boston United
Workington v Gloucester City
---
25 February 2012
BISHOP'S STORTFORD 1 ALTRINCHAM 0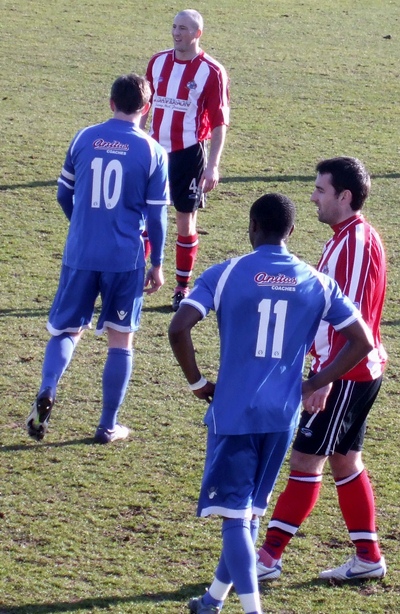 Altrincham were unfortunate to take nothing from this game. As well as enjoying a lot of possession, they struck the woodwork three times...
Alty line-ups
Right: Chris Lynch (upper) and John Miles (lower) were in Alty's midfield at Bishop's Stortford.
RESULTS
Saturday 25 February
Bishop's Stortford 1 Altrincham 0
Boston United 2 Gloucester City 0
Gainsborough Trinity 1 Vauxhall Motors 1
Guiseley 1 Eastwood Town 2
Harrogate Town 1 Stalybridge Celtic 1
Hinckley United 0 Corby Town 3
Histon 0 Colwyn Bay 0
Hyde FC 4 Droylsden 0
Nuneaton Town 1 FC Halifax Town 0
Solihull Moors 2 Workington 1
Worcester City 2 Blyth Spartans 1
KEEPING UP WITH THE ACTION
If you cannot get to Bishop's Stortford for the game against Altrincham, you can follow the action in one of the following two ways:
Radio Robins, sponsored by Paradox-Computers.com will be broadcasting a full internet commentary on the game. You can listen to Radio Robins on the internet here.

The match commentary is sponsored by Birtles Farm Bed & Breakfast. Birtles Farm, built in 1625, is a 3-Star English Tourist Board rated Bed & Breakfast, set in 190 acres of beautiful Cheshire countryside in Ashley. You can find out more by visiting their website.

The commentators are Jack Jolly and Brian Flynn, and the match summariser is Laurence Howarth. The broadcast begins at 2.50pm.
The Live Matchday Update page of this website will have text updates from before the match to the final whistle.
BEFORE THE MATCH
In advance of Altrincham's visit, "Bishop`s Stortford have added two new players to their squad in Jordan Pavett and Ben Seymour-Shove, who joins on loan from Peterborough United. Pavett won a nationwide competition to sign a professional contract with Swindon Town. Pavett, 19, beat more than 3,500 amateur players to the dream prize in Samsung's 'Win A Pro Contract' competition. He took part in series of regional and national trials before lining up in the final at The County Ground in January 2011. Striker Pavett, from Maldon, Essex, was then one of three players selected to train with the Wiltshire club, and picked as the winner by then boss, Danny Wilson, after impressing the Robins' coaching staff. Pavett, who was previously at Ipswich Town and Colchester United, joined Swindon after working as a plumber with his dad's firm. He spent time on loan with Heybridge Swifts earlier this season and also trialled with Cambridge United before being released by Swindon upon the expiry of his contract last month.

Seymour-Shove, 18, is a quick, pacey forward who made seven appearances on a 'work experience' loan with Soham Town Rangers, until being recalled by Posh to play at a higher level on a similar basis with Stortford".

In its preview of the game at Bishop's Stortford, Altrincham Mad says that "Bishop's Stortford have only collected 1 win and 3 draws from the last six home games played. A generous 12 goals have been both scored and conceded in this period. Altrincham's away form is none too clever either, coming away with three points on 3 occasions, but drawing 1 and losing 2...

Current overall team form:
Bishop's Stortford P6 W3 D2 L1 F15 A10
Altrincham P6 W3 D2 L1 F12 A9...

FootyMad's prediction... Altrincham are not doing too bad[ly] on their travels, and we think they should continue by carving out a narrow victory at Bishop's Stortford. Away win". For the record, Altrincham Mad has got three of the last four predictions of Alty results wrong! And its Alty squad lists includes the likes of Matt Doughty, Tom Kearney, Michael Welch and Wes Baynes.
SUNDAY VIEWING AT MOSS LANE
Altrincham FC invite everyone to watch top-level televised football in the bar at Moss Lane this Sunday (26th). The bar will be open from 1pm for...
Norwich City v Manchester United k.o. 1.30pm...

followed by the Carling Cup Final
Cardiff City v Liverpool, k.o. 4.00pm".
OLD BOYS
Alfreton Town reports that "Central defender Adie Hawes has been recalled from his loan period at Altrincham FC. Adie has now joined Buxton on loan until April 21st inclusive".

And, according to Football Webpages "Droylsden have signed midfielder Brian Summerskill, who was released by league rivals Altrincham earlier this month. Altrincham signed Summerskill from Northwich Victoria in June 2011... After making just one start and seven substitute appearances for Alty, Summerskill went on loan to Nantwich Town for a month in November 2011 - a spell which was extended until he returned to the Altrincham squad on New Year's Day, 2012. However, after making just one more appearance from the bench, he was released by manager Lee Sinnott".
TASC UPDATE
Steve Foster of TASC wrote the following in last Tuesday's Robins' Review.

"We have an announcement about membership in today's column.

Membership changes

After much discussion, the TASC committee has decided that it would be more effective, cost efficient, and beneficial to the club and TASC to make membership last on a season by season basis, starting from July each year.

The reasoning for this, is many fold. The reasons include:-

Currently renewals are sent out on a month by month basis and posted individually to each lapsing member. Instead, these renewals may be included with season ticket renewals and, potentially, other information that we want to pass out about the forthcoming season, (e.g. goal sponsorship, other promotions, and details of TASC's performance over the past season).

Membership money being available to TASC, and hence the football club is particularly useful over the summer period, when the club has no income.

It is easier to administrate this job as an annual project with dedicated focus, rather than having to administrate it all year round.

It is simpler and clearer for members. TASC membership renewal is July each year.

The effect of these changes:-

Unfortunately, no matter how we bring all memberships into line, some people will benefit, and others may lose out. The TASC committee discussed how to best perform this, minimising the number of people who lose out and the amount that they lose out by. It has been decided by the TASC committee that the fairest way to do this is to extend the membership of anyone who has joined since 1st December 2011 and to slightly curtail the membership of people who joined prior to that date.

We calculate that this will lead to 18 members losing more than one month's term on their membership and the TASC committee would like to apologise to anyone who loses out on some membership term due to this change. Anyone who wishes to discuss their particular situation is welcome to come and speak to any of the TASC committee.

The Altrincham Football Club 2012 Draw

Tickets for the Altrincham Football Club 2012 Draw are on sale now. If you can help selling tickets either on match days, or to friends, or colleagues, please come and see any of the TASC committee, or go into the club shop, where they will be available to collect. This year, tickets are £1 each, and come in books of five.

Prizes:
Android Tablet PC
22" TV/DVD Combo
£100 Portrait Photography Voucher at GR Photography
Four-Ball Round of Golf at Heyrose Golf Club, Tabley, Knutsford
Altrincham F.C. Home & Away Shirts plus Match Hospitality for Two People at a Home Game
PLUS MANY MORE!!!!!

To be drawn on Saturday 10th March 2012 at 5.30pm in The Noel White Suite at Altrincham Football Club, after the game with Bishop's Stortford.

Steve Foster".
BSBN NEWS
From the Football Conference, we learn that "Youngster Dan Parkinson has joined Vauxhall Motors on a month`s loan from Morecambe. The striker, who has made three substitute appearances for the Shrimps in League and cup, has joined Carl Macauley's side up to and including March 24th. It is Parkinson's second loan spell... this season after spending time at Motors' league rivals Colwyn Bay.

Macauley has brought in another striker, as well, signing 21-year-old Ross Farran from Leek Town. Farran, who joined Leek in December 2011, has previously been on the books of Northwich Victoria and was also a member of the Nike Academy".

Ambitious Nuneaton Town "have bolstered their forward line up with the extra firepower of Matthew Barnes-Homer, who started his career with Wolves...

Barnes-Homer has a great track record wherever he has been, finishing top scorer for both Kidderminster Harriers, whilst in the Conference Premier, scoring 35 goals for Harriers, and [also top-scoring with] 19 for Luton Town. Last season the England C International who scored twice in two outings for his country was indifferent, before moving back to Luton for a loan period.

Nuneaton boss Kevin Wilkin said, 'I am delighted to get the signature of such a proven goal scorer, who has done well at higher levels than we find ourselves now. We find ourselves in a fortunate position to have secured the services of Matthew. I have worked hard to get hold of him whilst maintaining the pay structure and to have secured the services of a striker who has played in League One is an achievement in itself. The arrangement suits both parties. I know the current lads up front are doing well at the minute but you cannot pass up on quality when it becomes available.

I hope the supporters see this as a marker of our intention to try and get out of the league and I hope people respond to that and come to support us'".

The NL Paper adds that "Barnes-Homer goes straight into Boro's side to face FC Halifax Town... That game is our Blue Square Bet North feature match this weekend".

The Hinckley Times reports that "Hinckley United have felt the emotions of every possible outcome in football after clocking up a win, a loss and a draw in the space of seven days... The four points were enough to keep Dean Thomas content and the Hinckley boss believes that the three games showed off his side's ability to mix their skills on the ball with a resilience for when the going gets tough.

He said, 'We were excellent against Corby and we fully controlled the game and we wanted some more of that against Guiseley. I think Guiseley's quality shone through and they always had that edge on us and seemed to be more well equipped than we were. That is why they are where they are... Against Altrincham we didn't compete in the first half despite taking the lead and our central defenders were all at sea and we conceded two poor goals - the first of which they won't be happy about. We had a few words at half-time and in the second half we were outstanding and defended excellently. We got the penalty and it was a great point in the end and it showed the one thing that we have got in that they never know when to give up'.

Tuesday's game at Altrincham saw the return of Danny Haystead between the sticks for Hinckley as he made his first appearance since mid-November... 'We always knew that he might make a few mistakes as he has just come back from a bad broken arm', said Thomas. 'It could take a little while to trust himself fully again in tough situations. But he is a quality keeper and we are delighted to have him back'.Hinckley are hoping to climb a place up the league ladder when they face Corby at home on Saturday and could have influential midfielder Richard Lavery back among the match-day squad after missing the past two games due to a groin strain'''

"We look to close the gap on the teams above us, as that is the little league that we need to be concentrating on; the one at the bottom with the teams around us. We have to beat those teams and look to pull away from the bottom three'".

Elsewhere in the Hinckley Times we read that "Two spot-kicks by Sam Belcher ensured Hinckley United returned with a point from Moss Lane in a game that saw the surprise return of fans' favourite Danny Haystead... as Dean Thomas's men forced a temporary setback to the hosts' play-off challenge... As Hinckley searched for a route back into the game, it appeared that Altrincham had took the foot off their gas which allowed the Knitters to play their open style that has done them well so far this season in front of goal... It was Newton's replacement Tom Byrne who was the key in unlocking the Robins's defence for a second time as he bolted into the 18-yard box only to be taken down by Collister and the referee again pointed to the spot. Belcher again kept his cool to level the scores and set up what could be an unexpected win. But the fourth goal of the night seemed to indicate the end of any cohesion from both sides and the game petered out allowing the Hinckley fans and players to celebrate a well-deserved point at a stadium that hasn't proved a happy hunting ground for many away teams this campaign".

Alty's next away trip after this weekend is to Cambridgeshire, where the Cambridge News tells us that "David Livermore has thanked Histon supporters for raising almost £5,000 so far for the club's 'Appeal To You' campaign and wants to repay them with a win over Colwyn Bay tomorrow [Saturday].

The Stutes have called for financial help from fans to get them through their financial troubles and be able to pay player-manager Livermore and his players' wages...

'It's fantastic and that's the kind of support we need', said Livermore. 'The lads will want to repay them for that by putting in a good performance tomorrow at home and making it an entertaining game. If the games are entertaining on the pitch then it encourages people to come back. We need more people through the turnstiles and, hopefully, the football will encourage them. It shows there's a lot of support for the football club out there. I think they appreciate what we're trying to do and the football we're trying to play, and I think they appreciate we've got a lot of home-grown players in and around the squad'.

The Stutes' chief executive Gordon Boateng also praised the fans for their generosity and said other fundraising projects were in the pipeline. And he is looking forward to sitting down with Livermore... to discuss the boss's future within the next fortnight.... Said Boateng, 'We're due to meet him to discuss where we are. We'll see how much money we've raised by then and then we can move forward'".
---
24 February 2012
KIERAN OUT
Altrincham manager, Lee Sinnott, has confirmed that right-back Kieran Walmsley (left) will be out of action "for two to three weeks" after limping off on Tuesday night with a hamstring injury.

However, Simon Richman (right), who also failed to complete the midweek game, trained on Thursday night and should be fit for Saturday. He had been suffering with stomach cramps after having a bug. Simon has had a series of misfortunes, in the shape of illness and injury, since joining Alty in the summer and this season has yet to start more than three consecutive league games, but he will be available again this Saturday.

Stuart Coburn has "stepped up his training" and is "nearly there" as regards fitness, following his elbow injury, which has caused him to miss the last five league matches.

Nicky Clee is back after missing Tuesday's game because his partner, who is nearing the end of her pregnancy, had to go to hospital. Chris Lynch, who also missed the game against Hinckley, has recovered from the concussion which he suffered in the previous match, against Blyth Spartans.

For two players, Saturday represents the end of their loan periods. Goalkeeper Joe Collister's month's loan from Tamworth is completed on 25 February and Jack Redshaw's loan back to Alty from his new club, Morecambe, also terminates this Saturday.

Lee Sinnott also paid tribute to midfielder John Miles, the ex-Stockport County player, who was named Man of the Match on his full debut, last Tuesday. "John can play in central midfield, on the right or left of midfield, or 'in the hole', so he gives us flexibility", the Alty manager said.

The Altrincham manager is well aware of Bishop's Stortford's upturn in form in recent weeks but the outcome of Saturday's game "is down to how we play", ventured the Robins' manager.
NEXT GAME
Altrincham travel to Bishop's Stortford on Saturday - you can book a seat on the TASC supporters' coach by ringing the club (0161 928-1045). Times and fares are on the Away Travel page.

The two clubs have never previously met in a league match. However, they did meet in an FA Trophy Quarter-Final, which went to a replay in 1981/82. Since then, the Hertfordshire club has moved to its current ground at Woodside Park so this is Alty's first visit to this stadium. Bishop's Stortford is also the only club whom Altrincham have not played in the BSBN so far this season - and the return fixture at Moss Lane is just a fortnight after today's game!

Following a poor start to the season, Bishop's Stortford have had a good run, losing just two of their last 11 league games, winning 4 and drawing 5.
At Moss Lane: P1 W0 D1 L0 F2 A2
At Bishop's Stortford: P1 W1 D0 L0 F3 A1
Overall: P2 W1 D1 L0 F5 A3

Bishop's Stortford's last game wasa draw at Droylsden and their website reports that "The Blues' first match in February saw them come away from East Manchester with a share of the points... Dwight Gayle gave Stortford the lead shortly after the break only for the hosts to net twice to go ahead. However, the Blues leading marksman notched his 19th Blue Square Bet goal late in the game to square the contest...

In Bishops' first game after almost a three week gap Rod Stringer made a few changes to his starting line-up. In defence Sean Francis returned to the middle of the back four and partnered Mark Haines whilst Phil Anderson moved across to the left back berth. Max Lette Jallow and Paco Craig were in the midfield as Scott Shulton hadn't recovered from his hamstring injury and Alli Abdullahi was one of the substitutes...

BISHOP'S STORTFORD: Jordan Archer; Ritchie Jones; Phil Anderson (sub – Sebastian Dunbar 83 mins); Bai Mass Lette Jallow; Mark Haines; Sean Francis; Dwight Gayle; Matt Johnson; Reneil Sappleton (sub – Daniel Subuola 77 mins); Paco Craig; Harry Milton. Unused substitutes: Callum Stewart, Alli Abdullahi and Junior Dadson. "

From the other side, the Tameside Advertiser observed that "Bishops secured a point in somewhat controversial fashion at the Butcher's Arms. Droylsden keeper Paul Phillips found himself one-on-one with visiting forward Dwight Gayle – and though he made contact with neither ball nor player, Gayle lost his balance and tumbled over. Phillips saved Gayle's penalty, but it was the same player who reacted quickest to ram home the rebound".

The Herts & Essex Observer adds that Bishop's Stortford's "Central defender Mark Haines has returned to Chelmsford City after his loan spell expired after the game at Droylsden... 'I will not be signing anybody to replace him', said Bishop's Stortford boss Rod Stringer. 'I will go with what I have. I have Callum Stewart and Jack Lampe'.

Stringer expects defender Phil Anderson to have recovered from the calf strain he picked up against Droylsden on Saturday, but is not certain whether midfielder Scott Shulton (hamstring) will be fit. Stringer said, 'Phil had cramp... and I expect him to be okay. Scott trained with us last Thursday, but we do not want to rush him back and then have him out for four or five weeks'.

Stringer is thrilled to have skipper Reece Prestedge back for his side's home clash against Altrincham. Prestedge, who has been deployed as an attacking midfielder, returns from a two-game suspension. Stringer said, 'It's a big plus to have Reece. Reece knows how to finish and gives us quality in midfield. He works very hard. Without Dwight [Gayle], it is difficult to see where the goals are coming from [when Prestedge is not playing]'.

The stakes will be high when the Blues host Altrincham, one of non-League football's most famous clubs... Altrincham have a proud history which includes 16 FA Cup giantkilling acts against Football League sides – including two upsets against Blackpool in consecutive years (1984-85 and 1985-86). The Cheshire side, who have twice won the FA Trophy (in 1977-78 and 1985-86), were relegated from the Blue Square Bet Premier at the end of last season. They had spent 18 of the last 25 seasons at the top level of non-League football [before returning for a further six seasons in 2005].

Altrincham are in seventh spot and five points off the play-off places, while Stortford are 18th, just three points above the drop zone. Stringer is targeting an upset. He said, 'Like Accrington Stanley, they have a big tradition. They will be strong and have a go at us. They are going for the play-offs and we are trying to survive. Draws do not do a lot. We want to try and win. We want to get three points and climb up the table'".
NEIL AND DAMIAN'S GREAT GESTURE
The following article appeared in Tuesday's "Robins' Review".

Mark Maddox Testimonial Game – Damian Reeves and Neil Faulkner

What's the connection?????

I have been following Alty since Barry Pond asked me to come and watch an Altrincham Game back in 2000 and in that time there have been many highs and a few lows. Coming from London and being Spurs fan living in Manchester I could never support United or City, but I found supporting Alty was acceptable with them being a Non-league side. It did not take long to become hooked and now go to most games home and away. Football at our level is far more friendly and the average fan would not be able to have a drink in the bar after a game with their players in the Premier League.

Earlier in the season, on the 23rd July 2011, when we had the testimonial game for Mark Maddox against Tranmere Rovers it was a difficult and moving moment and to see Mark in a red and white shirt and kick off for Alty brought a tear to my eye. Having many of the players from 2004 - 2005 promotion winning season and the fans to support Mark summed up for me what Alty is all about - a great and caring club.

After the disappointment of last year's relegation to have a new management team and many new players this day must have given them an insight to what the club means to everyone at Moss Lane and it is much more than just a football club.

After the game I was chatting with Damian Reeves in the bar and I said to him that I expected him to get 30 goals this season for us and he said that he would but what would I do if he did. We discussed that I would sponsor him for £300 and the money would go to Marks Testimonial fund, Damian objected and said that it would have to be £500 for such a good cause and so I agreed.

So today's game against Hinckley it's time for me to pay my dues as Damian has kept his part of the bargain and more.

Keep on following Alty and don't forget out there if any local businesses or individuals what to make a donation to Mark's fund see Karen Rowley at the Club or phone her on 928 1045.

Enjoy tonight's game, Neil Faulkner".
CAPTAIN'S CHAT
In the "Robins' Review", Shaun Densmore has proved as informative an author as his predecessor Robbie Lawton, as his latest article in his Captain's Chat column illustrates...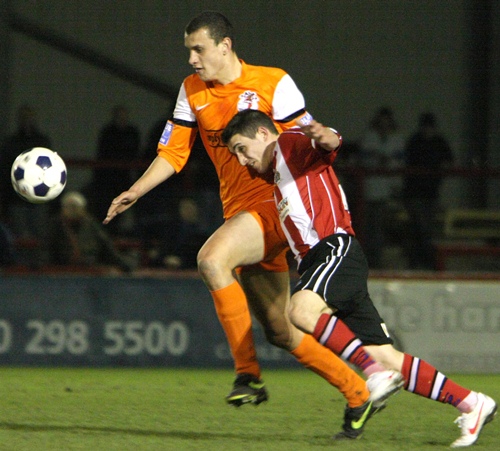 Right: Jack Redshaw's new hair-do is evident in Gavin Rathbone's image from Tuesday night!
"It was great to be back in action again on Saturday, after our enforced lay-off, and even better to close in on the play-off places with a hard-fought but deserved 2-1 win over Blyth Spartans. It probably wouldn't rank as our greatest performance of the season, but, taking everything into account, I think we can feel reasonably pleased with our afternoon's work.
For one thing, it's never easy to hit the ground running when you have been kicking your heels due to the weather for a couple of weeks. You hope to find a bit of fluency and form as quickly as possible, but it can take time, especially in difficult conditions.
The pitch wasn't at its best, after all the frost and snow, and the wind was a big factor. When Blyth had it behind them in the second half, they started putting us under a bit of pressure, particularly after pulling a goal back.
At times, we found it difficult clearing our lines, but, apart from one long-range effort that hit the post, we coped well and never looked in any real danger of being pegged back.
There were a few changes in the back four, and the lads there deserve a lot of credit for soaking up the pressure and making sure the platform Marlon Broomes and Damian Reeves gave us didn't go to waste.
I hear Marlon was full of it at the Meet the New Recruits evening later on, and that he described it as one of the best goals of his career. It was a bit tongue in cheek, apparently, though it wouldn't surprise me if he was being deadly serious. He can't have that many to choose from, after all, can he?
One thing I do know is that I'm due an assist for that one, after the way he nicked it off me. I was lining up a shot when he barged into me and bowled me over in is eagerness to get the final touch. No-one was too sure who had scored at first, but I was after the way he manhandled me out of the way and virtually assaulted me!
I don't begrudge it him, though, after a man of the match performance at the heart of defence that illustrated what a valuable acquisition he should be for us. I knew Marlon's name, from his Blackburn days and playing Football Manager games on my computer, but I wasn't exactly sure what to expect, in terms of style of play.
He was always going to add experience and know-how to our defence, given his pedigree at a higher level, but he also showed how he is a clever defender who knows all about being in the right place at the right time. He was calm and composed and marshalled the back line really well, and, despite not being the tallest, he came out on top in most of the aerial duels.
My insider at the New Recruits evening also told me how Kieran Walmsley covered himself in glory in the quiz section, where supporters had to guess what the three lads' preferences were on a whole variety of topics, from favourite food to which newspaper they bought.
One choice was between The Sun and The Star, and it was pretty obvious to most that it referred to reading material. Not to Kieran, though. He evidently thought it was a question about astronomy and was trying to make up his mind whether he liked the sky at night more than a blazing hot summer's day.
Mind you, I'm still baffled by how a proper northern lad like him can say he's an Arsenal fan, so maybe I shouldn't be too surprised.
You may have noticed, prior to the postponements, that Danny the physio had been coming in for a bit of stick in this column, but I've decided to give him a week off. He probably suffered enough, and he did have a fragile couple of weeks, so I'm turning my attention to Jack Redshaw, instead.
None of us had seen Jack for a while when he turned up on Saturday, because he had been training with Morecambe and playing one or two Reserve games. It's only been two or three weeks, but I hardly recognised him. When you hit the big-time, it seems you have to have a new look, and in his case, it's a new hairstyle.
That must be what you do when you become a professional. Grow your hair. Not only that, but he's been plastering gel on it, as well. He never used to have gel – he never used to have hair – but suddenly it's all slicked-back and greasy. Nice one, Jack – it's given us all an interesting topic of conversation for the next week or two".
OLD BOYS
NL Daily tells us that former Alty player and reserves' manager "Joey Dunn, manager of Warrington Town, has secured the signing of Gavin Salmon [an ex-Alty trialist]. The striker reluctantly left Warrington at the end of last season and joined rivals Salford City at the start of this term. He returns to the club for a second spell after playing for the Wire for 18 months previously. Salmon scored on his re-debut for the club on Tuesday night as Warrington Town ran out 3-1 winners against Bamber Bridge".

Pitchero Non-League says that "Greg Clowes, manager of Stafford Rangers, revealed he has been thwarted in his attempts to land a left winger on loan from Stoke City...Clowes was also due to be scouting for a new striker in the Liverpool area this week but called off the trip, as his main target wasn't playing.

New Mills striker Ben Deegan [ex-Alty youth and reserves] has been a long-standing target but is settled in the Manchester area, where he works for Virgin. With that in mind, Clowes is pursuing other targets to replace departed eleven-goal top scorer Neville Thompson. He said, 'Still on the agenda is a big centre forward but I am banging my head against a break wall, as it stands. I haven't spoken to Ben, as I haven't made an official approach, but I have been made aware of his situation. He knows we are interested in him, the ball is still in his court but I can't approach him'".

And the Ormskirk and Skelmersdale Advertiser quotes a former Alty player "Derek Goulding, [who] has paid tribute to the determination of goalkeeper Craig Ellison [ex-Alty reserves] following a man-of-the-match performance... with last weekend's 1-1 draw against Stocksbridge Park Steels and it was Ellison who took the plaudits for a fine first half performance...

Goulding says Ellison has been forced to work hard in order to reach such standards and earlier in the season, with errors putting his starting place in doubt, asked for a run of games to prove himself. 'Craig had a good game', said Goulding... 'He acquitted himself well and that was pleasing. He was already at the club when I came back and he put in a good performance on Saturday. They had some chances but Craig did his job. Craig has not always produced such good performances but he has stuck at it and asked to be given a run of games to show what he can do. And he has improved from earlier in the season and when the wind was blowing in his face on Saturday, he performed well which is what you want. He produced some good saves and his handling was very good'".
LAST GAME
After Tuesday's game at Moss Lane, Hinckley United's unofficial site stated, "Hinckley welcomed back goalkeeper Danny Haystead, after his lengthy layoff due to his broken arm, and battled to a respectable score draw at play off chasing Altrincham. Hinckley had a great start when Andre Gray was brought down by Mark Lynch in the area after just 8 minutes and Sam Belcher scored from the penalty kick giving Hinckley the lead...

Hinckley were the first to show in the second half too, but Andy Gooding's shot was straight at Joe Collister in Alty's goal, then that was followed up by Gray firing over from the edge of the area. Alty had a lifeline on the hour when Mark Lees headed Danny Newton's header off the line, but Hinckley did then equalise on 70 minutes. Collister brought down Tom Byrne as he ran into the area on the left and the referee awarded a second penalty to Hinckley. Belcher again stepped up to take, scoring and levelled the scores 2-2. The last 20 minutes were scrappy and neither side could produce a winner, though Hinckley will be much happier with the point than Altrincham".
BSBN NEWS
Stalybridge Celtic report that "Nick Rogan has been released". Rogan was an Alty trialist last summer.

The Tameside Advertiser reports that "Hyde's 20-goal top scorer Scott Spencer says he hopes to copy his former Stalybridge Celtic rival Connor Jennings by using the England C team as a stepping stone to the Football League. Spencer is the only player from outside Blue Square Bet Premier in the 16-man England squad for the International Challenge Trophy opener against Italy at Fleetwood Town's Highbury Stadium next Tuesday (7.30pm)...

Spencer... said, 'Everyone knows what past England C players have go onto. Connor's one example and look also at Curtis Obeng, who even more recently joined Swansea City from Wrexham. He obviously didn't want to worry about the Football League – he went straight from non-league to the Premier League!'...

Spencer is certainly due a goal, having failed to hit the target since... New Year's Day. His barren spell has coincided with the table-topping Tigers taking just two points from their last four games... Hyde now need to make a swift return to winning ways if they're to remain on course for automatic promotion as champions. Bridge, meanwhile, were seeking to end an even worse run at Blyth on Tuesday night as the Advertiser went to press, having recorded an eighth successive game without a win in crashing 3-1 to visiting Workington at the weekend. That defeat saw Jim Harvey's men slip to fifth place and left them, not only with a mountain to climb if they're to catch Hyde, but also facing a huge battle simply to make the play-offs".

Rochdale say that "Dale boss John Coleman has given clearance for Reece Gray and Godwin Abadaki to head out on loan to Hyde FC. The move, which is subject to approval from the Football League and the Blue Square Bet North League, is expected to be completed tomorrow. Both players will spend a month at Hyde in order to gain more game time. The move marks a second spell at the Blue Square Bet North side for Reece, with the 19 year old making five appearances and scoring once during a month long loan spell at Hyde earlier in the season".

"Boss Neil Aspin found it hard to hide his disappointment after watching his FC Halifax Town side's 10-match unbeaten run come crashing to an end with a 3-0 loss to promotion rivals Nuneaton on Tuesday night " reports the Halifax Courier. "The game started badly when the visitors took a fourth minute lead through Gareth Dean, deteriorated further with an injury to Jamie Rainford and a red card for Ryan Toulson and hit rock bottom as further goals from Danny Glover and Andy Brown sealed the home side's fate...

said Aspin, 'A player who is marked should not be getting a goal from a header at a corner. It was difficult from then on in'. Aspin would have been looking forward to getting his players in at the break when, in first half stoppage time, [ex-Alty man, Ryan] Toulson was dismissed for a second bookable offence. 'I thought the first one was a yellow card', he said. 'The challenge was a little bit reckless and I could understand it. The second one; he tried to follow the pass and at the end of the day he is sent off... We didn't make real chances all night, we never put their goal under pressure or created anything with good football'".

Elsewhere, "Carl Macauley, manager of Vauxhall Motors, has moved to ease his side's defensive problems by signing Fraser Ablett. The arrival of the left-back, who is the son of the late former Liverpool and Everton defender Gary Ablett, comes at the perfect time for Motors' boss Macauley as Lee Dames is struggling with injury. Ablett, 20, made his Motors debut in Saturday's disappointing 2-1 defeat at Gloucester City. A former youth team player at Chester City, Ablett counts Colwyn Bay, Skelmersdale United and Prescot Cables among his former clubs" reports the Ellesmere Port Pioneer.

According to the Coventry Telegraph, "Kevin Wilkin paid a big tribute to his revitalised side that has powered right back into the play-off picture with successive wins over fellow top-five candidates inside four days. After mercilessly taking Colwyn Bay apart 6-1 in North Wales at the weekend, hugely confident Boro swept aside FC Halifax 3-0 at an intimidating Shay Ground in midweek to overtake the Yorkshire side and go into second place behind leaders Hyde United.

Wilkin was overjoyed with both wins and handed praise to his rejuvenated squad that looks as brutal now as it was timid during an indifferent spell at the start of the year. He said, 'Both those victories came from outstanding team performances and I'm delighted for the players as they have taken some stick since the Hinckley defeat. They have never stopped believing in themselves and just needed something to spark things off... The emphatic result and superb display at Colwyn Bay was the real catalyst. We've taken a tremendous amount of confidence from that victory. You could see from the start we got at Halifax'".
---
23 February 2012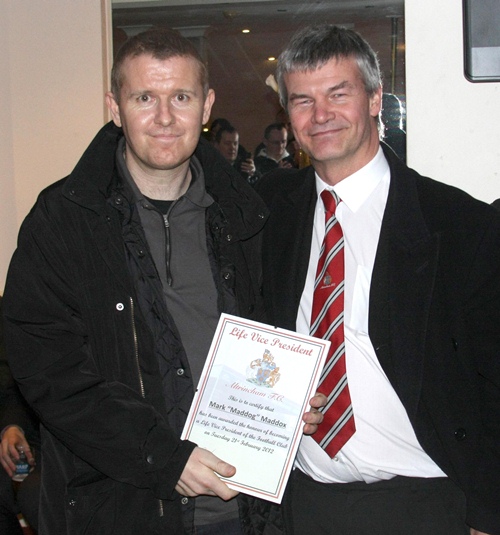 MARK'S AWARD
Altrincham FC joint Press Officer, John Edwards, writes:

"Mark Maddox's status as an Altrincham legend has been officially confirmed after he was made a life vice-president of the club, moments after Tuesday night's home draw with Hinckley United.

The popular and wholehearted former Alty defender, currently fighting a typically courageous battle against motor neurone disease, was surrounded by old team-mates such as Gary Talbot, Chris Adams and Gary Scott and ex-manager Graham Heathcote, as he received the honour from chairman Grahame Rowley.

Clearly taken aback by a presentation that had been kept secret, Maddox said, 'Everyone knows what this club means to me, and this is another great gesture that just shows the fantastic support I've had from everyone here'.

After beating Blyth Spartans 2-1 on Saturday, a lacklustre performance against Hinckley left manager Lee Sinnott angry and frustrated, as Alty spurned the chance to make further inroads on the play-off places.

'We only played for about seven minutes, towards the end of the first half', he said. 'We tore them apart and created chances in that brief spell, but for the first 25 minutes, we just didn't show up. I've no qualms about the result, because they deserved a point, but I was unhappy at the way we failed to set the right tempo and never got into our rhythm. The players got both barrels at half-time and a bit more at full time. Four points from two games isn't bad, but the performance was not what we have come to expect, particularly at home'.

With a play-off position still within striking distance, Sinnott sounded a positive note for what should be an intriguing run-in. 'With 13 games left, there are still plenty of points up for grabs, and the interesting thing is, we play all the top six sides,', he said. 'Nuneaton and Guiseley are away fixtures, but the other four teams all have to come to Moss Lane, so it really is all to play for'.

Left: Mark is seen receiving his award from Alty chairman Grahame Rowley. Picture courtesy of Gavin Rathbone of GR Photography.
JOHN'S DEBUT SUCCESS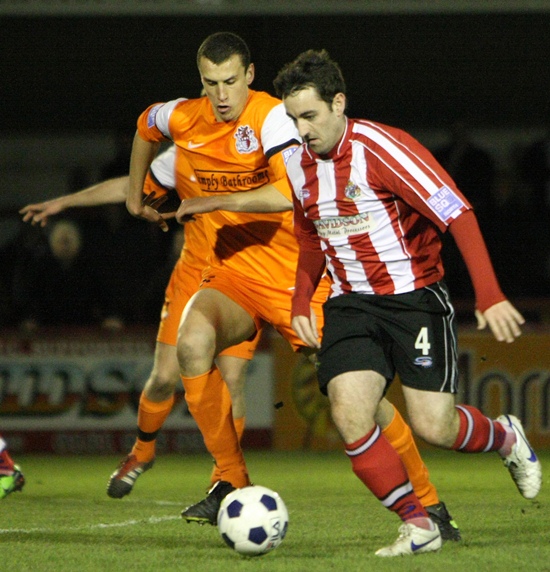 Midfielder John Miles scooped the Man of the Match award on Tuesday night in his first full game for Altrincham.

He is seen in action, right, courtesy of Gavin Rathbone of GR Photography.
LEE AIMING FOR A LATE RUN
The Sale & Altrincham Advertiser says that "Altrincham boss Lee Sinnott believes the time has come for the Robins to swoop into the Blue Square North play-offs. Alty have crept onto the cusp of the top five and reinforced their promotion bid with a 2-1 win at home to Blyth Spartans on Saturday...

With just 12 games left after this Saturday's trip to Bishop's Stortford, Sinnott reckons the Robins are ready to strike. 'We've flirted with the play-offs and we've hung onto their coat-tails', he said. 'But I'm a big believer that if you put a run together at the right time, people don't have the time to respond, and coming to the end of the season is the optimum time to do it. March is always a busy month and that leads us straight into a double-header at Easter so there's a lot that's going to be sorted out over the next six weeks'.

Saturday's win was Alty's first game in three weeks due to the big freeze... and although rock-bottom Blyth pulled one back... the Robins held on. 'You could tell we'd had a bit of a lay-off, we looked a bit rusty, but I wasn't too hard on the players', Sinnott added.
THERE'S ONLY TWO DAMIAN REEVESES
Brian Flynn's latest Flynnzine is headed "Our Damian is a Top Quality Goalscorer"!

It reads, "Earlier this season there were a couple of occasions when Damian Reeves's goals were not credited to our 33 goal striker. This resulted in yours truly having to contact various media outlets on each occasion to try to get the wrong righted, including an explanation as to how each error had happened.

The Spoof (www.thespoof.co.uk) picked up on these and produced a very funny article, which I became aware of via a contributor to the Fans' Forum.

Here's the article!

'Altrincham accused of manipulating League Golden Boot!

Altrincham Football Club, who ply their trade in the Conference North, two promotions away from the Football League, have been discovered attempting to manipulate the Golden Boot to ensure at least one trophy goes to Altrincham this season.

"Basically," said Rob Inns, who has been leading the investigation on behalf of the League Association For Fair Football (LAFFF), "Their striker, Damian Reeves, has been marked down as a scorer ten times at home, though we think that he may have scored just once at home."

LAFFF were alerted when Altrincham approached the league to have their scorer changed for their away match at Stalybridge Celtic.
"The Altrincham press secretary," said Inns, "has claimed that Damian Reeves [seen left, or is it right?]scored Altrincham's goal in that match, despite two independent observations that Michael Twiss scored, and Michael Twiss celebrating, and the announcement being made that Twiss scored going uncorrected by Lee Sinnott the Altrincham manager."
This is quite a serious accusation, one that could land Altrincham in hot water.
"It's not the first time that Altrincham have attempted to get the official scorer altered," said Inns. "They have tried to claim that against Histon, Reeves scored, despite sending Adam Reid, [seen right, or is it left?] as the official scorer. Now, Adam Reid may be the substitute goalkeeper who didn't come off the bench, as they claim, but they definitely faxed through Adam Reid's name to the Press Association as the scorer. I've seen the form myself."
There is also an unsubstantiated claim that Reeves is actually two players, Damian Reeves and Damien Reeves.
"By getting two so similarly named players we think this may be a further attempt to manipulate the League's Top Scorer's chart," said Inns. "I can understand why they would do this, there's a thousand pound to the winner's club, as well as a trophy. They wouldn't have been able to do it in a higher league, there's too many witnesses from the press. In the Conference North, they think they can get away with it, but they can't."
The Altrincham press secretary, Mary Reeves, who coincidentally just happens to be Damian Reeves's mother, denies any wrong doing.
"Our Damien [Damian!] is a top quality goal scorer," she said. "I know a couple of times he's not been marked down as a goal scorer, but this is a mistake on the form, he definitely was playing, and he's definitely scored, I saw him score with my own eyes."
LAFFF's investigation continues'"
DUNCAN MAKING AN IMPACT
Clitheroe report on the progress of Alty youth striker Duncan Watmore, who made his first-team Alty appearance recently. Duncan is gaining more first-team experience at Clitheroe who played Curzon Ashton recently. "Clitheroe, although ultimately losing by the odd goal in three, went the distance with title-chasing Curzon Ashton...

Excellent control by Watmore allowed him to arch a through ball into the path of debutant Waddington who beat the offside trap and produced an assured finish... It was Waddington and Watmore linking well after 18 minutes with a sharp one-two that saw strong penalty appeals waved away by the referee... Watmore [saw] his shot was saved by [ex-Alty keeper] Joshua Ollerenshaw in the Curzon goal... Watmore was having a tremendous game". And the Curzon line-up also included former Alty wingman, now right-back, Simon Woodford".
---
22 February 2012
MARK HONOURED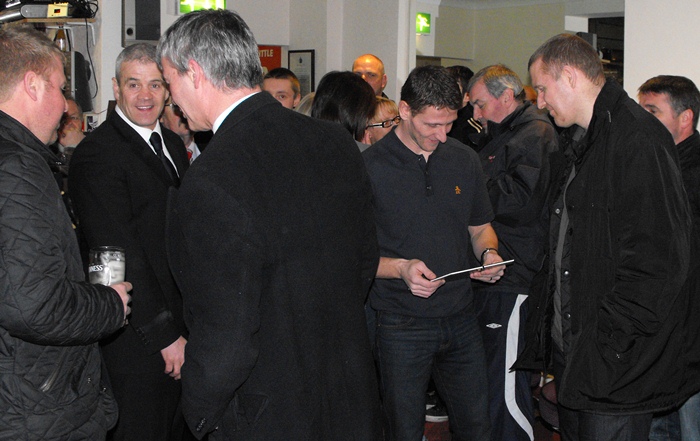 After the match, Altrincham FC's former captain, Mark Maddox, was honoured with the award of a Life Vice-President's membership of the Club. The popular centre-back, who is bravely battling motor neurone disease, was joined by a number of former team-mates to receive the award from chairman, Grahame Rowley. Above, we see Mark and his former team-mates and managers after the award had been made. There will be more on this in tomorrow's update.
ALTRINCHAM 2 HINCKLEY UNITED 2
Once again, when within sight of the play-offs, Altrincham faltered and Hinckley emerged with a deserved draw....
Alty line-ups
TUESDAY GAMES
BSBN
Tuesday 21 February
Altrincham 2 Hinckley United 2
Blyth Spartans 1 Stalybridge Celtic 1
Eastwood Town 1 Solihull Moors1
FC Halifax Town 0 Nuneaton Town 3
Gloucester City v Droylsden POSTPONED
Vauxhall Motors 0 Boston United 4
Workington 0 Gainsborough Trinity 2

FA Trophy 3

Tuesday 21 February
Cambridge United 1 Guiseley 0
Wealdstone 1 Dartford 0
AWAY TRAVEL
If Altrincham are to get into the play-offs some good away performances are needed; you can help the team to achieve these by following them on their away trips.

Altrincham travel to Histon on Saturday, 3 March. Details of the times and fares for the TASC supporters' coaches (30-seater) both to Histon and, before that, Bishop's Stortford (Sat. 25 Feb.), are to be found on the Away Travel page.
YANKEE - £5,000 TO BE WON
The Altrincham FC Saturday Yankee jackpot of £5,000 remains to be won after last week's winning code (1351) was found to be unissued. There were, however, four Treble winners, who each netted £50. For just a £1 stake you can be in with a chance of the jackpot!
BSB NORTH NEWS
The Coventry Telegraph surprisingly headed its Tuesday article with the statement that "Hinckley United visit Barwell for a place in the Westerby Cup final in mind. United have a quick opportunity to get Saturday's 1-0 loss to Guiseley out of the system when they make the short journey to neighbours Barwell tonight in the semi-final of the Westerby Cup". Apparently, that match actually takes place next week!

The Football Conference reports that "Vauxhall Motors have extended Scott Phelan stay from Kidderminster Harriers until the end of the season. The former FC Halifax Town man originally linked up with Motors for a month, on a deal that ran to 21st February".
OLD FOES
200% asks, "It is only fair to ask the question of why serial football club owner, George Rolls, should have decided to quit Weymouth Football Club of the Southern League Premier Division to take over the ownership of troubled Blue Square Premier club Kettering Town, which, he confirmed to BBC London's Caroline Barker, should be completed by the end of this week. And, perhaps even more pressingly than this, why is he taking ownership of this club and leaving Dorset barely a couple of weeks after stating that, 'Weymouth fans can rest assured that the Rolls family will not be leaving any time soon'".

This hagiography from the official Cambridge United website gives us a version of Rolls's past, but it is events subsequent to the writing of that particular article that cause the most concern over his suitability to run any football club, never mind one in as delicate a state as Kettering Town have been this season. Within six months of becoming the chairman of Cambridge United, Rolls had departed from The Abbey Stadium after spending just eight months as the club's chairman following the club's farcical pre-season during the summer of 2009. Manager Gary Brabin was sacked by Rolls despite claiming the Blue Square Premier's Manager of the Season award after leading Cambridge to the final of the play-offs, but he was... replaced with the former Leyton Orient manager, Martin Ling. Ling, however, quit the job after just nine days, citing irreconcilable differences with Rolls. This was enough to force Rolls from Cambridge, which meant that Ling did return to Cambridge United and he stayed at the club until his dismissal in February of last year.

Rolls... by the start of 2010 he was back involved in the game, this time at the perennially-troubled Weymouth FC. In January of 2010 he told BBC Solent that, "Short-term is all about survival in the Conference South this year. Long term, it will be to front the club debt-free and be back in the Blue Square Premier and full-time." He failed in all respects... Within less than three months of the above interview, Weymouth were in a CVA with debts of £822,000. Admitttedly, this wasn't a debt run up on Rolls's watch, but as ploys to get debt-free go, it's about as dishonorable as they come.

What has happened at Weymouth over the last couple of years could fill a book of its own, but it has included... resigning and handing the chairmanship to a Lithuanian businessman who subsequently resigned, only for Rolls's wife Amanda to join the board in his place... The denials over him looking to take over at Kettering Town continued apace. Here he is, denying it at the end of December last year, and here's a message from Weymouth's official site posted less than two weeks ago, which quotes Rolls as saying that, 'no takeover of the troubled club was ever going to materialise'....

The man now being linked with Weymouth FC is Tony Campbell. Campbell is a former chief operating officer from Plymouth Argyle, but he has also dabbled elsewhere – most notably at Rushden & Diamonds FC last summer, where he introduced Japanese businessmen to the club with a view to taking it over shortly before it folded... It is understandable that Kettering Town supporters may be desperate at the moment. The question of how desperate they are will likely come to define their relationship with George Rolls, if or when he takes over the ownership of their club".
---
21 February 2012
HINCKLEY SOLVE KEEPER CRISIS
"Hinckley United are hoping to rush goalkeeper Dan Haystead back into action when they go to Altrincham tonight. Haystead was set to miss the rest of the season but he was on the bench for Saturday's 1-0 defeat to Guiseley. With [loanee] Patrick Lane leaving the club after one appearance and Denham Hinds injured, Haystead is being brought back in after breaking his arm in November.

Manager Dean Thomas said, 'We've got another tough game on Tuesday at Altrincham, so they don't get any easier. We've just got to keep going and we can't afford to get despondent. We've got to go there, show our qualities and I hope some players are disappointed with their performances at the weekend because they are better than that. I'm hoping that Dan Haystead will be fit for Tuesday after Patrick leaves for Norway on Monday. He (Lane) showed his quality (against Guiseley), he's a nice lad, and he deserves to be in the professional game'.

Lane is moving to Scandinavia on trial in the hope of securing a professional deal. He has previously been with Leicester City, Blackburn Rovers and Cercle Brugge" reports the Nuneaton News.
SPORTSMAN'S DINNER - STEVE CLARIDGE
As previously announced, Altrincham Football Club is holding a Sportsman's Dinner, open to everyone, with former England player and BBC Football League Show analyst, Steve Claridge, as the guest speaker. It will be at the Cresta Court, Altrincham on Thursday April 5th, (the day before Good Friday). Steve, of course, has a good non-League pedigree, having both played and managed outside the Football League. Cost of tickets is £35 per person or £350 + VAT for a table of 10. To book your tickets please ring the club (0161) 928-1045 or e-mail the club office.
DO YOU FANCY PLAYING AT MOSS LANE?
Altrincham FC chairman Grahame Rowley writes: Fancy playing at Moss Lane – home of Altrincham FC?

"Would you and your staff like to follow in the footsteps of such famous names as David Beckham, Paul Scholes, Alex Stepney and Frank Worthington? They've all played at Moss Lane at one time or another.

At the end of the current season the pitch will be available for hire to local companies on selected dates between Sunday 29th April and Sunday 13th May. You could reward your staff with a night out with a difference or perhaps challenge another branch of your company to a game of football in an enclosed environment with all the facilities you would expect from one of the North West's premier semi-professional football clubs.

Your players will get the use of the home and away dressing rooms – the floodlights are free for you to use should you play your game in the evening. Afterwards, our fully licensed bar is open to you and all your guests. Catering can be arranged should you require it, alternatively you are welcome to bring your own food.

The cost to hire Moss Lane is £500 + VAT. This includes full use of the facilities including dressing rooms, showers and the bar during and after your match. Catering and match officials can be ordered should you wish.

Should you like to check available dates or to discuss your requirements please telephone Karen or Derek at the Football Club on 0161-928-1045 or email e-mail the office. Alternatively, you are welcome to view the facilities during office hours".

A colour leaflet for you to print off to show your boss, team-mates, or other interested partes is here.
TUESDAY'S GAME
Hinckley United visit Alty tonight (Tuesday). Their team last Saturday was Lane, Darikwa (Byrne 77mins), Flanagan, Bragoli (Holt 83mins), Lister, Hollis, Kerry, Gooding (Newton 55mins), Farrell, Gray, Belcher.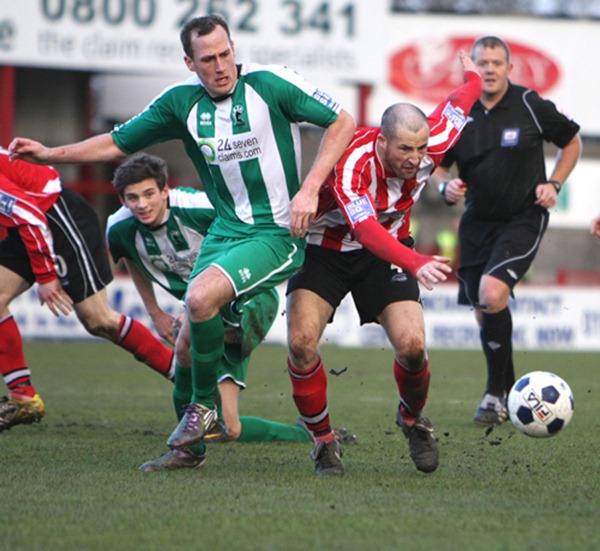 For Alty, after taking a couple of knocks to his head in Saturday's match, Chris Lynch is a major doubt for Tuesday's game. The midfielder was suffering concussion after the game with Blyth.
Right: In Gavin Rathbone's excellent image, Chris Lynch is seen in typical midfield action against Blyth. More of Gavin's images can be seen and purchased on his GR Photography website.
Hinckley's unofficial site reports that "Leicester City loan goalkeeper Patrick Lane's penalty heroics were not enough to save Hinckley who lost 0-1 to 3rd placed Guiseley, at De Montfort Park.
Lane was making his home debut along with loan defender Haydn Hollis and both were involved in the second half penalty incident, with Hollis judged to have fouled the player and Lane diving low to his left to make the save. It wasn't the only time that Lane was involved as Guiseley showed why they are in 3rd place, though Hinckley did make it very easy for them with some sloppy passing, poor finishing and a general lacklustre performance.
Hinckley started with a 5 man midfield, leaving Andre Gray up front on his own, but fell into the trap of hoofing it long, and Gray began to find himself more and more isolated...
It didn't take Guiseley long to take the lead early in the second half, as almost from the kick off Toner fired goalwards from the edge of the area, Lane making the save but not holding the ball and in the 'penalty area pinball' that followed the ball found its way to Simon Baldry, on the right of the area, who finished from 15 yards. Hinckley responded by bringing on Danny Newton and switching to a 4-4-2 and for the first time in the game began to look threatening.... Hinckley never did enough and lacked the final touch to equalise the scores".
Meanwhile, Altrincham Mad says that "Altrincham play host to Hinckley United at Moss Lane on Tuesday evening, aiming to preserve their record of never having lost at home to the visitors. The Robins won the only previous game contested between the two... at Moss Lane was back in March 2005, over five years ago, as they swept to an impressive 4-0 win in a (Conference) North match.
Recent encounters between the teams
2011/2012, 9 Jan., Hinckley Utd. 1 Altrincham 4
2004/2005, 28 Mar., Altrincham 4 Hinckley Utd. 0
2004/2005, 30 Aug., Hinckley Utd. 2 Altrincham 1".

Mike Garnett summarizes the encounters as follows:
At Moss Lane P1-W1-D0-L0-F4-A1
At Hinckley P2-W1-D0-L1-F5-A3
Overall P3-W2-D0-L1-F9-A4

Alty Mad adds, "Altrincham have only performed averagely at home, winning 3 and losing 2 of their last six. A total of 17 goals have been scored by the Robins in those games, with 11 conceded. Hinckley United have an average recent record on the road, winning and losing 3 each of the last six games. While the Knitters have hit 11 goals, 14 have hit the back of the wrong net. Altrincham lie just outside the playoff positions in the Blue Square (Conference) North, picking up 45 points from their 28 games so far. Hinckley United are hovering perilously just above the relegation zone, with 29 points from 27 matches...

Its a close one to call, but we think that Robins' reasonable showing at home is going to see them scrape past Hinckley United. Home Win".

And the Coventry Telegraph tells us that "Hinckley stay just above the relegation zone after a Simon Baldry's goal gave Guiseley a win that keeps their promotion hopes intact.. Knitters rarely threatened, Paul Lister's 17th-minute header their only chance of note. But for on-loan Leicester keeper Patrick Lane, the defeat would have been much heavier... Lane was equal to Walshaw's spot-kick – getting down low to save to his left".
BISHOP'S WELCOME
In advance of Altrincham's visit to Hertfordshire this Saturday, Bishop's Stortford FC's Ken Cooper has kindly sent the following message to our supporters...

"Bishop's Stortford FC Supporters' Club would like to extend a warm welcome to all supporters of ALTRINCHAM FC.

The ground is located just off the M11 Junction 8 - Post Code CM23 5RG - More detail can be found on our web site here. There is ample car parking at the ground and we have two covered stands and covered terracing behind both goals. There are facilities for supporters with disabilities at Woodside Park, including an exclusive covered section that also accommodates friends and helpers. If you have any special requirements, please telephone the Club on 01279 306456 prior to your visit.

The club bar is open for both sets of supporters from 12.30 - There is a Guest Bitter and a satellite TV in the bar showing live Premier League football.

Admission Prices
Adults £12
Concessions £7
Students [With ID] £6
Under-16s £5
Accompanied Under-12s Free.
Programme £2

The club shop is open from 2 p.m. and offers a selection of enamel badges, scarves and other merchandise as well as a huge selection of League and non=League programmes.

BSFC SUPPORTERS CLUB WISH ALL SUPPORTERS TRAVELLING TO WOODSIDE PARK A SAFE AND TROUBLE FREE JOURNEY".

The Herts & Essex Observer tells us that "Dwight Gayle scored two goals as the Blues drew at Droylsden... Gayle popped up to score his second goal on 86 minutes and give the visitors a point. Stortford remain 18th in the table."
MATCHDAY SPONSORS
Barry Pond's latest list of Altrincham FC Matchday Sponsors is now on the website.
OLD BOYS
The EvoStik League's Player of the Year shortlist includes former Alty striker Mark Beesley, now at Hednesford, but formerly with Burscough after leaving Moss Lane last summer. Mark was in action for his new club on Saturday as were all the following "old boys". Ex-reserves' keeper Craig Ellison was Man of the Match for Burscough and Carlos Roca netted for FCUM. James Coates and two ex-Alty youth players, Ben Deegan and Leon Grandison turned out for New Mills, whilst Chris Denham played for Chorley.

Both Rob Williams (Lincoln City) and Greg Young (Alfreton) played in the BSB Premier but both Chris Senior and Lee Ellington were only late subs for Guiseley on Saturday. For Droylsden, Dale Johnson, Warren Peyton, Carlos Logan and former trialist Nat Kerr all played.
LADIES' GOOD DRAW
Altrincham FC Ladies' manager, Keith Edleston, has kindly provided the following match report and accompanying photograph from last Sunday's home match...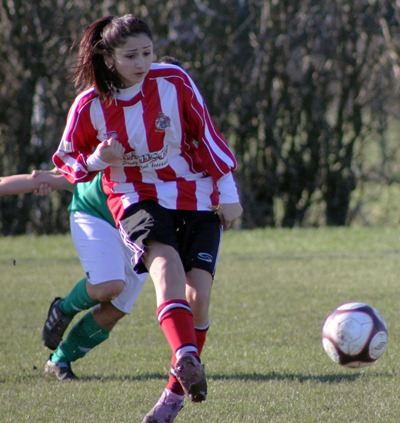 Altrincham FC Ladies 0 AFC Stockport Ladies 0
"Sunday's game saw the Ladies fight out an entertaining draw with AFC Stockport in the League Cup. With nearly a fully fit squad to choose from and a debut for our new signing, Scarlett Wright, things were looking up and, indeed, we weren't going to be disappointed.
Straight from the off, Altrincham took the game to AFC and it looked like we could score or cause problems for their defence at will. In that first period Rosie, our keeper, was nearly a spectator for long periods of time. But, credit where it is due, AFC kept plugging away and caused a few nervous moments in our defence but they were ably dealt with by our two solid centre halves, Louise and Rachel, with Hannah and Kate again spraying passes all over the pitch for players to run onto.
Unfortunatley for Kate, after about 30 minutes, she started to feel ill and had to be replaced by Scarlett, who bedded in quite nicely and looked like she had played there all season. The half drew to a close with Alty on the attack, as per most of the first half.
Half time 0-0.
The second half started just, as the first had ended, with Altrincham clearly on the front foot and forcing corner after corner and with lots of possession, though not too many clear strikes at goal. A good team will always have a period when they come back .
Going into the last 15 minutes, AFC pinned us back in our own half and had a lot of possession but really without creating many clear-cut opportunities.
Full Time 0-0
Again a special mention must go to all the players in the team for playing on a very stodgy pitch and producing some lovely football that, again, was fantastic to watch. But we must be more clinical in our shots on goal. A mention must also go to Lauren and Ella, playing out of position in defence, and also Louise and Rachel, who again were commanding in the centre half positions.
Up the Alty...!
Squad- Rosie Emerson, Ella Taylor, Rachel Bullock, Louise Edleston, Lauren Thorneycroft, Hannah Kibble, Kate Rawthore, Natalie Thornley, Maya Germain, Jacqui Farrah, Brogan Walsh, SUBS- Scarlett Wright, Kim Latham, Nadine Dixon, Becky Collins, Faye Howard".
FLYNNZINE
Brian Flynn's lates "Flynnzine" appeared in Saturday's "Robins' Review"...

Size... not always the most important thing!!

I am often fascinated by the lack of correlation between the size of a crowd and the atmosphere generated within a football ground. Many people describe the atmosphere at Old Trafford these days as being 'like a morgue', which is remarkable, considering that there are generally over 75,000 people watching games there, but there is no doubt that the likes of Goodison Park generate far more noise, passion and excitement, despite the fact that there are only about half as many people attending.

There is no single reason why we get these variations in atmosphere, but I would suggest that there are probably two main drivers of this phenomenon:-
1)The stadium structure. Manchester City fans often talk of the much poorer atmosphere at The Etihad Stadium than was the case at their previous Maine Road home and some of this must be explained by the different ways that these grounds have been built. The sheds of yesteryear appear to have been infinitely better at containing and building noise than the much more technically refined, yet somehow noise-dissipating, cantilever stands that most grounds have these days.
2) The make-up of the crowd. At the likes of The Emirates, Stamford Bridge and, particularly, Old Trafford, you have a very high proportion of corporate hospitality guests and visiting tourists. These people may purport to support Manchester United but they are a completely different type of animal to your diehard Stretford Ender and to be blunt, they don't display very much passion for what's being served up in front of them.

At the other end of the spectrum, the likes of Moss Lane, particularly for a night game, can generate a superb noise, even with less than a thousand people watching. The Moss Lane set up, with relatively low stand roofs and a high proportion of real fans, who really do care, attending, lends itself well to creating a fairly raw, passionate atmosphere, that I, for one, absolutely love!

One of the best examples of this phenomenon is provided by today's visitors. Blyth Spartans' neatly appointed and impressive Croft Park stadium is one of the best grounds in the country for raw atmosphere. Strangely enough, it's the main stand that is the best exponent of this and it is amazing how much raucous and passionate noise can be generated by a few truly committed Northumbrians.

I notice this every time we play there and the Radio Robins Team, (Paul Salt, Gareth Thomas and me), had a whale of a time when commentating on our 1-1 draw there less than four weeks ago.

It's certainly a big game for both sides today. Blyth have been showing some marked improvements in form since Tommy Cassidy took over but are suffering from too many draws. They desperately need a few wins to give themselves a chance of escaping from the drop. For us, we really do have to get a big haul of points from our remaining home games, as relying on our away form to provide a passage into the play-offs, may not be the best strategy!

So the pressure is on... all round!!".
THANK YOU!
Altrincham FC thanks all who contributed to Saturday's Bucket Collection, which raised £47.38. Many thanks, too, to the collectors for giving their time.
LAST GAME
Blyth Spartans report that "Following almost a month of postponements Blyth Spartans were back in action at Altrincham on Saturday, but were still feeling under the weather on the journey home from Manchester, with a 2-1 defeat leaving Tommy Cassidy's side bottom of the league table. To make matters worse for Spartans, substitute Lee Mason was shown a straight red card with six minutes remaining and will now serve a three match suspension...

Spartans squandered a number of chances, even after being reduced to 10 men, and will feel aggrieved at not taking away at least a share of the spoils. Blyth's new loan-signing, Joe Kendrick averted the danger with a headed clearance following a testing cross from Shaun Densmore in Altrincham's first meaningful attack of the game...

Altrincham had the ball in the net on 19 minutes but the linesman had raised his flag a long time before Reeves finished past Spartans' goalkeeper Robert Birdsall... Amidst constant Altrincham pressure there were only sporadic forays in to the opposition half from the visitors... The Robins got the goal they deserved on 33 minutes when James Lawrie turned sharply in the area and found a surging Broomes, who slid the ball past Birdsall from 10 yards...

The travelling Spartans supporters were relieved to see their side enter half-time just a goal behind but were soon to be heard uttering a collective 'here we go again' three minutes after the interval when referee Paul Davidson pointed to the spot after a challenge from Wayne Buchanan [it was Kendrick who actually conceded the penalty] on Lawrie. Altrincham were awarded a last minute penalty in the corresponding fixture at Croft Park three and a half weeks ago and it was a similarly innocuous challenge which led to this one.

Just as on that occasion Reeves once again gave Birdsall no chance from the spot by smashing the ball into the corner of the net... On 53 minutes a deep cross from Kendrick was headed in by Armstrong which silenced the home support – who were now well aware that their side had a real game on their hands...

On 84 minutes an off the ball incident involving Mason and Nicky Clee was spotted by referee Paul Davidson, with the official appearing to indicate a stamp was involved when brandishing the Spartans' player with a red card. Despite the sending off Spartans continued to look the more likely to score next".

The Chronicle Live adds that "Blyth Spartans are back on the bottom of the table... [as] Tommy Cassidy's men were unable to clip the high-flying Robins' wings. Blyth have not won in the league since... September 17.

Cassidy said, 'Things do not look too good, to be blunt, but we have to focus on each game and not worry about the league table. It was a case of the good and the bad at Altrincham. We were woeful in the first half and conceded a harsh penalty early in the second... We were much better in the second 45 minutes but could not find the equaliser. I was ashamed of the first-half performance and had a real go at the lads but they responded well and we were the better side in the second half.

Altrincham were defending for their lives but the bottom line is we have lost the game and remain on just 15 points at the foot of the table. Joe Kendrick did well on his debut at left-back but we need to get a break from somewhere and end the long winless run. We have Stalybridge Celtic on Tuesday night. That is the next opportunity and we have a chance if we play like we did in the second half at Altrincham'".
BSBN NEWS
From NL Daily, we learn that "Leek Town's goalkeeper Joe McCormack has turned down an approach from Eastwood Town, to remain at Harrison Park. Former Blues' boss John Ramshaw issued the required seven days' notice of approach but the former Rainworth keeper, who joined Leek in December 2011 to replace injury victim Danny Roberts, has decided to remain with the club".

According to the Halifax Courier, "Town boss Neil Aspin cut a frustrated figure as he watched his side surrender a two-goal lead at Eastwood on Saturday. The Shaymen were cruising against their relegation-threatened hosts after goals from Danny Holland and Liam Hogan inside the opening eight minutes. But a red card for Cameron Darkwah and an Eastwood penalty before the break darkened the manager's mood.

And the home side bagged a second half equaliser to compound Aspin's misery on a day when he ended up watching from the main stand following an altercation with the referee.

'We were not professional enough to do the job ', said Aspin... 'I am disappointed because we have dropped two points, there are no two ways about it'..

Darkwah's dismissal was a massive disappointment and a little harsh, for what appeared no more than a trip, but was deemed by referee Darren England to be a kick. And the award of the penalty, after Luke Ashworth and Jervaise Christie had been battling for possession on the edge of the area, was a shock to most inside the ground.

'It was a bit of inexperience on Cameron's behalf, but it was a very harsh sending off', said Aspin. 'I think the penalty just before half time was the moment that changed the game. When you are 2-0 up you are a bit more comfortable but to concede a dodgy penalty right on the stroke of half time was a blow'....

Aspin had been banished to the stand by the time the penalty was awarded for his protestations following Darkwah's dismissal. And the manager admitted he had been wrong to go onto the field of play in order to get his point across to the referee.

'There were so many bad decisions', he said. '"You are only human and it just gets to you. It was just frustration but I should not have gone onto the pitch and I accept that... We should have done better as a team and I am not going to say the ref's cost us because we have cost ourselves... They have a lot of young lads in the team but showed spirit and in football no one can just turn up and win'".

"David Livermore was full of praise for goalscorers Dan Holman and Matt Breeze as Histon put their off-field troubles behind them with a 2-0 win at Corby Town" reports the Cambridge News. "'The first goal was Premier League standard', said Livermore. 'If that had been in the Premier League, people would have been talking about it for weeks. Dan did very well for the second goal, he showed good composure to pick out Matt Breeze. I'm pleased for Breezy as well because he works very hard. He's a young lad and is learning the game all the time. He's only just 19 and definitely has something. It's my job to try to get it out of him... We had to deal with a big aerial threat towards the end, so we deserve some credit at the back for dealing with that as well as we did', he said".

According to the Yorkshire Evening Post, "Guiseley marked their first league fixture since January 28 with a hard-fought 1-0 win over Hinckley United, thanks to a second-half strike from Simon Baldry. The Lions could even afford the luxury of a missed penalty with James Walshaw seeing his second-half penalty saved, but thankfully the miss didn't prove costly.

Lions' manager Steve Kittrick brought in Mark Bower to partner Danny Ellis at centre back, moving skipper Simon Ainge to right-back. The trio, with the ever-present Dave Merris, were the foundation for a win which kept the Lions' hunt for promotion firmly on the boil.

Hinckley started the brighter however, with lively forward Andre Gray finding himself through on goal... A resilient Hinckley side had frustrated Gusieley in the opening 45 minutes but a half-time discussion with Kittrick obviously did the trick with Baldry netting in the 47th minute".

The Post also tells us that "A second-half strike from winger Robbie Youhill earned Harrogate Town all three points in a 1-0 success at Gainsborough Trinity... Boss Simon Weaver said, 'It was a game for Robbie Youhill. The pitch was a bit rutted up because of weather conditions and it was blowing a gale. It wasn't really a winger's paradise out there and things weren't quite working out for him... Gainsborough are flying. They've turned it around and the manager's got to take a lot of credit for injecting that bit of something different... We can defend as a unit now and I'm delighted to win for a few reasons'".
CHESHIRE NEWS
The Northwich Guardian reports that "Paul Simpson's tenure as Northwich manager will end following this Saturday's FA Trophy quarter final. The 45-year-old moves to Portugal next week after accepting an offer to take over as head coach at an academy for teenage players released from contracts at professional clubs. He has been with Vics for less than a month...

'Since I left Stockport [at the start of last year], I've applied for jobs working with younger players at academies, so this is a perfect role for me. I didn't expect to be asked to start so soon, which is why I agreed to help out Northwich, but they want me to be there from the start of next month'...

Vics' owner Jim Rushe has persuaded the former Carlisle boss to pick the team for final time when Newport County visit Cheshire this weekend. The Guardian understands that Alan Wright, brought in as Simpson's right hand man, is staying with the club, although no decision has been taken as to what his role will be. Simpson will work for VisionPro Sports Institute, which offers funded two-years scholarships to young players seeking a route back into the game. The firm moved to Rio Maior in January after basing itself initially at La Manga, Spain".
---
20 February 2012
YOUTHS MOVE UP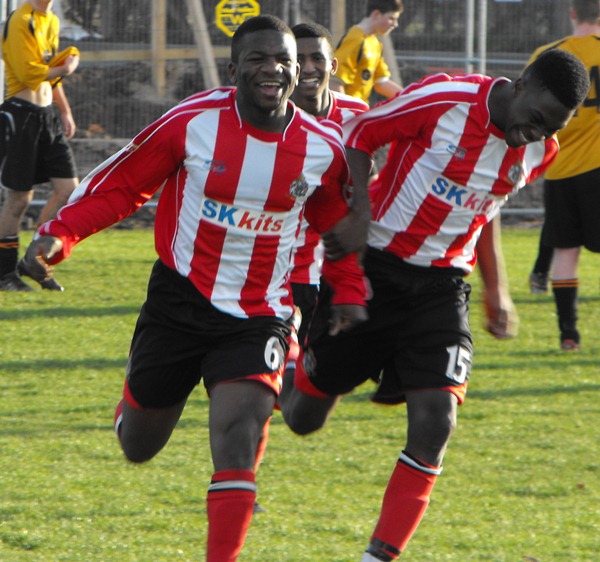 Altrincham FC Youth had a hard fought 3-1 win at home to Prescot Cables Youth on Sunday afternoon. An opening goal from captain, Sam Grimshaw, was followed by a brace from midfielder Alan Tansinda. There is a report on the Youth Page. Alty Youth have moved up to fourth in the league table.

Right: Alan Tansinda (left) celebrates his second goal with Derryn Ofori and Josh Palmer.

Alty's Duncan Watmore will be playing for Clitheroe at Curzon Ashton on Monday evening, 7.45pm. Ian Senior advises that if anyone is going, would they please contact George Heslop, as he would appreciate a lift!
BLYTH GAME VERDICTS
You can see excellent highlights from the Alty v Blyth match on Alty TV.

Pitchero Non-League says that "Despite Blyth Spartans now lying bottom of the Blue Square Bet North, following Saturday's 2-1 defeat at Altrincham, manager Tommy Cassidy came out with some fighting talk.

'We are truly in a dreadful position', he said. 'But we must continue to take each game separately and not think too much about the table. We'll fight on and the players must realise that they are fighting for their futures at this club too – whether we stay up or go down!'.

He continued, 'We were really poor in the first half at the weekend. We never got going. Our passing was poor and we hardly threatened... We were caught sleeping when Altrincham took a free kick. Their player got two yards on one of our defenders before he woke up. It was a terrible goal to give away. In fact, we were weak against Altrincham's set pieces all game. Going in at half time I was embarrassed with our performance and I hope the players were too', Cassidy said.

The hosts were awarded a penalty only three minutes into the second half which Damian Reeves converted despite Blyth keeper Rob Birdsall doing well and getting a hand to it. 'It was harsh', thought Cassidy. 'Wayne Buchanan was already on the ground when their lad tried to jump over him but caught Buchs' leg. That killed the game for us'. [The video shows it was not given for anything Buchanan did but for a foul by Kendrick after Lawrie had got past Buchanan].

Nevertheless, the Spartans upped their game and Wayne Phillips hit the post before Graeme Armstrong pulled a goal back heading in a Joe Kendrick cross. 'It was a good goal and, after that, we got them on the back foot a little. We actually could have got something from the game in that spell – something Altrincham manager Lee Sinnott conceded afterwards', said Cassidy.

Glen Taylor came close on several occasions for the visitors as Blyth continued to press. With seven minutes remaining Blyth's Lee Mason was given a red card for what the referee adjudged to have been a stamping offence. Cassidy rallied to his player's defence, 'To be honest I didn't see it but Lee said he was stepping over their player when he moved and Lee's foot did make contact but he definitely did not do it deliberately, and Lee's an honest lad'.

Cassidy felt for the supporters, 'I'm sorry for them. I know it can't be nice for them but we have to move on to the next game and try to play for the full 90 minutes not just 45'. Blyth released striker Jamie Mole at the weekend after the Altrincham match and Cassidy confirmed he is looking for a new player or two to refresh the squad. There is no sign of Cassidy rolling over and sinking in to a mire of despondency. Rather he is prepared for a fight to the finish".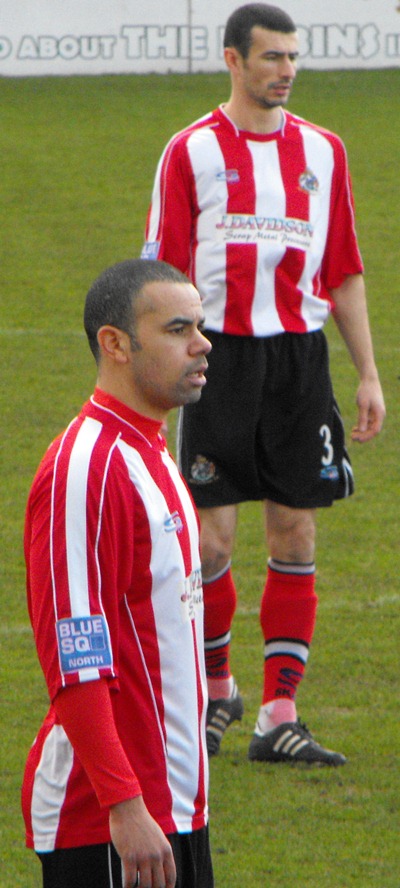 Right: Marlon Broomes (nearer camera) and Mark Lynch both made good home debuts for Altrincham on Saturday.
FORM GUIDE
Over the past six games in the BSB North form guide, Altrincham lie second. Damian Reeves still heads the scoring charts with 33 league goals.
GAINING EXPERIENCE
Altrincham FC have been allowing several of their promising youth players to gain first-team experience with Clitheroe Fc. On Saturday as the Lancashire club lost 2-0 at Ossett Town, Matt Fearon played the whole game and Duncan Watmore played the last thirty mins, during which he hit the post.
NEW RECRUITS EVENING
For this, the second of the "New Recruits" evenings at Moss Lane this season, the three players, new to the Club this season, who were the guests were the defensive trio of Kieran Walmsley (on loan from Kendal Town), Matt Flynn (from Fleetwood) and recent signing Marlon Broomes, whose most recent club was Clitheroe. Joining them on the top table, with compere Brian Flynn, was assistant manager, Neil Tolson.

Before the event, held in the Manchester Glass Sponsors' Lounge at Moss Lane, compere Brian Flynn confirmed that the income from the evening would be doubled by a generous donation from the Barclays' Giving scheme, up to a maximum of £750, for which the Football Club is very grateful. The scheme recognizes Altrincham's role as a community club.

The evening started with the 50-plus attendees taking part in a non-too-serious competition in which they had to guess the preferences of the three guests in such varied areas as their daily newspaper, their choice of red or brown sauce to accompany their meals and, most controversially their preference between manager Lee Sinnott and his assistant Neil. The presence of the latter ensured he won the vote!

Asked about their past careers, Kieran said his most memorable games had included playing for Morecambe at Hull in front of 14,000 fans. Also, in front of the Sky Sports cameras, Kieran had missed a penalty! Another memorable game for him had been for Fleetwood in their promotion play-off final.

Marlon's chosen game was in the Premier League, for Blackburn Rovers at Southampton, where he had the task of marking Matthew Le Tissier.

Matty's selected games included a clash between Macclesfield Town and Harlow early in his career and he wass also proud of being a part of Rochdale's promotion team to League One.

In Neil Tolson's case, he was honoured to have been one of the players who played for a Premiership team on the very first Saturday of the Premiership matches. He also fondly remembered playing in the play-off final for Bradford City at Wembley.

Asked about their lives outside Altrincham FC, Kieran revealed that he was a fire alarm engineer who spends much of the week travelling round the country for his employers. Often, this means travelling directly to training at Moss Lane without being able to get home first. Coincidentally, all three players at the event tonight are based in central Lancashire.

Marlon does not have a job outside football other than as a house-husband, whilst Matty is still full-time on the Fleetwood staff list. Brian pointed out that Marlon's wife is kept busy as a wedding event organizer. As for Neil, he reminded us that he works during the week for a security firm, with 250 staff for whom he is responsible.

Regarding their ambitions in football, Neil described himself as very disappointed not to have been a used substitute at Blyth recently, despite his appeals to Lee Sinnott to bring him on! More seriously, Neil admitted to being ambitious and hopes to achieve his immediate goal of "taking Alty up". However, he would be reluctant to give up his security job for full-time football management. He also said that, after three years of management at Hyde, he had found that his hair had stopped dropping out and was now growing again! "I genuinely enjoy being at Altrincham", said the assistant boss.

Still being full-time at Fleetwood, where he trains when not at Moss Lane, Matty has nevertheless been thinking about what to do if he goes part-time. To that end, he is working on his coaching badges and also following a personal trainer's course.

This summer, Marlon is going to Northern Ireland to pursue his coaching badges and would later like a "number two's job, a cushy one, like Neil's!" However, he would not want to be the actual manager.

As for Kieran, he is more than happy with part-time football as he enjoys his weekday job.

The players were then asked about their choice for the new England manager, with Harry Redknapp a clear favourite, despite Matty's controversial vote for Fabio Capello. However, Matty went on to say that he thought José Mourinho would get the job and that Redknapp would stay at Tottenham.

Asked about the best managers they had previously played under, Kieran's vote went to Jim Harvey, for whom he played at Morecambe. Marlon opted for Roy Hodgson. Matty's vote went to the late Keith Alexander, whilst Neil's choice was Joe Royle, who managed him when he was at Oldham Athletic. According to Neil, Joe had a superb knack of talking to you and you could not tell whether he was praising or criticising you!

Questioned about dressing room "characters", Kieran confirmed that "It's a good dressing room at Altrincham, there is no stand-out idiot!" From kitman John Skelhorn, leading candidates for Altrincham changing-room jokers in recent years included Gary Scott, Chris Adams and Matt Doughty.

The players agreed with Kieran's view that referees and assistants would be better if they were ex-players but Neil ventured that Saturday's referee, Mr Davidson, had been good.

Moving on to their footballing heroes, for Kieran, who is an Arsenal fan, it is Thierry Henry who stands out. Aston-born Marlon went for Villa defender Paul McGrath and he also admired John Barnes a lot.

Matty's hero was, he claimed, none other than Marlon Broomes, when he was at Preston, as Matty supports North End! He was also a great admirer of Bobby Moore, influenced in this by his father, who supports The Hammers. In the modern game he thinks Nemanja Vidic is a great player.

Neil's idols were the combination of Kenny Dalglish and Ian Rush for Liverpool.

The players were then asked for their early impressions of Altrincham FC and, uniformly, they were very happy here. Marlon was impressed by the professionalism of the club. Matty had been "iffy" about dropping down a division to come here but was really happy to have done so. He thought, for example, that it was excellent that the chairman was very visible and even came along to training. In short, Matty said the club "is run the right way".

Neil also "loves working here" and he paid tribute to the 800 home fans at today's game and also to the strong away support. Neil was then asked to explain how he and Lee worked a a management pairing. Neil said that he had known Lee for 20 years and the Alty manager did not want a "yes" man as his assistant. Neil is happy to express his point of view to Lee but he fully supports whatever the manager decides when it comes down to the team talk before each game.

Asked to nominate this season's promotion candidates in the BSBN, Neil thought Guiseley would win the title with Hyde, Halifax, Altrincham, Gainsborough and Nuneaton in the play-off mix.

Next, talk turned to the best players, with whom or against whom, the guests had played. The best player that Kieran had played against was Craig Bellamy and the top one he had played alongside was Gary Thompson, now at Scunthorpe United, but ex-Morecambe.

For Marlon, his most talented opponent had been Alan Shearer, for Newcastle in the Premiership, rivalled by Robbie Fowler, whose movement impressed Alty's new central defender. His best team-mates had been Colin Hendrie and Michael Owen.

Matt's trickiest opponent had been Sean Wright-Phillips. Indeed, after trying to mark him as a teenager, Matt joked that he had almost given up football and gone back to his paper-round! As for his most admired team-mate, he chose Gary Jones, the captain of Rochdale, for his commitment and work rate.

Neil's most difficult opponent had been Everton's Graeme Sharp, whilst his most skilful team-mate had been Jonathan Greening, now at Nottingham Forest. Neil is also a great admirer of Paul Scholes.

On the goal-scoring front, Kieran's best was a screamer against Fulham, although he had also scored from his own half a few times. Marlon, who had scored earlier in the afternoon on his Alty home debut, described himself as a "two goals a season man". Brian pointed out that as the season was now more than half over, we could not expect any more from Marlon in this campaign! Matt said that he had scored a great goal in a match against Nottingham Forest reserves- sadly it had gone into his own net and he has never actually scored a goal at senior level at the right end - though he had nearly done so that afternoon against Blyth.

Neil Tolson said his best-ever goal had only recently come, in training, when he netted several times whilst being marked by a defender who had just bet him £20 that he would never score whilst he was marking him. And that defender was... Matthew Flynn!

So, it was another very entertaining night at Moss Lane and, if you get the chance to attend the next New Recruits evening, do make sure you take it. In addition to the banter and insights into the dressing room, there was an excellent meal of chicken and chips prepared by club caterer Richie Bentley, whose fare you can also sample at the Vale Inn, Bollington near Macclesfield, as well as in the Manchester Glass Sponsors'Lounge on each matchday at Moss Lane.
MONTHLY DRAW
The TASC Monthly Draw was held on Saturday evening and the prize-winners were:
£100 Alan Pennycook
£50 P B Smith
£35 Gareth Thomas
£15 Andy Howe
---
19 February 2012
ALTRINCHAM 2 BLYTH SPARTANS 1

Match report here.

RED SAUCE OR BROWN?

A very enjoyable evening was had on Saturday, after the game against Blyth Spartans, when a packed Sponsors' Lounge was the venue for the latest in the club's series of "Meet the New Recruits" evenings, expertly compered by one of the many Flynns at Moss Lane - our TASC chairman and joint Press Officer, Brian. The main guests were three new players, Marlon Broomes, Matthew Flynn and Kieran Walmsley, who were joined by assistant manager Neil Tolson. A report on the evening will follow later but, here (left), we see Matty, Marlon and Kieran before the event began. As well as learning a lot about the new players' footballing pasts, we also discovered other vital facts about them - such as which of them prefers tomato ketchup to brown sauce.

GATES

Despite only 15 recorded entries through the away end turnstiles at Moss Lane yesterday, the gate of 840 for the match against Blyth Spartans was the largest in the division on the day.
Altrincham v Blyth Spartans, att. 840
Colwyn Bay v Nuneaton Town 453
Corby Town v Histon 287
Droylsden v Bishop's Stortford 271
Eastwood Town v FC Halifax Town 579
Gainsborough Trinity v Harrogate Town 596
Gloucester City v Vauxhall Motors 303
Hinckley United v Guiseley 469
Solihull Moors v Worcester City 398
Stalybridge Celtic v Workington 501

ADIE LEAVES

Central defender Adrian Hawes, who was loaned to Altrincham from Alfreton Town, has returned to his parent club. During his loan spell Adie made 10 starts for the club, scoring one goal. ALtrincham FC would like to thank him for his service to the club and wish him well back at Alfreton.

ANOTHER YOUTH TEAM MEMBER JOINS SQUAD

Following on from Adam Reid, Matt Fearon, Joe Coombs and Duncan Watmore, Altrincham FC are now adding left-back/central defender Sam Grimshaw to their group of current youth team players who have signed Conference playing forms for this season.

IN MEMORY OF JACK

David Thorpe, son of former Alty groundsman, Jack Thorpe, who died recently at the grand age of 98, informs us that thebcollection held at Jack's funeral raised an excellent £389 for the Wythenshawe Hospital "New Heart, New Start" programme. David would like to thank everyone who contributed towards this large sum.
---
18 February 2012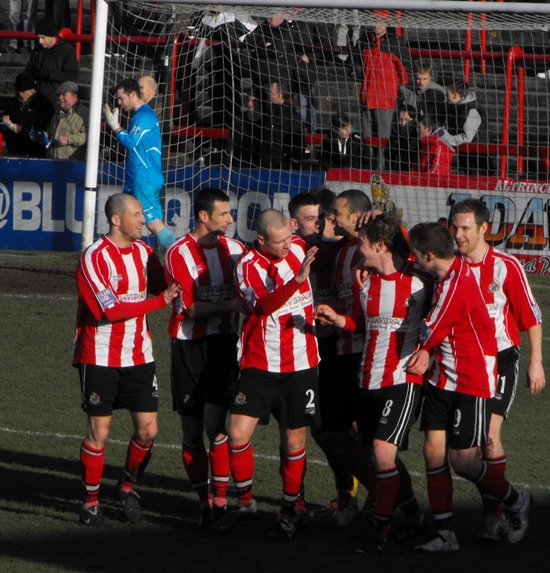 ALTRINCHAM 2 BLYTH SPARTANS 1
A new-look Altrincham squad, which included four players who were to make their Moss Lane debuts today, made heavy weather of overcoming a spirited Blyth side, which had the chances to take something from the game but lacked composure in front of goal. After a scrappy start in difficult breezy conditions, Altrincham went ahead in the 34th minute when Lawrie did well on the right and his low cross was put into the net by a stretching Marlon Broomes. When some tricky dribbling from Lawrie drew a foul challenge very early in the second half, Damian Reeves blasted the ball home for his 33rd goal of the season.

But Blyth then came back into the game and pulled a goal back when Armstrong headed home after 54 minutes. Despite having substitute Mason sent off by a straight-red offence off the ball against Clee, the ten men from Northumberland had a lot of the attacking play but Altrincham hung on to claim the three points. Report to follow.

Right: Alty celebrate Marlon Broomes's opening goal of the game.

ALTRINCHAM: 1. Joe COLLISTER, 2. Kieran WALMSLEY, 5.Matt FLYNN, 6. Marlon BROOMES, 3. Mark LYNCH 7. Simon RICHMAN, 8. Shaun DENSMORE (capt), 4. Chris LYNCH, 11. Nicky CLEE, 9. James LAWRIE; 10. Damian REEVES. Subs 12. Mark LEES, 14.John MILES, 15. Michael TWISS, 16. Jack REDSHAW, 18 Adam REID.

BLYTH SPARTANS: 1. Robert Birdsall, 2. Dan Groves, 3. Joe Kendrick, 4. Seb Anzavui, 5. Wayne Buchanan, 6. Jordan Mellish, 7. Shaun Utterson, 8. Neal Hooks, 9.Graeme Armstrong, 10. Glen Taylor, 11. Wayne Phillips. Subs: 12 Jamie Mole, 17 David Knight, 14. Sam Hodgson, 15. Phil Cave, 16. Lee Mason
Alty line-ups
BSBN
Saturday, 18 February
Altrincham 2 Blyth Spartans 1
Colwyn Bay 1 Nuneaton Town 6
Corby Town 0 Histon 2
Droylsden 2 Bishop's Stortford 2
Eastwood Town 2 FC Halifax Town 2
Gainsborough Trinity 0 Harrogate Town 1
Gloucester City 2 Vauxhall Motors 1
Hinckley United 0 Guiseley 1
Solihull Moors 0 Worcester City 0
Stalybridge Celtic 1 Workington 3
MATCH COVERAGE

Above: Alty's line up today could feature three faces new to the Moss Lane home supporters, with new signings John Miles and Mark Lynch available and Marlon Broomes fit again after being injured on his debut at Blyth in January. Here we see the starting line-up of Alty's most recent game, at Gainsborough, comprising (l. to r.) Densmore, Collister, C. Lynch, Walmsley, Lees, Clee, Lawrie, Reeves, M Flynn, Hawes and Redshaw.
For Saturday's match between Altrincham and Blyth Spartans, if you cannot get to Moss Lane, you can follow the action in one of two ways:
Radio Robins, sponsored by Paradox-Computers.com will be broadcasting a full internet commentary of Saturday's game. The match commentary is sponsored by John Norbury and the commentators will be Jack Jolly and Simon Ellis. The match summariser will be Paul Salt and the broadcast will begin at 2.50pm. You can listen to Radio Robins on the internet here.
The Live Matchday Update page of this website will have text updates from before the match to the final whistle.

Mike Garnett's record of previous games between the clubs tells us that the tally is as follows:
At Moss Lane P6-W4-D1-L1-F12-A6
At Blyth P9-W2-D5-L2-F12-A10
Total: P15-W6-D6-L3-F24-A16
BEFORE THE GAME: BLYTH CONFIDENT
Before Saturday's match, the Chronicle Live reports that "Blyth Spartans' boss, Tommy Cassidy, is hoping for revenge when his side travel to Altrincham tomorrow. In the reverse fixture at Croft Park, a last-gasp Damian Reeves penalty gave his side a share of the spoils and left Cassidy devastated. It was cruel blow for Blyth who battled bravely and deserved more against Lee Sinnott's side.

But Spartans' chief Cassidy is adamant his side can get a good result when they make the trip to Moss Lane. 'I certainly think we can go down there and get a good result', Cassidy insisted. 'When we played them last time they scored a 95th-minute penalty and it was a cruel blow for us. We were the better of the two sides and deserved something from the game. I've seen how well the players have been training and there's no reason why we can't go down there and pick up some points'.

Yet Cassidy has warned his team they must be on their guard tomorrow. Spartans, who played a friendly with South Shields last night, have not played a competitive game since January 28. And Cassidy has urged his troops not to be complacent.

'It's good to be back playing again after all the postponements', he said. 'After all, footballers want to play football. It has been a frustrating time for everyone involved because we were playing well. But we need to take the form into Saturday's game. There will be no blame attached to the lack of matches and we will be going there fully focused... We are behind in the league, but I'm confident we can stay up. If the players continue to work hard there's no reason why we can't escape', he added".
BSB NORTH NEWS
This part of the season has strangely given Alty an eleven-game sequence which includes six matches that are "doubles" - home and away matches against three clubs. After both away and home clashes with Blyth, we entertain Hinckley this Tuesday, having only played them in Leicestershire six weeks ago. Then we have two matches with Bishop's Stortford inside a fortnight.

And the Hinckley Times reports that "Not one for doing just half a job, Craig Farrell has signed up to the cause of keeping Hinckley United in the Blue Square North. The striker had been on loan at the Knitters since the turn of the year but made his move permanent until the end of the season after parting ways with Telford. The 29-year-old, who has also had spells with Leeds United, Carlisle, Exeter City, York City and Rushden and Diamonds, isn't the only new face in the dressing room as Dean Thomas has wrapped up the signatures of 23-year-old American goalkeeper Pat Lane from Leicester City, who spent last season plying his trade in Major League Soccer, and centre back Haydn Hollis from Notts County.

However a deal with Solihull Moors for striker Simon Johnson has been put on the back burner... Farrell said, 'I've only been here for a month or so but I've been enjoying my time here and feel that I've settled in quite quickly. The manager and all the lads are great and it is nice to be playing again. It has been a stop-start year at Telford and it didn't work out for one reason or another...

We are in a poor position at the moment but I feel it's a bit of a false position. Ability-wise we have shown we can score the goals and we show that threat every game, we are just conceding too many goals. That needs to be addressed as sometimes we are 2-0 down after 10 minutes and then you are climbing up a big hill. So if we can start keeping clean sheets or at least minimising the goals we are conceding, hopefully we can start climbing up the table'.

The frontman will be hoping to strike up a flourishing partnership with the in-form Andre Gray who currently tops the Knitters scoring charts with 13 goals this season. And Farrell believes that is it players like former Shrewsbury man Gray and other youngsters at the club that can make a mark in the Blue Square North and higher. He said, 'Andre has got a great chance, as he is only 20, and has shown he clearly has the ability. He is a bit raw but he is learning all the time and has the opportunity to play at a higher level'".

From the Boston Standard we learn that "Boston United chairman David Newton says he wants the club's next stadium to replicate the atmosphere of York Street... and among the points at the top of the agenda is the noise generated from the fans.

'We want a proper football ground. We've got the right atmosphere (at York Street)', he said. 'York Street's a lovely old ground and if we can replicate that then it would be a good thing. It will be an enclosed stadium'.

The Pilgrims are looking to move as their current lease runs out in seven years and ground owners the Malkinson family are keen to sell their land. Newton, the boss of developers Chestnut Homes, says he has identified three areas of land 'on the edge of town' – although he will not name where the sites are. With ambitions of a return to Football League, Newton wants to create a ground that fits in with all the criteria needed for promotion. He has suggested a 5,000-seater stadium – but promises it will be a unique place.

'Design is very important, it's what we do for a living', added the man who has styled many of the homes built by his company. It had previously been suggested that the stadium would be funded by the building of homes around. But Newton has also said the club are in talks with 'commercial operators' who may be invited to open up nearby".

According to Pitchero Non-League, "Corby Town have signed forward Gary King following a brief spell with Grantham Town. King, a pacey player at home in both central and wide positions, came through the youth ranks at Lincoln City to feature in the Imps' first team on a dozen occasions scoring one goal. While at Sincil Bank he also had a loan spell with Boston United.

After being released by Lincoln he joined Accrington Stanley and scored twice in nine appearances for Stanley during the 2009/10 season. He started the 2010/11 season with Hinckley United, scoring four goals in fourteen appearances and then played for Louth Town. He had a short stint with Stamford before returning to the Conference North with Harrogate Town.

He scored his first goal against Stafford Rangers on January 18th 2011 in a 3–2 win, but was sent-off against AFC Telford United two months later and was released by Town at the end of that season. Another short return to Stamford preceded a switch to Worksop Town earlier this season. Another short stop-off at Stamford as followed recently by a stint with Grantham".

Meanwhile, Gainsborough Trinity tell us that "Steve Housham's latest addition to his Gainsborough Trinity side is striker Jordan Thewlis. Jordan was a product of the Scunthorpe United youth academy... Thewlis, after spending his younger days in the youth academy, was seen to be in a position to enter the first team, [and] he enjoyed a season there before being released 2 months ago".

And at AFC Halifax Town the club has "confirmed that midfielder Anton Foster has joined Carlton Town on a month's loan. The former Eastwood Town midfielder has made 4 league starts for the Shaymen this season".
---
17 February, 2012
PLAYER REPORT
Following Thursday night's training session, Lee Sinnott reported that goalkeeper Stuart Coburn remains unavailable but is making good progress from his elbow injury. Joe Collister will again keep goal on Saturday against Blyth Spartans as he continues his loan from Tamworth. Otherwise, everyone is fit including recent signing Marlon Broomes, who has been out injured since his debut at Hinckley.
BLYTH RECALL
Alty's next opponents, Blyth Spartans "announce that Bury's on-loan midfielder Max Harrop has been recalled by the League One side with immediate effect. Blyth Spartans would like to wish Max all the best for the rest of his career and would also like to thank Bury for lending us the highly talented midfielder".
NEW RECRUITS
Saturday's Meet the New Recruits event, at which the guests are Matt Flynn, Marlon Broomes and Kieran Walmsley will start at 7pm after completion of the Sunderland v Arsenal FA Cup tie which is being shown live in the bar. Host for the evening is TASC chairman, Brian Flynn.
£5 ADMISSION OFFER
Altrincham FC offers holders of valid season tickets from any Premiership or Football League club admission to the Altrincham v Blyth Spartans game this Saturday for just £5. To take advantage of this offer, please present your valid season ticket and ID at turnstiles 5 or 6 at Moss Lane before kick off.
DUNCAN WANTED
The Clitheroe Advertiser has news of an Alty Youth player who has also played for the Robins' first-team this season. It says that "Carl Garner, manager of Clitheroe, is expecting to see fight and desire from his players over the coming fixtures. Clitheroe have won just once in their previous five outings...The Blues travel to Ingfield to face Ossett Town on Saturday... One man he hopes to include for the journey to West Yorkshire is Duncan Watmore, who had featured for the Blues in the stalemate at home to Mossley.

Watmore had been recalled by Altrincham boss Lee Sinnott, but a deal has been struck between the two clubs for the striker to return to the Ribble Valley. 'I'm negotiating a deal to bring Duncan back from Altrincham on a month-long loan', said Garner. 'He had been with us for a short time but was recalled. However, they've since made four or five signings so he's in a position to return for us'".

However, Alty boss Lee Sinnott has indicated that whilst he is happy for Duncan to play for Clitheroe on a match by match basis, he cannot agree to a month loan in case the young striker is needed by Altrincham themselves.
FIXTURES
Right: Matt Royle's promotional poster can be reproduced and circulated at your place of work or other venues by clicking on the image to enlarge it and then right-clicking on it to print it.
BSB NORTH NEW
The grammar may be a bid odd but the message from the Football Conference is clear... "The curse of Steel Park continued to plight[?] Corby Town on Wednesday night as they crashed to a 2-0 defeat against Hinckley United. Second half goals from Richard Lavery and new permanent recruit Craig Farrell ensured the Knitters inflicted the Steelmen's ninth home defeat of the season and left supporters wondering whether the hoodoo hanging over their new Steel Park ground will ever disperse...

Corby struggled to grab a foothold in the game and rarely troubled recent loan signing from Leicester City, Patrick Lane, in the Hinckley goal".

From the Corby side, Corby Town tell us that "Corby boss Graham Drury has labelled his side's latest defeat at Steel Park as 'disappointing and frustrating'. The loss against Hinckely on Wednesday evening was the Steelmen's sixth loss on the bounce at home and the ninth time Corby have tasted league defeat at Steel Park this season...

Drury said, 'If it's one thing you don't want in football, you don't want heads to drop and I think that happened after Hinckley got their first goal. The whole team weren't really firing on the night and then, subconsciously, you're thinking, "where's our goal coming from", which makes it harder to concentrate on actually scoring'. The match against the Knitters was the Steelmen's first in three weeks and Drury believes the impromptu winter break has left his side at a disadvantage.

'Obviously it was the same for all the teams in our league, but I think it may have affected us more then most. We have a few new faces that we need to blend into the side which we haevn't been able to do in the past few weeks. A sense of "togetherness" is hard to achieve at the best of times, but when you haven't even trained as a unit then it makes it that much harder'...

Corby face David Livermore's Histon at Steel Park on Saturday, with the Stutes looking to avenge two defeats against the Steelmen already. As if the grudge match wasn't daunting enough, Drury may have to enter the contest with just one known forward in Jordan Smith. Strike partners Mark Jones and Sam Mullarkey were substituted through injury on Wednesday night and both are highly unlikely to feature at all against the Stutes">

Another Conference report says that, "Nuneaton Town's left-sided player Eddie Nisevic has had his loan extended for a further month at Brackley Town. Nisevic was loaned to the St James`s Park club in January and had his loan extended for another month in February. Brackley requested another and final short-term loan until the 18th March".

At Nuneaton Town comes the additional news that "Danny Alcock will leave Nuneaton Town after next weekend's game at home to FC Halifax Town - finally ending the debate on who the club's true number one is. Nuneaton News Sport can revealed that the England C international has been offered a promotion within Stoke City's academy - where he is on the coaching staff - meaning he can no longer commit to Boro's promotion push.

Manager Kevin Wilkin said, 'Danny works for Stoke already but they are making some changes there and it means they'll need him five or six days a week. I'm very disappointed he's leaving. He was a big part of what we achieved last season making the play-offs and he was then rewarded by being called up to the British Universities' squad. He had a nasty shoulder injury but we are seeing his best form since he got fit again. Danny's been offered a great opportunity though. I understand that. We are hoping to keep his registration in case of emergencies and we wish him well for the future'.

Alcock regained his place from rival Neil Collett in November when Collett, who had been in fantastic form until then, picked up an injury of his own. Collett is now fit again and Wilkin says he is delighted to have him primed to takeover the gloves. 'We are fantastically lucky to have Neil Collett on the books as well. Neil was brilliant at the start of the season and it's anyone's guess who the better keeper is. There's nothing between them'...

Wilkin was staying guarded about who would be in goal for the next three games. 'I'll have a look at it. I've got an idea in place but, like I said, they are both great keepers', he said".

News of our opponents later this month, Bishop's Stortford, comes from the Herts & Essex Observer which states that "The Blues have fixed up a friendly against a West Ham United side at Woodside Park next Tuesday (February 21). It has been arranged by Stortford's boss Rod Stringer who set it up with Ian Hendon at West Ham. Hendon is the coach for the development squad at the npower Championship club. Stringer said, 'It is game time for our players which they need and we have not had a game at our ground for some time."

And Chelmsford United add that "Winger Ryan Melaugh has become the latest to head out on a work experience spell. The teenage wide man, who has scored four in fourteen so far this season, will join Bishop's Stortford ahead of their weekend game against Droylsden. His spell with Stortford is open ended, meaning he can stay with the Blue Square Bet North side as long as both clubs remain happy".

The North Wales Weekly News says that "Colwyn Bay player-boss Jon Newby is targeting another points haul over the next month to keep his side in contention for the play-offs. Although the Seagulls' six-match unbeaten league run (16 points out of 18) was ended by strong promotion challengers Halifax last weekend, five of their next six games are against teams in the bottom half of the table. Three of those, (Bishop's Stortford, Blyth Spartans and Hinckley United) are currently in the bottom five and can boast only one win between them since the beginning of December.

First, however, Colwyn Bay must overcome another challenge this Saturday at home to potential play-off rivals Nuneaton Town, currently boasting the best defensive record in the division. The Warwickshire side, who are one place and three points above Colwyn Bay in the table, have lost only once in their last 14 league outings and have been beaten just twice in 13 away games.

Colwyn Bay hope Frank Sinclair makes a quick recovery from the hamstring strain that ruled him out of last weekend's 1-0 defeat to Halifax – the first league game he has missed and the first defeat the Bay have suffered since he signed in early January... Andy Metcalf will continue in goal for Chris Sanna (shoulder ligament injury), and Newby was pleased with the 19-year-old's performance last Saturday.

'His handling was fantastic and he didn't look overawed at all. We know we can rely on him after that performance – and that is a big positive to come out of the game', said the Seagulls' player-manager. Metcalf, who is training a few days a week at Wrexham since returning for a break from college in America, made three excellent second half saves against Halifax... Unbeaten now in their last nine league games, the Shaymen look certainties for the play-offs and Newby would love for his side to be in there with them...

Off the field, Colwyn Bay expect work on the new stand to start within the next week after getting planning permission. Chairman Bob Paton, however, told a meeting of supporters and shareholders last weekend.... He said, 'We are still a long way short of what we need and the last thing we want is to have to put the club in debt'".
BSBP TV
Premier Sports announces that "This Friday night Premier Sports present live Blue Square Bet Premier coverage of Southport v Grimsby Town, from 7pm. This is a fascinating match up in the race for the play-offs. The part-timers from Southport who narrowly avoided relegation last year against the former Football League team with a famous history and massive support. Both teams are extremely well placed as the season reaches its crescendo.

As always the build-up is free to air before we go encrypted for the kick-off at 19:30. This week we will be joined by Charlie Clapham MBE, Southport chairman and also vice-chair of the Football Conference. Tweet us with any questions you have for Charlie and also for Dave Bayliss, now the outright manager of Barrow. We will be showing highlights from all this week's matches that survived the weather.

You can contact the show via twitter or email and once again become part of the coverage in a unique and original way. Non-league fans are encouraged to contact the commentators during the game and they will incorporate your messages into the coverage.

Join Steve Bower, Ian Snodin and the team for Southport v Grimsby live on Premier Sports (Sky Channel 433) this Friday from 7pm. Southport have issued thousands of free tickets around the community so this should be a cracking atmosphere and a cracking game.

To subscribe to Premier Sports please visit www.premiersports.tv or call 0871 663 9000. If you want to get in touch with the show, please contact:
twitter: @steveandsnods
email: steveandsnods@premiersports.tv"
OLD BOY
News of a former Alty goalkeeper comes from the Crosby Herald, which advises that "Kevin Lynch believes young goalkeeper Callum Williams can shine in the absence of regular custodian Ryan McMahon. McMahon suffered a broken thumb during Tuesday night's goalless draw with Nantwich Town at the Arriva Stadium, and will have an operation today which will rule him out for a number of weeks... 'We believe he is one of the best up and coming young goalkeepers around', said Lynch... 'It's a blow to lose Ryan. He is our captain and a big influence. But his presence will still be felt around the club I'm sure'".
(VERY) OLD FOES
The Daily Post informs us that "One of Britain's oldest football clubs may have aged again – putting it in the top three. New evidence has come to light which shows Wrexham FC may be even older than thought. The official history of Wrexham FC says it was formed in 1872 by members of the Wrexham Cricket Club, who wanted a sporting activity for winter. But a campaign to find the football club's true age has unearthed evidence which shows it was referenced in February 1866 in an old newspaper – the Wrexham Advertiser. Further investigations are now under way to verify the dates and to see if there is any further evidence that Wrexham could be even older. If the 1866 date is confirmed that will make Wrexham the third oldest league club in Britain behind only Notts County, 1862, and Stoke City, 1863".
---
16 February 2012
TASC AWAY TRAVEL
The Altrincham Supporters' Club (TASC) is running a 30-seater supporters' coach to Bishop's Stortford on Saturday, 25 February. Details of times and fares and how to book are on the Away Travel page.
BACK IN ACTION
Altrimcham FC joint Press Officer, John Edwards, writes:

"Altrincham will be looking to claw back lost revenue, as well as make up ground on the Blue Square Conference North leaders, when they face Blyth Spartans at Moss Lane on Saturday (3pm).

After having their promotion push placed in cold storage, following postponements against Stalybridge Celtic and Corby Town, Alty make a return to action that is further boosted by the double signing of Mark Lynch and John Miles from Stockport County.

Full-back Lynch and experienced striker Miles are both in line for their home debuts, though chairman Grahame Rowley hopes the prospect of football emerging from the recent cold snap will be enough incentive on its own to entice people through the turnstiles.

'You are always going to suffer financially when fixtures are called off, but losing the Stalybridge game was particularly unfortunate,' he said. 'Sponsors were lined up, and as it was against local rivals who have been at or near the top all season, it's fair to assume we would have had a bumper gate.

'Stalybridge could still bring a few for the rearranged game, but whether it will be as many on a Tuesday night remains to be seen. As for the Blyth game, I'm just hoping the novelty of Saturday afternoon shopping might have worn off over the past couple of weeks, and that it might be reflected in the gate.

'I'm certainly looking forward to seeing Saturday afternoon football back at Moss Lane again, and if we can push somewhere towards the 1,000 mark, it would be fantastic.'

The entertainment continues into the evening on Saturday, with Kieran Walmsley, Matt Flynn and Marlon Broomes starring in a Meet The New Recruits evening in the sponsors' lounge. As well as having the chance to quiz Alty's three recent signings, a chicken and chips supper is included in the £15 admission cost. A few spaces remain and can be booked at the ground".
COPING WITH PRESSURE
The Advertiser says that "Altrincham boss Lee Sinnott is looking forward to the rare treat of having a full-strength squad at his disposal when the Robins emerge from their three-week-long, mid-winter hibernation for the visit of Blyth Spartans on Saturday.

Alty suffered a second successive blank weekend when their trip to fellow promotion hopefuls Corby was frozen off. But, while frustrated to have so far been out of action throughout February, Alty can at least console themselves that the break has given several players the chance to shake off knocks.

Stalwart keeper Coburn, who has missed the last three games with an elbow injury, should be fit to face Blyth. Also chomping at the bit is central defender Marlon Broomes, who has now fully recovered from the pulled hamstring which led to him limping off just half-an-hour into his Robins debut at Hinckley back on January 9.

Sinnott said, 'Of course you prefer to be playing, but it's a bonus for us now to hopefully have everyone fit and available again as a result of the lay-off. 'We've got some huge games coming up, starting with Saturday's, and, when you've only got a small squad like we have, it's good to know we'll be going into them with all the lads now free from injury'.

Itching to make their debuts against next-to-bottom Blyth will be Alty new boys Mark Lynch and John Miles. They have yet to appear in a Robins shirt since joining the Moss Lane outfit following their release by neighbours Stockport County at the end of the January transfer window.

Altrincham currently lie eighth in the table, six points outside a play-off place, with 15 games remaining – eight of them at home. With Blyth's fellow relegation battlers Hinckley due to visit Moss Lane next Tuesday, the Robins now have a clear opportunity to quickly make up ground on the teams above them. 'We know what's expected of us in the next two matches, but there's no such thing as an easy game in this league', Sinnott added. 'We're one of a number of clubs looking to force our way into the play-offs and it's the teams who cope best with the pressure who will succeed in reaching them'".
OLD BOY
In Tuesday night's Manchester Premier Cup semi-final, the scorer of Salford City's goal in a 1-4 defeat by Mossley was Danny Heffernan.
BSB NORTH NEWS
They visit Moss Lane this Saturday but Blyth Spartans report that they "will play a friendly match against South Shields on Thursday 16th February, kick off 7.30pm. Because of the bad weather over the last two weeks the match will allow both sides to gain valuable practice on a grass surface. The Social Club will be open".

NL Daily report that "David Livermore insists he and his Histon players will put the current turmoil at the club behind them when they visit Corby on Saturday. The Stutes' player-manager was told last week by the board they need to renegotiate his contract, while the club subsequently issued an SOS to supporters, calling for help towards paying Livermore and players' wages.

Livermore admits keeping the squad in a positive frame of mind can be hard, but he is confident they will be ready to travel to Steel Park. 'That's our job, at the end of the day', said Livermore. 'We always try to control the things we know we can control. There's a lot going on at the football club at the moment and the players aren't silly; they know things aren't quite right. It's always difficult to get negative thoughts out of their heads, but, come Saturday, we'll be fully focused'", he told the Cambridge News.

From Pitchero Non-League comes news that "Ryan Semple admits it would be a bonus if he played again this season after being diagnosed with a minor leg fracture. The Boston United winger was ruled out of action with a suspected knee injury following the 2-0 defeat to Bishop's Stortford last month. After the problem failed to go away, Semple was sent for a scan last week with the results showing a fractured tibial plateau, which is at the top of the shin bone.

The Pilgrims fans' favourite will learn about his recovery progress when he visits a consultant in the next week, but is only cautiously optimistic he will play again this season. 'I'm hoping I can play some part before the end of the season', said the popular wideman... 'At the moment it would be a bonus if I played again this season... I can still do swimming and bike work in the gym, but I can't do any weight-bearing work... From a selfish point of view, I hope every game for the next two months is postponed', joked Semple, who has been almost ever-present for the Pilgrims since arriving from Gainsborough Trinity, two years ago.

'Since I've been at Boston, I think I've only missed about five games through injury... so to be out now is very frustrating'".

According to the NL Paper, "Stockport County midfielder Cameron Darkwah is to remain on loan at FC Halifax Town for a second month. The 19-year-old has made four appearances for the Shaymen since joining them in January... He will now remain at the Shay Stadium until Saturday, March 17".

And the NLP also reports that our opponents next Tuesday, "Hinckley United, have signed Notts County defender Haydn Hollis on a short-term loan deal. The 19-year-old signed his first professional contract with the Magpies last summer and was then sent out on loan to Barrow in September. He scored once in three appearances for the Bluebirds before returning to Meadow Lane after his one-month deal expired. Hollis was handed his senior debut for County against Huddersfield Town in early January and has now been loaned out again to get more first team football under his belt".
OLD FOES
According to Sky Sports, "Darlington have been told by administrator Harvey Madden they have until April 30th to raise £750,000 in order to exit administration. The Quakers, who entered administration for the third time in nine years in January, intend to raise the majority of funds by a share issue after fans formed the company Darlington FC 1883 Ltd. They will sell the shares for £100 each, released in three blocks of 2500, with the first block protected so that buyers would be reimbursed if an initial £250,000 is not raised".
---
15 February 2012
RESULT
Wednesday, 15 February
Corby Town 0 Hinckley United 2 - gate 286; it was Corby's ninth home defeat.
League table.
CORBY DATE
Altrincham's game at Corby Town, which should have been played last Saturday, will now take place on Wednesday, 28 March at 7.45pm.
YANKEE
There were 3 winning trebles in the Altrincham FC Saturday Yankee this week, with each code holder winning £66.66. The £5,000 jackpot, along with the reserve jackpot of £1400, remains to be won as last week's winning code of 0674 was unissued.
BSBN NEWS
News of a player going out on loan from a BSBN club comes from Pitchero Non-League, which advises that "Chris Hilton, manager of Baris Northern Counties East League Division One club Worsbrough Bridge Athletic, has added to his squad by signing Danny Frost from NCEL Premier Division Staveley Miners' Welfare and Brett Renshaw, who joins on loan from Blue Square Bet North side FC Halifax Town.

Frost is a goalscoring midfielder who started his career as an apprentice at Barnsley before originally joining Winterton Rangers. He then moved to Conference North side Gainsborough Trinity in the summer of 2010 before re-joining Rangers and then returned for a third time after a stint at Pontefract Collieries. He moved from Winterton again, this time to Evo-Stik Northern Premier League First Division North outfit Ossett Town, at the start of November 2011 before joining Staveley shortly afterwards. Renshaw, who originally came to the fore with Garforth Town, made seven appearances for Hyde FC after signing from Bradford Park Avenue in the summer of 2011, before joining FC Halifax, initially on loan, in October. After returning from The Shay, he was unable to force his way into the high-flying Hyde defence, so returned to the Shaymen on a permanent basis a month later. He underwent knee surgery last summer and now needs more game time to return to full fitness, hence his temporary switch to Worsbrough".

NL Pitchero confirms that "Blyth Spartans have announced that central midfielder Callum Little has joined the club. The 22-year-old started his career at Newcastle United, but following his release at St James` Park he moved to FC Emmen in the Eerste Divisie, the second tier of football in the Netherlands.

Since his return to the UK he has been appointed a coach at Newcastle United Academy. He has been training with the Spartans for the last few week... Manager Tommy Cassidy commented: 'Callum has showed well in training and in the couple of training games that we've played in recently. He's an attacking midfielder, who can play either side and looks promising. I'm pleased to have got him on a form and hopefully he can do the business for us... We only had fourteen fit players when I took over at the club and now with a couple of new signings, like Callum, and the return to fitness of a couple of others, we will hopefully head to Altrincham on Saturday with nineteen fit players, which is a good sign#'".

From the Cambridge News, we learn that "Efforts to keep David Livermore as player/manager at Histon have taken another turn, with the Histon Supporters' Association urging fans to help cover February's wage bill by sponsoring the club's next home match. The fixture against Colwyn Bay is due to take place on February 25 and the HSA, who are issuing their appeal in response to Stutes' chief executive Gordon Boateng's SOS call at the weekend, hope fans will donate money over the next fortnight.

HSA founder John Payne said, 'It's clear the postponement of the Droylsden match last weekend has hit us hard as it meant the club has no income over a four week period. This has made an already difficult situation even worse. To avoid defaulting on the players' wages, the club are appealing to fans for additional funds to help it through to the end of the month. The next home game is against Colwyn Bay on February 25. This gives us two weeks to raise as much money as possible and ensure our players take to the pitch without having to worry about whether they will be receiving their February pay cheque.

I'm assured that the club has the funds to meet all other essential running costs. The current shortfall is in the funds required to pay and retain our current playing squad. It has been agreed with the club that all the money raised from this sponsorship will go directly to the players and the manager. A donation of £10 would great, but £20 or more would be fantastic'".

The BBC says that "Gainsborough Trinity chairman Peter Swann says the club's planned stadium could be ready for the 2013-14 season. The club hope to build on part of the former Castle Hills School site in the town. He told BBC Lincolnshire, 'We hope to get the plans in in the next four to six weeks and would love to start building around August or September. With a build of 10 to 12 months, maybe next July or August we would be in a new stadium. It can work that quickly'.

Gainsborough have been at their current Northolme ground since 1873 but are looking to move to a new stadium with more facilities for the community. 'We don't own our ground, we lease it', Swann explained. 'The current site needs upgrading and that will cost hundreds of thousands of pounds, so we find ourselves wanting a more practical place, where we can generate a proper income for the club. The idea is for the local community to get involved and run the stadium themselves. I think it could comfortably do so in a facility which has the ability to generate its own income from 3G pitches, function rooms and educational units. All of these facilities which can be used in a football arena are there for us to make it work for Gainsborough Trinity'".
CHESHIRE NEWS
There has been another statement issued by Northwich Victoria, but it doe not tell us very much... Pitchero Non-League reports that "Jim Rushe, owner of Northwich Victoria, has issued a statement following a summit on his club's home ground on Monday.

The statement reads, 'Following the recent announcement that a company (Thor Specialities (UK) Ltd) has bought the Victoria Stadium, a meeting took place on Monday with representatives from Cheshire FA, Cheshire West and Chester Council (CWAC), the Evo-Stik Northern Premier League, the Football Stadium Improvement Fund, Sport England and Northwich Victoria Football Club. This meeting was purely a fact-finding one about the current situation. The main outcome was that further meetings would be required in the coming weeks and months. In the meantime, the football club will continue to work on sourcing a suitable ground to host home matches between now and the end of the current season'".
---
14 February 2012
OLD BOY
News of a former Alty midfielder (2005/6) comes from NL Daily, which reports that "Danny Johnson, manager of Ashton United... said 'Midfielder Ged Murphy (right) has fitted in an ankle operation to clear up a niggly problem and should be fit and available for selection when we get back to playing again" after the bad weather.
TUESDAY GAMES
FA Trophy 3
Tuesday 14 February
Cambridge United v Guiseley POSTPONED
Dartford 2 Wealdstone 2
Gateshead 2 Alfreton Town 1
Northwich Victoria 4 Hampton & Richmond Borough 1
York City 1 Ebbsfleet United 0
BSB NORTH NEWS
BSB North reports that "Histon chief executive Gordon Boateng has issued an appeal to club's supporters, asking for their financial assistance until the end of the season...

A statement from Boateng on the club's official website read, 'I would like to speak to our Stutes' fans, first hand on our website, to make you aware of our current situation.

As you are know, it has been well documented that we have fallen upon hard times around the country and Histon Football Club is no different. We have to be realistic and live within our means, which we have been doing, ensuring that club is here and running day in day out. In saying that, our day to day costs are getting covered but we as a club need your help until the end of the season with contributions towards extra running costs and wages.

What we are saying to you, the Stutes' supporters, is that we as a club have been and are doing everything in our power to continue to reduce the outstanding debt which I can say we are close to doing. But we still need your help as there other areas that we need financial help with from now until the end of the season. What we are asking is, let's come together to donate whatever we can no matter how big or small as every little helps.

Regarding the rumours about our manager, I can confirm that the Board have spoken to David Livermore regarding our current financial situation and have asked him whether he would be willing to take a pay cut until the end of the season to help the club to reduce some of our costs. Ongoing discussions are taking place to resolve this matter as we don't want to lose him and we are doing everything we can to keep him here so the appeal is to you our supporters to help make that happen.

I would also like to point out that I am a volunteer at this Club along with many others and I will continue to make a contribution both financially and in any other way I can. We are still speaking to potential new sponsors and investors and will not stop trying to bring new income to the Club.

Naturally, for all of our sakes, this needs to be managed in a transparent fashion so that donated monies are used for the purpose of keeping the team together. The exact details of how this is to be achieved (perhaps a supporters audit team) are yet to be fully worked through but will be published before we accept any monies".

The Cambridge News adds that Mr Boateng said, 'We know times are hard but we've come to realise that we're going to need some extra help if we're going to make it until the end of the season... The club is not going to close down tomorrow but we are struggling to pay for a lot of things. We've gone to sponsors and investors, and the next thing is to go to supporters'.

Boateng suggested that if 300 supporters donated £150 each, the club would have financial security until the end of the season. 'I used 300 as an example as we average about 300 to 385 fans for every home game', he said. 'It's all about making sure we finish the season while we continue to whittle down the debt. Next season our aim is to make the club self-sufficient, that's where we want to get to... We need this extra money now. Everyone on the board is a volunteer and, if we were taking a wage, we would stop doing so to help the club. But we are actually putting money into the club as well as going out and looking for more sponsorship'".

Elsewhere, "Eastwood Town manager John Ramshaw admitted that the 3-0 defeat to Workington on Saturday was to be expected considering the problems at the club. The Badgers don't have cash to splash in the transfer market and fielded a number of teenagers on the weekend, while struggling with injuries to key players...

'The problem is there is no money at this club and, like in any walk of life, you get what you pay for', Ramshaw told the Nottingham Post. 'We've got the smallest budget in the league, by a long way, but we can't moan about it, we just have to get on with it. The performance was disappointing but it's hard to gauge because we have been really struggling with so many injuries to the squad. When you have players like Christie and Keane missing through suspension, it's always going to be a difficult task... We let in goals thanks to a couple of schoolboy errors but then again we're playing with a lot of kids so it's hardly surprising. There were some very young lads out. It's difficult to get used to so many team changes but it's even tougher when you're only 17 years-old, like a few of our players'".

In the Halifax Courier, we read that "Town cut Hyde FC's advantage at the top of the Blue Square Bet North table to single figures as they made the most of their rivals' inactivity with a 1-0 win at Colwyn Bay. Neil Aspin's side are now nine points behind the leaders with a couple of games in hand thanks to Danny Holland's 42nd-minute header...

'I said to the players before the game that if we were going to try to apply any pressure on anyone we had to win on Saturday', he said. 'Even a draw was no good for us - we had to go there and win. That will just get other teams thinking about us... I don't like swapping Liam Hogan to right back but it was a sensible move because we needed to nullify the threat of Colwyn Bay's pace in wide areas'.

Town lost Tom Baker before kick off to a sore Achilles but midfield trio Liam Needham, Simon Garner and Ryan Toulson continued to impress in his absence. 'It is a blow but we have been without him for a few weeks and managed to cover for him', said Aspin. 'There is going to come a time when he is fit and we do need him. At the moment the players there are doing a good job'...

Jamie Rainford was forced to settle for a cameo appearance in the final quarter on his return to the club... 'He showed enough in the time he was on the pitch to tell us what a player he is going to be', said the manager... 'He could have had four in 20 minutes and even though you would expect him to score I was in no way disappointed'...

Cameron Darkwah also came off the bench in the final game of his month's loan and Aspin appears keen to extend his stay from Stockport County into a second month... 'We should try to keep him. I feel sorry for the lad because he has done nothing wrong and he is suffering from being young and inexperienced. Of course you only get experience by playing'", said the manager.

The Wakefield Wildcats confirm that the "Wildcats have welcomed local businessman, Steve Kittrick, onto the Board of Directors at the club... The 53-year old Director of IB Interiors and SLK Interiors will join Chairman and owner Andrew Glover and Chief Executive, James Elston at the helm of the Rapid Solicitors' Stadium looking to drive new investment into the club.

A former pupil of Snapethorpe and Thornes House School, Kittrick set up his own decorating firm aged just 19 and on the back of its sustained success set up IB Interiors three years ago with fellow partner Richard Bower. Kittrick's involvement with Trinity goes right back to first watching them in action in the late 1970's, and although now first team manager of Blue Square North promotion contenders Guiseley AFC, Kittrick says rugby has always been a part of his life and he is looking forward to the challenge of taking the club forward.

'I've enjoyed my rugby and I'm a Wakefield lad so I want to give something back to Wakefield', he said... Andrew Glover's takeover of the club came just under a year ago, with Kittrick believing the club must continue to re-establish its place as a credible business. 'I'll be looking at other sponsors and investors, to ensure a good future for Wakefield Trinity and help it to become a great club again', said Kittrick...'One of the big things is that we're investing a lot of time and money in youth development that will in time hopefully strengthen the first team squad... The board members all know that we've got to do our bit to make it successful'".

"AFC Fylde have signed midfielder Harry Winter from Hyde, with a deal being completed over the weekend. The 23-year-old... began his career with Trafford before securing a move up two divisions to Northwich Victoria in 2009 where he was a success. In the summer of 2010 he joined Blue Square Bet North new boys FC Halifax. During his first season with the Shaymen he sustained a knee injury and he missed several months of that campaign before moving to rivals Hyde in December 2011".

The Coventry Telegraph reports that "Hinckley United manager Dean Thomas has strengthened his squad although it looks unlikely the new recruits will make an appearance at ice-bound Vauxhall Motors – tomorrow's scheduled port-of-call for the Knitters. The United chief has signed former Leeds striker Simon Johnson from Solihull Moors, keeper Pat Lane from Leicester City and central defender Haydn Hollis from Notts County. Front-runner Craig Farrell, who has been on loan from AFC Telford, has now signed a contract until the end of the season".>
---
13 February 2012
OLD BOY
Kevin Ellison was on the mark for Morecambe but his side lost 2-1 at Bristol Rovers.
BSBN NEWS
BS North reports that "Boston United midfielder Danny Sleath has not given up hope of making this season's play-offs after recent improvement in their results. The Pilgrims currently find themselves 11 points adrift of fifth-placed Gainsborough Trinity...

He told This is Lincolnshire, 'Maybe the play-offs are a bit of a long shot, but if you don't aim for it, you'll never get there. The last three games are perhaps the best we've played all season. We've been playing with a 4-3-3 formation, with three smaller players (Spencer Weir-Daley, Ben Fairclough and Marc Newsham) up top. Without Jason (Lee) in the side, we've had to keep the ball on the floor rather than going long early and it seems to be suiting us. I really think we've got the potential to put some wins together'".

Guiseley "are pleased to announce the signing of 19 year-old defender Dean Lisles. Lisles has previously played his football at York City and Hull City".

According to the Times & Star, on Saturday "Anthony Wright put on a virtuoso performance to help Workington Reds ease their relegation worries with a thumping 3-0 win over bottom side Eastwood... The fullback terrorised his opposite number with barnstorming runs down the left and imperious deliveries from set pieces... The win – Reds' biggest at Borough Park [this season] – was secured through a David Hewson thunderbolt on four minutes, Phil McLuckie's second half tap in and Jonny Wright's first goal since November... Boss Darren Edmondson said he was delighted with the win, and challenged his side to produce the same form against promotion chasing Stalybridge next weekend".

Another team which managed to play on Saturday was FC Halifax Town who "recorded their ninth game without defeat. Neil Aspin said 'I am delighted with the win. I think that when you get games called off and you are one of only two fixtures that's played you have to take advantage of it, and if we want to apply any pressure to the teams around us you need to win the game today. I stressed before the game that a draw wasn't a good result for us and we have to try and win the game. We always try to win the game but today was a big one'".

Meanwhile, This is Lincs says that "Wily Gainsborough Trinity boss Steve Housham is plotting to sneak in under the radar and win the race for promotion... The race just behind [Hyde] is tight with three teams level on 49 and the Blues currently on 48...

'When we played Hyde, and beat them, we were 21 points behind them', said Housham. 'Now we are just 13 points away with two games in hand on them. Anything is possible. Not many people are talking about Gainsborough Trinity, they are talking about Hyde or Stalybridge and, as far as I am concerned, that's brilliant. It means we can sneak in under the radar and surprise a few people. We have 15 games remaining this season, seven of which are at home. If we win half of those, I believe we will be up there at the end of the season.

But we are not aiming to win half of our remaining matches. We will be going out to win all of our games....

Housham was disappointed following the postponement of last Saturday's trip to Worcester but, while any match action was ruled out, he did, however, get the squad in for training... He said, 'We worked together in the gym. We told the players how important it was to keep themselves in shape and, to be fair, they all tend to do a lot of work on their own anyway. The difficulty in situations like this is finding locations to train. Obviously the Northolme is out of bounds. We had hoped to play a training game at Bottesford on Monday night, but they were hit just as hard as we were by the weather, so it was impossible.

We are still planning to come in and do something three nights of the week but, obviously, it will be difficult to do something outdoors'...

If Saturday's visit to Gloucester goes ahead, it gives Housham and his squad the opportunity to earn some pay-back after the Tigers inflicted a 4-1 home defeat on the Blues in November... 'It was a shock result for us when they beat us at home', said Housham. 'With this result, I think we scored too early and then took our foot off the pedal... They will see a different side on Saturday. We will be going out to win the game and get a little pay-back for when they beat us at our place'.

Another week of inactivity has brought one positive for Housham, with his two senior goalkeepers Andrew Pettinger and Phil Barnes both approaching full fitness. Housham has put in a seven-day approach for another striker, thought to be former Scunthorpe player Jordan Thewlis. Housham is hoping to speak to the player, currently at Corby, after the weekend".
CHESHIRE NEWS
The Northwich Guardian reports that "Northwich Victoria owner Jim Rushe has written an open letter to the club's supporters.

"To the fans

Monday marks one of the most important moments in my time at Northwich Victoria, the outcome of which could define the future of the club. For that reason I wanted to write this open letter. I consider it a privilege to be the chairman of a football club with such a long and successful history as yours. And, contrary to some of the things said and written about me in the past few weeks by others that claim to have the best interests of the club at heart, I continue to.

It takes a huge amount of work to run a non-league football club the size of Northwich Victoria, let alone rebuild one. I came to the club in 2007 when it was at rock-bottom, initially to be involved in a development role working with a reserve team and the club's junior players. But that changed quickly as the full extent of the club's problems, both on and off the field, started to become clear.

At the same time, I suffered a personal tragedy in my private life that left me with a decision as to whether I should walk away. After talks with my family, friends and, in particular, my late wife Phyl, I was persuaded that it was right to try to realise my ambition to build a football club. By then the club had already got under my skin. It was in my blood.

I, along with a number of others working at the club at that time, decided to try to keep it alive without entering administration. In hindsight, that was a mistake. Together we paid out several hundred thousand pounds, as costs spiralled and skeletons linked to the previous regime's running of the club continued to come out of the closet. Players were being paid more than the club could afford, leaving us with no option but to enter administration in 2009.

That was a turning point and, from that point, I vowed to rebuild the club from its roots and to trust in what I believed was possible when I first arrived... I've made mistakes, many of them, in the past four years. Given good health, and an opportunity to continue as chairman, I will likely make a few more... I also vow to work hard each day to avoid repeating them. That said, it is disappointing when a minority of supporters, at the slightest sign of stormy waters, jump into lifeboats and start to row in the opposite direction.

While they do, others stay behind to try to find a solution to the problems that arise. I'd like to go on record expressing my sincere gratitude to those supporters, both of this club and others, for your support and best wishes during what is unquestionably a tough moment. Together we have experienced many highs, and also lows, but I remain convinced that we share the same desire to keep alive Northwich Victoria so it can add new chapters to that illustrious history.

Yours sincerely Jim Rushe".
---
12 February 2012
POSTPONED
This Sunday (12th), Altrincham FC Youth were due to play at Warrington Town but this has now been postponed.
LIVE FOOTBALL AT MOSS LANE
The following match will be shown in the bar in HD and everyone is welcome:
Sunday 12th, Aston Villa v Manchester City, k.o. 4pm

The bar opens half an hour before the kick off time. Watching the game at Moss Lane helps the club's finances so please do come along.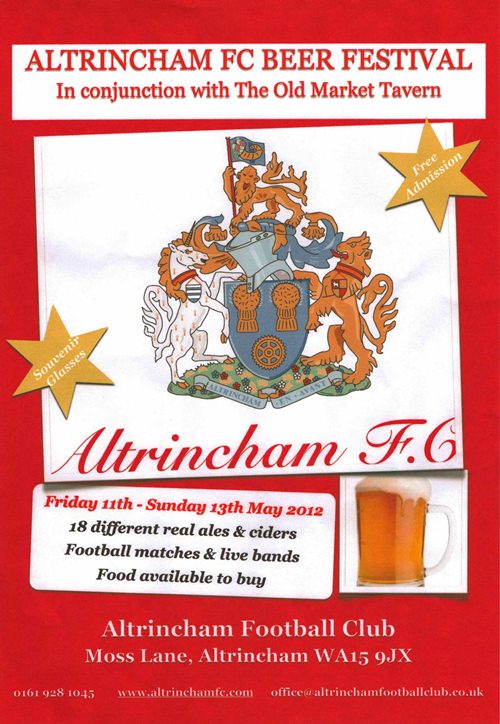 BSBN NEWS
At Gainsborough Trinity, "Michael Emery has signed a contract that will see him stay with Gainsborough Trinity until the end of the current season. Emery [who] joined Trinity last month, stamped his authority in between the sticks at the Northolme, coming in and on his debut against League leaders Hyde FC keeping an eye-opening clean sheet. Emery joined from Skegness Town where he enjoyed a decent season".

According to the Worcester News, "Fears that a decision on Worcester City FC's new ground would go into extra time have been kicked into the stands after the Government decided not to call the application in for an inquiry. Chiefs at the club have breathed a collective sigh of relief... while there is a chance someone could call the proposal in for a judicial review.

But Eric Pickles, the Secretary of State for Communities and Local Government, has taken a look at the plans for the 3,000-capacity stadium and does not consider the development to conflict with policy, thinks there are no significant design issues and does not believe it will have a significant impact on the area beyond the immediate locality,,,

Colin Layland, Worcester City FC's vice-chairman, said, 'It's good news and it takes a lot of pressure off because we thought we were going to have to wait until towards the end of the year to hear anything. Getting this decision now means it gives us more time to plan for our future'...

The club has to leave its current home in St George's Lane by June 2013 as it has already sold the ground to clear its debts and help pay for the new stadium. City will probably have to play elsewhere while they wait for it to be built and chiefs are currently sounding out other options including a possible arrangement with Worcester Warriors at Sixways".

Blyth Spartans "have confirmed that Tom Richardson has left the club and returned to parent club Lincoln City. Through a combination of the bad weather and the form of Max Harrop, the midfielder has been limited to only one substitute appearance".
---
11 February 2012
FIXTURES HIT BADLY
Saturday, 11 February
The only BSBN matches surviving the bad weather were on the West coast...
Bishop's Stortford v Hyde FC POSTPONED
Blyth Spartans v Histon POSTPONED
Boston United v Worcester City POSTPONED
Colwyn Bay 0 FC Halifax Town 1
Corby Town v Altrincham POSTPONED
Droylsden v Harrogate Town POSTPONED
Gloucester City v Gainsborough Trinity POSTPONED
Guiseley v Solihull Moors POSTPONED
Stalybridge Celtic v Nuneaton Town POSTPONED
Vauxhall Motors v Hinckley United POSTPONED
Workington 3 Eastwood Town 0
League Table
BSBN NEWS
The Football Conference reports that "Vauxhall Motors have brought young striker Cole Stockton back to Rivacre Road from neighbours Tranmere Rovers. The 18-year-old, who has been making plenty of headlines with Rovers' youth and reserve teams over the past few seasons, originally joined Motors on one-month deal at the end of November, as Tranmere boss Les Parry looked to give his prodigy some valuable first-team experience...

Stockton made his first-team debut for Rovers in January 2012 against Rochdale after scoring twenty-three goals for the youth and reserve teams last season".

According to the Chronicle Live, "New signing Callum Little goes straight into the Blyth Spartans side for tomorrow's home game against Histon. The 23-year-old former Newcastle midfielder, signed earlier this week, has impressed Tommy Cassidy during recent training sessions, and has agreed terms with the Northumberland outfit...

They have yet to claim victory since Cassidy replaced Steve Cuggy just before Christmas... Blyth had hoped to maintain fitness and freshness with a friendly against Northern League side Morpeth Town on Tuesday, but that too fell victim to the elements".

In the Hinckley Times we learn that "Dean Thomas may have been given time off from barking out orders on matchday due to the wintry weather but the Hinckley United manager has certainly been pulling the strings off the field in the meantime... There could be four new additions to Thomas's squad...

Striker Craig Farrell has been on loan at Hinckley for the last few weeks and now Thomas has swooped to secure the 29-year-old on a contract until the end of the season after being let go by Telford. Another forward close to pulling on the Knitters shirt is Simon Johnson from Solihull Moors. Johnson spent five years at Leeds United before stints at Darlington, Hereford and Halesowen saw him join the Moors in February 2010.

At the other end of the pitch, the manager hopes to wrap up the signatures of 23-year-old American goalkeeper Pat Lane from Leicester City, who spent last season plying his trade in Major League Soccer, and centre back Haydn Hollis from Notts County.

Thomas said, 'Haydn is a big, left-footed centre half and will bring that bit more height that we are looking for. We are looking for more experienced defenders as well but they are hard to find with the budget we have. Pat Lane is trying to get settled at Leicester and we hope he will sign for us and be available at the weekend. Denham Hinds has a knee injury and we need the specialist to see him so we can diagnose the problem'.

To make room for the new arrivals, Connor Deards has returned to Walsall and Matt Langham is expected to go out on loan to Loughborough Dynamo...

Thomas said, 'It is a difficult time as we are losing revenue from home games being called off. So we will have a culmination of lots of games and will have to do things the hard way. We have to try and keep the training sessions as intense as we can and keep them prepared for matchdays so they don't forget what we want from them...

If both Hinckley's and Nuneaton Town's respective games are called off this weekend then the two teams are hoping to hold a practice match on the 3G pitch at the Greene King Stadium on Saturday at 1.30pm. Any fans wanting to go along and watch can do so for free".
HOW TO BUDGET FOR THE CONFERENCE
There are some interesting football budget figures in the NW Evening Mail. It reads "Barrow AFC director Tony Keen is convinced promotion would be a realistic target for the Bluebirds if average home gates rose to 1,500... Attendances have not risen significantly from last term, which has disappointed the board of directors – especially as the club were embroiled in a relegation scrap in 2010/11, whereas this term AFC boast one of the league's best home records.

Keen says they face a constant battle to cope with the costs of playing football at Conference Premier level, and stresses the importance of getting more people through the turnstiles. 'If we had an average gate of 1,500-1,600 I honestly believe we could push for promotion because that would give us the finances over and above what we need and we would be a stronger club overall', he said. 'But a gate of 1,100-1,200 isn't enough. Unfortunately, when you put the finances together, the gross wage average this year is £400-per-head for the players. You only have to multiply that by 18-20 and multiply that again by 39-42 weeks, and you're getting figures in excess of £300,000.

Then you need £60,000 in travelling costs, then you need your rates, your rent, your gas, your electricity, your other staff, so you're knocking on the door of £550,000-600,000 just to play football at this level."

He added, 'If you worked out the difference from 1,100 to 1,500 people for 27 home games a season, that's the gap. And when we don't get that gap filled, that's basically when you have problems'.

Keen says much of the financial difficulties the club face are a direct result of the failed attempt to try and build on the FA Trophy success by pumping more money into the playing budget last season. Unfortunately, a combination of injuries and loss of form meant the 2010/11 campaign was a forgettable and costly one, and the board and management team are still paying for those shortcomings.

'We had a strong budget and low gates last season which is a recipe for hard times', said Keen. 'This year the crowds have been stronger and the budget has been reduced but we are still playing catch-up because of last year. There's no real break-even gate figure. It depends on how we do right through the club, from the training room to hospitality... I believe we've got a model that can sustain us at this level for four of five years. Then, after four or five years when you are in a comfortable position, you can look at growing from sustainability into success. That is the model we want to develop over time. We've got the training rooms, we've got better commercial opportunities, we've got the hospitality.

Without hospitality and the training rooms, we would have probably been relegated last season because we didn't have the income from Middlesbrough, Sunderland (lucrative FA Cup ties) and the Wembley FA Trophy win – all they did was fill the gap. You need £10,000 a week to run this club successfully. Two games a month is a struggle. We need three games a month added to the commercial side of things just to survive... We've only had four home games in 10 weeks.

The big message as far as the debt situation is – yes, there is an amount of debt out there, but that is being managed by individual companies and ourselves. The important thing is there is no VAT or NI (National Insurance) debt, that is all paid up and everything is fine. Last season wasn't the best of seasons and because of that we've had the ripple effect of that into this season... We invested in the team but there were injuries and we had to cover for those injuries, and when you have players on contracts, that costs money.

The reality is, we got through last season but we've had to manage the finances to a different level to cope with the debt we created last season, which had a knock-on effect this season... Last season the home crowd average was 1,080, which is not sustainable at this level – that's a fact... We used to give just a crowd figure. Now the crowd figure we give includes hospitality, so now when we give a crowd figure of 1,000, we've actually got 100 in hospitality, so the crowd is actually 900...

Keen – who, with Barrow in liquidation 12 years ago, led a consortium of businessmen that saved the club – said, 'We have come such a long way. The club was £1.8m in the red when I came in. The football club is a business. Yes there is debt but we have full control of it. I'm not going to go and let it get overdrawn, in the red and in trouble'".
---
10 February 2012
MATCH OFF
Corby Town have carried out a pitch inspection today with the outcome being that Saturday's game against Altrincham has been postponed. There has been considerable snow in the area as can be seen on the Corby Town website's photo of the pitch.
STUART, THE ONLY ABSENTEE
Following training on Thursday night in a rain-soaked Altrincham, manager Lee Sinnott advised the website that everyone was fit for Saturday's fixture at Corby Town, with the exception of goalkeeper Stuart Coburn. Stuart has missed the last three games with an elbow injury but he should be fit for consideration for the game against Blyth (18th February).

Central defender Marlon Broomes again trained fully on Thursday night so he should be available for selection after having to go off the pitch with a hamstring injury half an hour into his Altrincham debut at Hinckley, a month ago. The two new signings, defender Mark Lynch and forward John Miles, are both set to be involved this weekend, assuming the game goes ahead, which is what Lee and the players have to consider is going to be the case, of course.
BSB NORTH NEWS
According to the Football Conference, "Rod Stringer, manager of Bishop`s Stortford, has signed a former Hammer. Nineteen-year-old central defender Jack Lampe, who signed for West Ham in 2009 after a spell at Harlow Town, has joined Stortford after a period at the Glenn Hoddle Academy in Spain. Lampe – typically for a former Upton Park player, is a good passer of the ball and showed a great technique when he briefly played for Harlow, who were then in the Ryman Premier Division in 2008".

BLue Square North says that "Colwyn Bay club director Mark Williams has expressed his relief and delight after the club gained permission to build a new 500-seater stand. After back-to-back promotions, the Seagulls have been told to get their stadium up to scratch in order to stay in the Blue Square Bet North...

However, Colwyn Bay still need to raise funds in order to carry out the construction... Williams told North Wales Weekly News, 'Now we have the green light it's all systems go. Now is the time we really need the support of everyone who cares about the club to make sure we achieve the grading required, and ultimately to stay in the Blue Square North League'".

Meanwhile, "Nuneaton Town are hopeful that their clash with Stalybridge Celtic will go ahead, so they can see Andy Brown in action again. The striker is on loan from AFC Telford and had the deal extended by another month last week. Boro assistant manager Ken Gillard told Nuneaton News, 'Hopefully we'll see him play this weekend. The forecast doesn't look too clever and speaking to friends up there it's not the best'".

In the Cambridge News, we learn that "David Livermore's future as Histon manager has been thrown into doubt. The News understands the player-boss has been asked to take a pay cut as part of the club's attempts to secure their financial future and is due to meet with the board tonight. The players are angry with the situation and have called a meeting with the board for later this afternoon.

Captain Daniel Sparkes said, 'We had training on Thursday and we knew there were some rumours going around about the gaffer... The gaffer said he had a meeting with the board and that he'd speak to us when he could. I've been at the club for seven years and I know what meetings mean. He wasn't going to be invited in there and told he had £100,000 to spend. I rang Russell (Hands, chairman) and chatted to him briefly, and asked to have a meeting with him and the players before the gaffer's meeting. He said that was fine. We feel we need the gaffer about. We can't lose him.

He's a massive part of the club and, for me and the players, he's a massive part of our developments. For what he's done for this club, he should be given a pay rise, not a pay cut. To ask him to take a pay cut is out of order and disrespectful. The professionalism at the club is worthy of League status, definitely. He gets to training two hours early to organise the sessions, and he's also an important player for us at centre-back.

He's brought me on massively and he's made me captain. I've learned so much since he joined the club and he's massive influence to everyone. If he goes, you're not going to get anyone better than David Livermore for the money he's on, with his experience and ideas. To do what he's done at this club is massive. With the wage budget and the age of the players, we should be getting relegated from this league, on paper. But his ideas have all got into the players and everyone wants to work hard for him. He's got the respect of all the players'".

Reports in the NL Paper confirm that "FC Halifax Town have drafted in goalkeeper cover in the form of 19-year-old Thomas Taylor. The former Garforth Town and Wakefield stopper has been brought in to back up Simon Eastwood, who is current first choice following an injury to Phil Senior".

Elsewhere, Club Call state that the "Norwich City are checking out rising Boston United youngster Lewis Sturman about a possible move to Carrow Road. The 17-year-old defender is regarded as a talented prospect after making 25 appearances for the Pilgrims' reserves and youth team this season.

Sturman is from the area as well, which has prompted City officials to invite him for a short trial spell to see what he has to offer at close quarters. Boston's head of youth Steve Welsh ... told their official website bufc, 'Lewis is a Norfolk lad and has impressed while playing for his county side. People have heard good things about his performances at Boston United too and Norwich City have asked to take a closer look at him'.

Sturman hasn't yet played a first-team game for the Conference North club, but even if nothing comes of City's interest in him, the experience will certainly stand the youngster in good stead".

Also at Boston but at the more experienced end of their squad, the Boston Standard reports that "Veteran Pilgrims keeper Paul Bastock wants to return to the days of tough tackling on the pitch...

'You don't see people tackle anymore', he said. 'It's all tippy-tappy-toes'. Despite being exasperated at the way the game has gone, Bastock believes that in a league like the Blue Square Bet North – which has a reputation for being a tough, physical and combative league – fans still want to see a big crunching tackle fly in. He suggests that such an action would create a siege mentality, as well as help psyche out the opposition.

'If someone puts a huge tackle in there you'll probably get man of the match these days', he added.

During his years with United, Bastock has seen his goal protected by teammates such as Martin Hardy, Paul Ellender and Colin Hoyle, so he's seen his fair share of crunches."

Pitchero Non-League says that "Solihull Moors' boss Marcus Bignot has been racking his brains to keep his outfit in shape during the current cold snap...

'It's all part and parcel of the Great British weather and it's been difficult to find venues to keep the lads ticking over', he said after Tuesday`s match against Hinckley United had been cancelled. 'We've did a spinning session at Fitness First in Solihull, which was good fun, and on Saturday we used the sports hall at Solihull College. It's all about keeping them sharp and match-ready'. Solihull will fancy their chances too against Guiseley, who sit second from top in the division...

They've already disposed of Hyde and promotion contenders Gainsborough Trinity and would be keen to make it three scalps in a row. 'It's tough for us the way the fixtures have fallen that our most recent games have all been against play-off contenders', said Bignot. 'It's a testing time but in the league on any given day any team can beat the other'.

Key to the Solihull resurgence has been the return of striker Ryan Beswick, who scored the club's first ever league hat-trick against Gainsborough and slotted the winner against Hyde. 'He's missed half the season and come back in but it would be wrong to pick out any individual because we've performed right across the squad'", said Bignot.

News comes from This is Lincs that "Striker Ryan Kendall insists there could be many more goals to come as he eyes a return to the starting line-up against Gloucester on Saturday. The Gainsborough Trinity frontman believes his frustrating stop-start season is set to take a turn for the better and has declared himself fit for selection.

Kendall was ruled out of Trinity's last game against Altrincham due to a thigh strain and the postponement last Saturday has allowed him another week to recover... He sai, 'The lads have been doing well so all I can do is make myself available and hope that the gaffer decides to put me in the team. It has been a torrid time for me with injuries'...

Kendall has scored 13 goals this season from 19 starts and he insists the arrival of Paul Connor to the Trinity ranks will help take his tally even higher... 'We create a lot of chances throughout the team. We believe the play-offs are there for the taking – anything else is a bonus'.

Manager Steve Housham also believes there are plenty more goals to come from his frontman. 'A 20-goal-a-season striker would be an asset to any side but I believe Ryan Kendall could be on that sort of figure now if he had not missed so many games', he said".
---
9 February 2012
ALTY'S NEW PLAYERS BRING EXPERIENCE
In the Sale & Altrincham Advertiser, "Altrincham boss Lee Sinnott is backing his two latest signings to play key roles in helping the Robins step up their push for an instant return to non-league football's top-flight.

The Alty chief has swooped to land versatile defender Mark Lynch and midfielder-cum-striker John Miles after both were released as part of a cost-cutting exercise by neighbours Stockport County. The pair were denied the chance of an Alty debut when the Robins' big home promotion showdown with Stalybridge Celtic was postponed on Saturday. The Moss Lane clash fell victim to the freezing conditions, which wiped out the entire weekend fixture programme in Blue Square Bet North. But that did not lessen Sinnott's delight at having signed two such tried and tested performers.

The Alty chief said, 'Both Mark and John have bags of experience and that can only be of benefit to us in the high-pressure games which lie ahead. It's not often as a manager you get the chance to pick up two players of their pedigree at the same time. I'm very happy indeed they've agreed to join us'.

Lynch (30) started out with Manchester United, becoming a reserve-team regular during six years at Old Trafford, before making well over 100 League appearances in a career which has taken him to Sunderland, Hull City, Yeovil, Rotherham and, latterly, Stockport. Miles, Lynch's junior by just 26 days, is a one-time Liverpool junior whose former clubs include Macclesfield and Accrington Stanley as well as County.

Meanwhile, leaving Alty is 20-year-old ex-Wrexham midfielder Brian Summerskill, who has been released after struggling to make an impact at Moss Lane since joining the Robins from Northwich Victoria in the summer.

Alty also have bright news on the injury front as they prepare to return to action at Corby this weekend. Central defender Marlon Broomes, who limped off with a pulled hamstring just half-an-hour into his Robins' debut at Hinckley last month, is now pushing for a return. Also fit again after recovering from a bout of tonsillitis is winger Simon Richman. Altrincham may still be struggling to achieve consistency in BSBN but one table they do top is the FA's fair play league. The Robins' record of having yet to have had a player booked or sent off for dissent, foul and abusive language or violent conduct this season is currently the best of any non-league club in the country".
Footnote: Confirmation that Alty are top of the fair play league is here.
UNITED SWITCH RESERVES' GAME
Manchester City confirm that "The EDS derby in the Manchester Senior Cup will now be played at Manchester United's Carrington training complex as Altrincham has been ruled out due to weather conditions. Thursday's tie will kick off at 1pm but will be played behind closed doors, with no access for spectators".
BSB NORTH NEWS
Corby Town announce two departures as "Former Scunthorpe United first-year professional striker Jordan Thewlis and ex-Norwich City trainee Pat Bexfield have both left Steel Park. Thewlis agreed to a trial period last week and was due to appear against Long Buckby in the Hillier Cup. However, that match was postponed. Since then he has received an offer from another club, closer to his home, and has signed for them.

Bexfield has also left Corby to find a club closer to his Norfolk home. The right-sided defender joined the Steelmen in December, just before Christmas, from King's Lynn. Graham Drury explained the situation behind the paid moving on, 'It is a shame that we won't get the chance to have a proper look at Jordan because he came highly recommended however I perfectly understand his decision. I'm sure most people would do the same in his position. He's been offered a chance with a club much nearer to him, a club who pay good wages and will give him an opportunity... There will be a lot of players like Jordan who may find themselves a free agent in the coming weeks as a number of clubs make decisions on their young professionals.

As for Pat, he has been first class since he has been with us but it is a long way for him to come at the moment when I can't give him the football that he wants. He is a good lad and someone I will keep an eye on. He knows that and he still has a chance to impress but we had a chat and felt it was better for him, in the short term at least, to find a club nearer to where he lives so he can concentrate on his football".

"Nuneaton Town goalkeeper Danny Alcock has revealed his delight at being confirmed as the club's number one, for now at least. The England C international was kept out of the side at the start of the season by a combination of injury and the fantastic form of Neil Collett. However, Alcock was handed his chance in late November and has played the last 11 games... Manager Kevin Wilkin this week said Alcock will keep the gloves so long as he maintains his current form and stays clear of injury and suspension, something that is music to the ears of the 27-year-old.

He said, 'It's good to be back in between the sticks. As I've said before, it's not nice when you are out the side but you've just got to get on with it. I've been pretty pleased with my own form. I let a bad goal in against Hinckley which I wasn't happy with but otherwise I've been pleased. At the same time I appreciate that Neil's a really good keeper so I've got to keep going otherwise I'll be back on the bench... We've been a lot more lucky this year than we were last year weather-wise. We've been on a pretty good run with one defeat in a long spell. Hopefully the weather is OK for the rest of the season as we want that bit of continuity'", he told the Nuneaton News.

In the News Post Leader we learn that "Blyth Spartans manager Tommy Cassidy was disappointed that Saturday's fixture against Solihull was postponed...

He said, 'After a few good performances, missing the opportunity to build on them has knocked us back a little. But we must concentrate now on Saturday coming when we entertain Histon'. The boss was hoping to arrange a friendly for Tuesday evening to keep the squad ticking over and to look at a couple of players. Cassidy has signed former Newcastle United midfielder Callum Little, who has impressed in training".

Chester FC announce that "striker Jamie Rainford has today agreed terms with FC Halifax Town for a move to The Shay for an undisclosed amount. Rainford joined Chester from Marine last Summer, but has struggled to find the form that resulted in his transfer from the Liverpool-based side and, after a successful loan spell with the Shaymen, will now attempt to rediscover the goals that led to his arrival at the Exacta Stadium.

Neil Young said, 'I'm personally disappointed that Jamie's time at Chester has not worked out as we would intended and would have liked but these things happen in football. Jamie's attitude and commitment has been first class since he has been here. Yes, he had misunderstanding earlier in the season which he learned from but I could never fault his determination to do well and probably at times due to his determination he put touch pressure on himself.

Jamie trains very hard and just wants to play every Saturday, so when Halifax made another approach over the weekend I thought it was only right that I spoke with Jamie and went through everything. What we don't want to do is hold him back and he is desperate just to play football and at this stage of the season that is something I could not promise. So we took the view that this is the best for him and the football club".
CHESHIRE NEWS
According to the Northwich Guardian, "Northwich Victoria's Cheshire neighbours Nantwich Town will host the Vics' encounter with play-offs rivals Bradford Park Avenue on Saturday. The Dabbers gave Vics, homeless since land on which their former home ground is built was sold to a chemicals manufacturer, permission to play at the Weaver Stadium on Monday. It is initially a one-off arrangement.

'I'd like to thank Nantwich for their support in allowing us to play the game there', said Vics' owner Jim Rushe. Northwich Victoria Supporters' Trust will provide a coach for fans to travel to south Cheshire".
---
8 February 2012
RESULTS
Tuesday, 7 February 2012
BSBN
Colwyn Bay 3 Boston United 2
Droylsden v Corby Town POSTPONED
FC Halifax T. v Nuneaton Town POSTPONED
Hinckley U. v Solihull Motors POSTPONED
Stalybridge Celtic v Bishop's Stortford POSTPONED
League table.

FA Trophy Round 3
Bath City 1 Grimsby Town 2
Cambridge United v Guiseley POSTPONED
Dartford v Wealdstone POSTPONED
Gateshead v Alfreton Town POSTPONED
Kidderminster Harriers 1 Luton Town 2
Newport County 4 Carshalton Athletic 0
Northwich Victoria v Hampton & Richmond Borough POSTPONED
York City v Ebbsfleet United POSTPONED
YANKEE
The £5,000 Altrincham FC Saturday Yankee jackpot remains to be won after the winning code of 2982 was not claimed last week, along with the reserve jackpot of £1,100. Six members each won £33.33, however, for winning "trebles".
BSBN NEWS
According to NL Daily, "Kidderminster Harriers have announced that young hit-man Robbie Thompson-Brown is to extend his latest stay with Solihull Moors into a second month... until 5 March".

Also, "David Livermore is already looking ahead to next season in order to keep his vision for the future at Histon intact. Despite the club's board continuing to battle to survive because of big debts inherited from previous regimes, the Stutes' manager is determined to keep his young squad together. And that includes keeping hold of leading goalscorer Dan Holman and new captain Daniel Sparkes, both of whom have been star performers this term.

'We've got a group of talented young players that we want to keep together and that's what the club's working hard to do', said Livermore. 'We're always looking ahead and to next season. If we can keep the team together then, hopefully, we can do better again next season. We've got options to keep 95 per cent of the squad for another year. There are one or two we'd need to offer re-engagements or new contracts to, and I think there are three that have got contracts for next year already. The squad, in terms of what we have, we should be able to keep together for next season. We have an option on Dan Holman for next season, and Daniel Sparkes we're hopefully in the process of trying to sort something out'", the manager told Cambridge News.

Before the match was postponed, the Nuneaton News stated that "Hinckley United hope to climb out of the relegation zone with a win against Solihull Moors... The Knitters will be out to topple a Moors team manager Dean Thomas believes is among the most improved in the league.

He said, 'Solihull have signed some good players. They had a sticky start and they've found some form... We've talked the talk but we've got to walk the walk... I'm convinced we've got enough to stay up. We've got a good team and are good going forwards'... Hinckley could have Patrick Lane and Haydn Hollis in the squad. American goalkeeper Lane was set to sign last week to replace knee injury victim Denham Hinds, while Notts County centre-half Hollis was in line to join on loan for a month".

In the Yorkshire Evening Post, we read that "Boss Steve Kittrick admits Guiseley are facing up to a fixture frenzy with [their] FA Trophy clash at Cambridge United postponed for the second time in four days...

The fixture will now be played next Tuesday when Guiseley – who have already played four games fewer than title rivals Hyde – were due to tackle FC Halifax Town in the league...

'We are desperate to get the game played and we could certainly have done without it being off again', said Kittrick... 'It takes us back to this whole thing of why didn't we play twice a week in September and October? I've also discovered that Hyde don't play in the last week of the season. Their season finishes a week before everyone else's and I don't know what all that is about – it's madness'...

Battling it out alongside Guiseley for promotion from Blue Square North are FC Halifax Town and... Halifax captain Tom Baker is expected to return after coming out of last Tuesday's West Riding County Cup defeat against Guiseley unscathed although top scorer Lee Gregory is a doubt due to a back injury".
CHESHIRE NEWS
The Manchester Evening News reports that "A struggling football club is to get a loan in the region of £180,000 from a cash-strapped council. Stockport County is to be offered the town hall cash to help it through a financial crisis. The loan will be secured against money due from another club later this year following the transfer of winger Anthony Pilkington in 2009...

The council's Lib Dem executive has agreed to the loan, which is not interest-free. The council itself needs to save £12m next year after having their government funding cut. The loan will be provided as a rolling overdraft facility and is expected to be repaid in the summer...

A club insider told us there was 'no risk' attached to the loan, adding. 'It sends a message to the town that the council and community are supporting them and are proud and will help their survival. This club has been here over 100 years and is still there and the council supports it'...

In 2010, the council paid £80,000 to have its logo branded on shirts, matchday advertising and programmes in a bid to keep the club going. Last summer, a political row scuppered another similar deal, worth £40,000...

The loan is expected to be repaid when a sell-on clause over the transfer of Pilkington owed by Huddersfield Town is repaid in August... Coun Sue Derbyshire said... 'The presence of a professional football club within the borough is of significant importance to the Liberal Democrat Group. There are great benefits to the town. Apart from the significant local pride it fosters, the business it generates, particularly on match days, helps Stockport businesses to thrive, bucking the national trend. We are committed to doing all that we can to ensure that Stockport County has a long future. This loan brings the Council a commercial return for its money and is fully secured against a transfer payment due from another football club later in the year and is guaranteed by the Football League. This will be at no cost to the Stockport Council tax payer'. County declined to comment.
---
7 February 2012
NEW DATE
The revised date for the postponed match between Altrincham and Stalybridge Celtic, postponed from last Saturday, is Tuesday 6th March, k.o. 7.45pm.
AWAY TRAVEL
Details of the TASC supporters' coach to Corby on Saturday are on the Away Travel page. Please book by ringing the club on 0161 928-1045.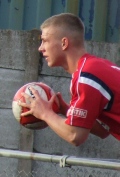 GETTING EXPERIENCE
Two of Alty Youth's players, who have also appeared for the first team this season, have been gaining further experience with Clitheroe. Courtesy of Ian Senior, we see (right) Matt Fearon and (left) Duncan Watmore in action for the Lancashire club.
FAT DRAW
FA Carlsberg Trophy Fourth Round Draw; ties to be played on Saturday, February 25th 2012:
Cambridge United or Guiseley v Dartford or Wealdstone
Kidderminster Harriers or Luton Town v Gateshead or Alfreton Town
Bath City or Grimsby Town v York City or Ebbsfleet United
Northwich Victoria or Hampton & Richmond Borough v Newport County or Carshalton Athletic
---
6 February 2012
DOUBLE THE CLUB'S MONEY!
Dawn and Katherine from Barclays Giving will be in attendance on Saturday 18th February at the Meet the New Recruits, Part 2 event. And Altrincham FC is pleased to announce that Barclays will kindly be matching the funds raised for the night by the Football Club. So, please do support this event as doing so will bring double benefit to Altrincham FC!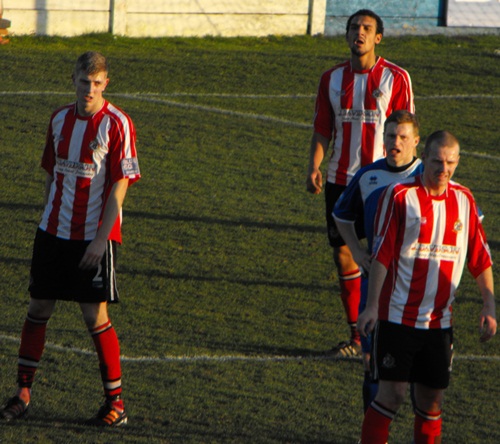 Right: Pictured at Gainsborough last week are two of the guests at the next Meet the New Recruits evening; Matt Flynn (left) and Kieran Walmsley (right) are here seen with Adrian Hawes (background).
By way of a reminder, here are details of the event...
"Following the game against Blyth Spartans we will be holding our second 'Meet the New Recruits' evening in the Manchester Glass Sponsors' Lounge. Three recently arrived players will be in attendance to be quizzed by all the attendees. Chicken and chips will be served along with a dessert.
The players' line-up has now been confirmed as comprising the defensive trio of Kieran Walmsley, Marlon Broomes and Matty Flynn. Brian Flynn (no relation!) has kindly accepted an offer to compere the evening and it is hoped that manager Lee Sinnott will also be in attendance.
Tickets are priced at £15 and are available immediately. Please contact Karen in the office on 928-1045 or email Grahame Rowley to book your place.
And, don't forget these other important fundraising events which should all prove to be an enjoyable way of helping the club...
Thursday 5th April – Steve Claridge Sportsman's Dinner
What better way to start the Bank Holiday weekend than attending our annual Sportsman's Dinner. Steve, star of the Football League Show, will entertain you with his stories followed by a Q & A session. A comedian will complete the evening where a 4 course Dinner will be served.
Ticket prices are £35 a ticket or £350 + VAT for a table of ten. Please contact Karen in the office on 928-1045 or email Grahame Rowley to book your place.
The event is at the Cresta Court Hotel, Altrincham at 7.30pm for an 8pm start and will include a four-course meal. The event is open to all supporters
Saturday 28th April – TASC Race Night
The ever popular Race Night brings our season to the end on Saturday 28th April following our game against Gainsborough Trinity. You can sponsor a race or buy a horse. More details to follow.
May 11th – 13th Altrincham FC Beer Festival
In association with John Glover and the Old Market Tavern, Altrincham FC are holding their first ever Beer Festival at the club. Starting on Friday night with the Staff v Supporters game followed by a night of entertainment, on the Saturday there will be the corporate 7 a side tournament, a ladies' football match and finally two live bands to round the day off. Sunday will be a family fun day with Junior exhibition games, a Past Players vs TV celebrity game, the final Premiership games live on big screen and finally a balloon race.
Please make a note of these dates and support as many as possible – your club needs your help.
ONLINE PREDICTIONS
Grahame Rowley writes, "The first Online Prediction Competition concluded this week with the two remaining contestants deciding to split the prize - therefore Barry Pond and Luke Vayro win £50 each.

The second competition began this Saturday but, with only one fixture taking place, you might have thought that all contestants got through to the 2nd round. However, with Fleetwood being at home to Tamworth, there were 12 people out of the 51 contestants who went for them and were subsequently deleted from the next round after a 2-2 draw.

Thus, we have 39 left in - it's hotting up already for our second £100 prize - watch this site for updates!"
YOUTH TEAM
Next Sunday, Altrincham FC Youth are again away, this time at Warrington Town., k.o. 2pm.
FIXTURES
Tuesday, 7 February 2012
BSBN
Colwyn Bay v Boston United
Droylsden v Corby Town POSTPONED
FC Halifax T. v Nuneaton Town POSTPONED
Hinckley U. v Solihull Motors POSTPONED
Stalybridge Celtic v Bishop's Stortford POSTPONED

Saturday, 11 February
Bishop's Stortford v Hyde FC
Blyth Spartans v Histon
Boston United v Worcester City
Colwyn Bay v FC Halifax Town
Corby Town v Altrincham
Droylsden v Harrogate Town
Gloucester City v Gainsborough Trinity
Guiseley v Solihull Moors
Stalybridge Celtic v Nuneaton Town
Vauxhall Motors v Hinckley United
Workington v Eastwood Town

FA Trophy Round 3

Tuesday, 7 February
Bath City v Grimsby Town
Cambridge United v Guiseley POSTPONED
Dartford v Wealdstone POSTPONED now Wed. 8th Feb.
Gateshead v Alfreton Town POSTPONED
Kidderminster Harriers v Luton Town
Newport County v Carshalton Athletic
Northwich Victoria v Hampton & Richmond Borough POSTPONED
York City v Ebbsfleet UnitedPOSTPONED
BSBN NEWS
Worcester City Chairman, Anthony Hampson, has announced that "One of the hurdles the Club faces is the payment of a potential Capital Gains Tax demand on the proceeds from the sale of St George's Lane. Based on a 1982 valuation, (which is the appropriate date for valuation purposes), HMRC have valued SGL as a Sporting Facility at £228,000. This is at variance with the Club's professional valuation which is nearer £780,000. The Club are currently contesting the HMRC valuation. Not only do we believe the HMRC valuation to be inaccurate but the closer we can get to our valuation the lower any tax liability will become.

Clearly there were discussions in the late 70s/early 80s about the possible relocation of the Football Club and the Club are looking to collate evidence to substantiate this view. Also, depending on the nature of discussions about relocating the Football Club, the Club may also be able to argue that SGL was seen as a potential development site and therefore more valuable than just a sporting facility.

The more information we can collate, the better. The Club would therefore be keen to have sight of any newspaper cuttings or other evidence supporters may hold and which could help our case. Anyone who believes that they can assist is urged to get in touch".

Blyth Spartans say that "manager Tommy Cassidy was disappointed that Saturday's fixture against Solihull was postponed but he quickly focused his attention on next weekend. 'Yes, I was looking forward to the game on Saturday but a frozen Croft Park pitch put paid to it', he said. 'After a few good performances missing the opportunity to build on them has knocked us back a little. But we must concentrate now on Saturday coming when we entertain Histon. I'm hoping to arrange a friendly on Tuesday evening to keep us ticking over and to look at a couple of players'.

Cassidy has signed former Newcastle United midfielder Callum Little who has impressed him in training recently. 'People say we need a goalscorer, and it's true, but we also need more strength at the back', Cassidy commented. 'That's why we signed Joe Kendrick from Mansfield last week on loan till the end of the season. I've known Joe for a few years. He's a solid defender with a good left foot'".

According to the Herts & Essex Observer, "The synergy between first team coach Colin Reid and boss Rod Stringer is as clear as a Blue sky, as the pair mastermind Bishop's Stortford FC's quest to avoid the relegation zone. Reid, a 46-year-old UEFA A licence coach, is relishing working with Stortford's manager for the first time.

Stringer appointed former Stevenage reserve team boss Reid as his right-hand man after the former Braintree Town manager took over from Ian Walker at the Woodside Park helm in December. Reid and Stringer have been friends for more than 10 years.

Reid said, 'He has the passion and he wants to win. His record speaks for itself in non-League football'. Certainly the pair have had a massive impact on the club. Since their arrival Stortford have enjoyed four wins, one draw and two defeats to climb out of the bottom three. It is difficult to work out who is the 'good cop and the bad cop' to coin a TV police show phrase.

Reid is the more voluble from the dugout, particularly if certain players are not following his tactics or formation. Stringer is passionate and has biting humour. As the Stortford boss said to an errant Blues player during the recent Workington match, 'You will be joining us [on the bench] if you're not careful'".

Reid said, 'We compliment each other. I am the calm one in the dressing room. He gives me the freedom to set the side up [the formation] and it's great to work for him'. Reid said that Stringer is keen to promote a one-for-all and all-for-one philosophy. Stringer is hands on and has brought purpose and direction to the club. He shakes each player's hand and looks them in the eye when they come onto the pitch before a game.

Reid said, 'When we came to the club we said we are in it together. We win, we lose together and we draw together. It's like a family. The club has been fantastic. It's challenging. We are enjoying it. The players are starting to respond. There is an air of optimism at the club. Players work out quickly whether you know your stuff'".

This is Glos reported last Friday... "Enjoy your week off but be ready to go for the run-in, that was the message Dave Mehew delivered to his Gloucester City squad at training on Tuesday. The City players and boss Mehew are taking a complete break from football this weekend, due to Guiseley's extended FA Trophy commitments.

They trained as normal at Hartpury College on Tuesday night, but with a busy run-in coming up and with the Tigers on a good run of form, Mehew has given them a week off... The City boss is keen to carry on his record of improving the club's league position in every season since he took the helm and this term is no different. He may only have a small squad at his disposal, but Mehew believes that his current crop are easily capable of pushing for a top ten place and of breaking the 50 point barrier for the first time.

'We reached our points target for January, despite losing a game to the weather, and I've been delighted with the way the squad has performed this season', Mehew said. 'We've only used 20 players so far and three of those have been goalkeepers and a couple of young 'uns having a couple of sub appearances. Our target now is to do well in the County Cup, or try to and then finish in a higher position in the league than we have done in the previous years. If we can get to 50 points that will be more than we've ever had and that's realistic target for us as is pushing to be in the top ten in the division'.

And while others in Blue Square North, notably the Tigers' nearest neighbours Worcester City are throwing money at recruitment drives, Mehew is happy with his squad. He believes his current happy camp is due to trusting and believing in his players and not looking for replacements at every available opportunity. 'Some clubs in this league like Worcester are trying to push on and it hasn't happened for them', Mehew said. 'Sometimes you have to trust your squad of players and realise that they have got you to where you are. The players have proven that they can do it, they just need to find that level of consistency that we're all striving for'".
CHESHIRE NEWS
The Northwich Guardian reports that "League bosses admit they took a risk in allowing Northwich to host visiting teams at the Victoria Stadium this season. The club was evicted a fortnight ago when agents selling land on which the ground is built gave it three days' notice to move out after accepting an offer from a chemicals manufacturer based nearby. Thor Specialities (UK) Ltd now owns the nine-acres plot...

'Sometimes decisions must be made that are in the interest of a member club, the competition and football in general', said a league source. The Guardian understands that league officials knew about a clause in Vics' accord with finance experts from Deloitte that, if activated, could force the Wincham-based outfit to move. But they expected Vics' owner Jim Rushe, via his Northwich Victoria Developments (NVD) Ltd firm, to complete a deal to buy the ground last September...

The league's management committee called off Vics' scheduled encounter with Kendal in August when Rushe did not complete a deal to buy the ground before a deadline, leading to Northwich breaking competition rules. They had been warned the previous month that the team would not be able to play on their own pitch if he remained a prospective – and not actual – owner of the land. League rules state that clubs must own their ground, share it with another elsewhere, or have a long-term lease from a landlord.

The club's week-by-week agreement with Deloitte, appointed by Clydesdale Bank to recover more than £1m it lent to the company of Vics' former chairman Mike Connett, was not enough. Vics were subsequently charged for failing to fulfil a fixture, the punishment for which was a fine.

'At no time did we enter into a lease with Northwich Victoria Developments (NVD) Ltd or the club', said a spokesman for Deloitte. 'In August last year we merely granted NVD a licence to occupy the ground [for the rest of the season] that neither offered the licensee security of tenure nor exclusive possession. The licence was terminable by either party on three days written notice'.

Yet league officials still allowed Northwich to play at the ground they have called home since 2005. Rushe had agreed in May to a temporary move to neighbours Witton Albion if he did not buy the Victoria Stadium, but league officials later accused him of reneging on that arrangement. That accord is no longer on the table".
---
5 February 2012
GAME OFF
Altrincham FC Youth's game at Northwich today (5th) has been postponed.
JOE'S HOME DEBUT DEFERRED
Before Saturday's match was postponed, the Wirral News wrote that "Joe Collister's season of adventure continues today when he makes his home debut for Altrincham against Stalybridge Celtic... The former Tranmere goalkeeper, [right], joined the Robins on loan last week from Tamworth, where he signed a contract at the beginning of the season. Hoylake-born Collister claimed the first-team gloves at Tamworth just in time to play in a third round FA Cup tie against Everton at Goodison last month – a dream come true for the Blues fan.

But The Lambs then agreed to release Collister to Altrincham and he turned in a man-of-the-match performance in the 2-0 defeat at Gainsborough".
OLD BOY
From Pitchero Non-League comes news that "Ambitious Evo-Stik Northern Premier League First Division North leaders AFC Fylde have signed highly-rated striker Jimmy McCarthy from NPL First Division South side Leek Town for a nominal fee on an eighteen-month contract. The 26-year-old forward joins the Coasters to boost their attacking options and the club has beaten off strong competition from clubs higher up the non-League Pyramid to land the player to clinch his signature.

So far this season McCarthy has bagged fourteen goals in all competitions after signing for Staffordshire-based club following a spell under Fylde boss Dave Challinor last season at Colwyn Bay. McCarthy revealed he turned down other offers to join the Coasters with Welsh Premier League side Airbus UK Broughton and Blue Square Bet North outfits Hinckley United and Hyde FC both chasing him.

'I had a few offers to consider but when Dave came in for me and we agreed terms I was delighted to join a club who are ambitious and wanting to climb the Pyramid', McCarthy said. 'I worked with Dave and Colin Caton at Colwyn Bay and really enjoyed my time there so to link up with them again is great for me. I had a great time helping them win promotion last season and I want to do it again with Fylde.

I'm sad to leave Leek Town as I was really enjoying my football there but I see this move as a big challenge and I can't wait to get going'. Challinor is delighted to land one of his targets... 'Jimmy was someone we had targeted when we came into the club but, with the quality we had around at the time, we didn't need to add another pacy forward to the side. That changed when we lost Richie and Keigan and we needed to bring in replacements quickly. He was a fundamental player in our promotion-winning side, creating and scoring vital some goals for us last season and he can do the same here'...

McCarthy started his career as a youngster at Alsager Town and quickly moved to Warrington Town soon after before a spell with Crewe Alexandra. McCarthy has since enjoyed spells with Altrincham, started last season with Chester FC and finished last season gaining promotion with Colwyn Bay".
BSN NEWS
"John Ramshaw, manager of Eastwood Town, says the luck his side are enduring make it feel 'like he has killed an albatross'. The Badgers are rooted to the bottom of the table having won only three games all season. They have still to win a league match since Ramshaw took over, having recorded only three draws in 13 games... He felt last Saturday's 2-0 defeat at Gloucester City was a prime example of how things are just not going for his side.

'There was absolutely nothing in it for an hour of the game and then one of their lads has scored an absolute worldie with an unstoppable volley from the edge of the box', said Ramshaw. 'You usually consider yourself a bit unlucky if you have two or three world-class goals scored against you in a season, but I think that's about seven we've had just since I came in. Then their second goal was a bit flukey with the help of a deflection and you begin to start thinking, what have you done to deserve this? Gloucester have a wage budget twice that of ours, but there was nothing at all between us. We just need that ball to bounce for us and to get that win because I feel we could then kick on'" he told THis is Nottingham.

And more bad news for the Badgers comes from Pitchero Non-League, which confirms that "Eastwood Town's frustrating season continued this week as goalkeeper Ian Deakin opted for a move to Baris Northern Counties East League Premier Division side Staveley Miners' Welfare. Deakin, a fans' favourite at Coronation Park during three spells with the club, has taken the option to return to where he started the season, with the Derbyshire side aiming for a Wembley appearance in the FA Vase...

Manager John Ramshaw admitted losing Deakin was a blow. He said, 'I think Staveley have a chairman who is putting quite a bit of money in and with a potential Wembley final at stake they offered Deaks a financial package he couldn't really refuse. When you've got players being offered big signing on fees and higher wages it's hard for us to compete at the moment. Deaks came to me and Richard Cooper and sought advice on what to do but, ultimately, it was up to him and it's understandable that he went for an offer which financially was good for him and his family'.

Deakin's departure means back-up goalkeeper Jake Want could now be given a run in the side having been sat on the substitutes' bench for much of the season so far. Ramshaw added, 'Jake has been patient and deserves a chance to come in and show what he can do. He's young and obviously not as experienced as Ian Deakin but playing games should help him a lot. We're always looking ahead to next season too and if Jake can stake a claim then there's no reason why he can't make the number one shirt his own'".

The Chronicle Live says that "Tommy Cassidy will be Blyth Spartans manager next season – whether relegated or not. The former Newcastle United star replaced Steve Cuggy as manager of the Croft Park club in December, signing a deal to the end of the current campaign with the option of a further 12 months subject to mutual approval in the summer.

The Northumberland outfit remain mired in relegation trouble near the foot of Blue Square Bet North, and have yet to win under Cassidy. But three draws in their last four games... have seen a marked improvement, leading the Blyth board to prematurely trigger the contractual clause extending the manager's tenure.

'I'm very happy with the decision', said Cassidy. 'It's better for me because the players know I'm there next year, so they've got to give a wee bit extra'".
---
4 February 2012
MATCH OFF
There has been a pitch inspection at Moss Lane this morning, and the referee has called the match off.

However, you can still support the club today, by watching Manchester City v Fulham in the Noel White Suite (k.o. 5.30pm, doors open at 5pm), and also tomorrow when Chelsea play Manchester United (k.o. 4pm, doors open at 3.30pm).

The green Community Tickets that have been issued for today's game will now be valid for the game against Blyth Spartans on February 18th (k.o. 3 pm).
ALL POSTPONED IN BSBN
Only the match between Harrogate Town and Corby Town is on today, all the other games have been postponed.
Altrincham v Stalybridge Celtic OFF
Blyth Spartans v Solihull Moors OFF
Colwyn Bay v Bishop's Stortford OFF
Eastwood Town v Vauxhall Motors OFF
FC Halifax Town v Nuneaton Town OFF
Harrogate Town v Corby Town OFF
Hinckley United v Boston United OFF
Histon v Droylsden OFF
Hyde v Workington OFF
Worcester City v Gainsborough Trinity OFF

The Worcester News reported on Friday that "Tomorrow's match between Worcester City and Gainsborough Trinity will be postponed. The St George's Lane pitch is frozen solid but City have been told by the league they cannot officially call the game off until the morning. A pitch inspection will be held at 9.30am to make the decision formal."
LEE'S PLANS
The Manchester Evening News reported on Friday that "Altrincham boss Lee Sinnott believes a revenge win over Stalybridge Celtic in tomorrow's big Moss Lane derby could be crucial to the Robins' chances of pushing for promotion. Bridge's 5-1 romp over Altrincham at Bower Fold in October briefly took them to the top of Blue Square Bet North but they've since slipped back to third following a miserable seven-match winless streak. Seventh-placed Alty are among a clutch of clubs eager to muscle the stuttering Celts out of a play-off spot and Sinnott says it's vital they avenge that drubbing in Tameside if they're to achieve that target.

'We were at the wrong end of the result at Stalybridge and must view tomorrow's game as our chance to redress the balance,', said the Robins' chief. 'Teams are starting to bunch up a bit at the top, with us on their coat-tails, and what counts now is how the leading sides react to the pressure as it starts to build. After picking up just one point from our last two games, it's important we begin dictating matches again – starting with this one'.

Alty's new keeper Joe Collister will make his home debut. Sinnott has added versatile defender Mark Lynch and striker John Miles to the squad following their release by Stockport, while Brian Summerskill has been released".
FA TROPHY ROUND 3
Kidderminster Harriers v Luton Town OFF
Northwich Victoria v Hampton & Richmond Borough OFF
Cambridge United v Guiseley OFF
Dartford v Wealdstone
Bath City v Grimsby Town OFF
York City v Ebbsfleet United
Gateshead v Alfreton Town OFF
Newport County v Carshalton Athletic OFF
OLD BOY
A former Alty reserve, Richard Chetcuti has moved from Northwich Villa to Glossop North End.
BSB NORTH NEWS
The Football Conference tells us that "Bishop`s Stortford have brought in South Korean midfielder Hyun-Jin Lee and young striker Ben Seymour-Shove ahead of this weekend`s scheduled game at Colwyn Bay. Lee, 21, joins from Brentwood Town, where he had been for just over a month. Originally with Halstead Town, Lee moved to Redbridge and then joined Brentwood in December from league rivals Romford, whom he had signed for in June 2011. Seymour-Shove, 18, joins the Blues on a month`s `work experience` from Peterborough United. The young striker has spent time with Soham Town Rangers and St Albans City on similar terms this season".

According to Pitchero Non-League "Vauxhall Motors have signed defender Louis Horne from Northwich Victoria. Horne, aged 20, played against Northwich in a pre-season friendly at the beginning of this term away to neighbours Lostock Gralam after being released by Bradford City at the end of last season. Horne was a regular on the bench for home-town club Bradford. However, he was only to make one solitary performance for the Bantams.

He enjoyed loan spells at Barrow AFC and later Fleetwood Town before his release from City. He joined Motors' league rivals Hinckley United in August 2011 but was released two months later having made just six appearances. He then signed for Buxton, from whom he joined Vics towards the end of November".

The Hinckley Times tells us that "Hinckley United are too good to go down. These are the words of a man who knows of the toils and troubles of a relegation dogfight - Richard Lavery.

Despite the Knitters currently lying precariously in 18th place in the Blue Square North table, the tough-tackling midfielder believes there is still enough time, as well as talent in the current squad, to beat the drop. Lavery said, 'We have such a young team and they are still learning so there isn't any consistency . We play really well and then we are just really bad. It was the same on Saturday as in the first half our defending was awful and then second half we could have changed the result around.

We've beaten the likes of Wrexham and Darlington and Nuneaton and we don't justify being where we are but, at the same time, the league doesn't lie and we are there for a reason. There are 17 games to go and I can't see us being relegated as I believe we are too good to go down'.

As for his own performances since returning to the Greene King Stadium after a year away, the 34-year-old feels he has settled straight back into the place he calls 'home'... He said, 'When I first came back I was playing at centre half as Dean [Thomas] didn't have one, but I don't really enjoy it there as I can't be involved as much. I was back there as I'm a big presence and good in the air but I much prefer being back in midfield and I am there at the moment and I hope I can stay there. People have been referring to me as a veteran but I still feel as fit as I did about five or six years ago'".

The Boston Standard says that "Boston United will rise to the threats posed by the Jekyll and Hyde side of the Blue Square North. That is the opinion of manager Lee Canoville, ahead of Saturday's visit to Hinckley... where spectators should be expecting goals galore.

A total of 38 goals have been scored in the past seven Blue Square Bet North contests involving the Knitters, with Hinckley scoring 18 and conceding 20... Pilgrims' boss Lee Canoville believes his Pilgrims will hold their own. He said, 'We've got some tough games coming up, but they're the games we seem to rise in. We've had games where we haven't put teams to bed but we've learned from that'...

Hinckley certainly know where the goal is, having netted 44 times, 11 more than Boston. But their tendency to concede goals – much to the chagrin of ex-Boston keeper Dan Haystead – is what keeps them near the foot of the table. To date they have leaked 61 goals, the second worst record in the BSBN."
---
3 February 2012
PITCH INSPECTION
In advance of the game against Stalybridge Celtic, there will be a pitch inspection at Moss Lane on Saturday morning at around 10.15am. As soon as a decision is known, it will be posted here.

For the second successive day, Altrincham woke up to temperatures below minus six this morning and the above picture shows frost all over the pitch. Tomorrow's game against Stalybridge looks to be in serious doubt but a referee's inspection will be needed to confirm a decision. Groundsman Neil Brown is expecting pitch-level temperatures to be around minus 12, even if the air temperature is a little above this.
LEE'S UPDATE
Talking to the Altrincham FC website after Thursday night's training, manager Lee Sinnott gave encouraging news on the fitness front. Both defender Marlon Broomes (hamstring) and winger Simon Richman (tonsillitis) have trained successfully for two sessions (Tuesday & Thursday) this week but goalkeeper Stuart Coburn remains sidelined, though he is making progress towards recovery from his injured elbow, which has kept him out of action for the last three games.

Right: Simon Richman. Lee paid tribute to midfielder Brian Summerskill, who has been released (see below), praising the young midfielder's application. "Unfortunately, he was unable to break into the first team on a regular basis", said Lee, "but we wish him all the best for the future".

Of course, like everyone else, Lee has one eye on the frosty weather forecast for this weekend but he indicated that training had gone ahead this week on the assumption that the match against Stalybridge will be played. "We've been lucky with the weather so far this season at Moss Lane", said Lee. "We've only lost one match this season and that was away at Blyth but we will have to wait and see about Saturday", he added.
TASC COACH TO CORBY
Travel Coordinator, Tom Jacobs, has confirmed that The ALtrincham FC Supporters' Club will be running a coach, (not a minibus), to our next away game, at Corby on Saturday 11 February. As usual, please book in advance with the club on 0161 928-1045. Details of departure times and fares are on the Away Travel page.
SATURDAY'S GAME
The club hopes to have some firmer indication of the likelihood, or otherwise, of Saturday's game at Moss Lane going ahead during today (Friday).

In advance of Saturday's fixture, Stalybridge Celtic say that "Celtic will make the short journey across Cheshire to Altrincham. Weather permitting kick-off is at 3pm. Altrincham are currently seventh in the table on forty-two points, four places and seven points behind third placed Celtic, though Celtic have a game in hand...

Altrincham started the season slowly, but have become stronger as it progressed, touching the play-offs in October. A wobble in November saw them slip away again, but a strong start to 2012 has seen them rising back toward the play-off spots. Though Altrincham lost their last game away at Gainsborough, and drew the previous game away at Blyth, they have a strong home record with only Colwyn Bay and Gloucester beating them at home this season...

Our last meeting with Altrincham was earlier in the season when we beat Altrincham with a comprehensive 5-1 display, and the Robins will be looking for payback. With Altrincham being in the Conference National for some years now, the last time we visited Moss Lane in the league was back in April 2005 when Altrincham won 4-1. Our last win there was in the Cheshire Senior Cup in September 2003 when we won 2-0. In our last ten visits to Moss Lane in the league, we have never beaten Altrincham, but we have drawn four of them. The automated prediction algorithm is suggesting another away loss for Celtic, with a 3-2 score line in Altrincham's favour.

Altrincham have scored sixty-three goals this season. Over half of them have come from Damian Reeves... At this stage of the season Damian Reeves's thirty-two goals in the league look like an unassailable target for the league Golden Boot. Altrincham are quite dangerous all through the game, but especially so around the twenty-five and seventy minute marks (midway through each half) where they have scored seventeen and fifteen goals respectively. Their most vulnerable time is just before half time when they have conceded thirteen of their forty-six goals. On average they score 2.3 goals per game (2.9 at home), and concede 1.7 goals per game (1.3 at home)...

Celtic's long term injury hit Tom Buckley has resumed training, so there was almost a fully fit squad to choose from in Celtic's last match, the 4-0 home reverse to Colwyn Bay. Andy McWilliams's red card in that match does not kick in until the 11th of February making him eligible for selection on Saturday. In Celtic's last match, they lined up as: 1. Craig McGillivray, 2. Joel Bembo-Leta, 3. Andy McWilliams, 4. Rhys Meynell, 5. Chris Lynch, 6. Jack Rea, 7. Steve Brogan, 8. Greg Wilkinson, 9. Craig Hobson, 10. Arthur Gnahoua, 11. Nick Rogan".
OLD BOYS
PItchero Non-League reports "The full [England C] squad for the forthcoming International Challenge Trophy Group A fixture with Italy, which is to be played at Fleetwood Town on Tuesday, 28th February 2012, kick-off 7.30pm" has been announced. Only one BSBN player is involved (Scott Spencer from Hyde) but an Alty old boy, Andy Owens, is named in the squad.

In this context, we also read that "Stockport County FC are pleased to announce that three of the club's players have been named in the 'contingency' squad for the forthcoming England C (U23) team game against Italy in the International Challenge Trophy Group A fixture, which is to be played at Fleetwood Town FC on Tuesday 28 February 2012, kick-off 7.30pm. Sean McConville, Carl Piergianni and Ian Ormson have been named in the 'stand by' squad in case any of the 16 strong first choice squad drop out".
BSBN NEWS
With freezing temperatures across the country, announcements of pitch inspections have already started. One such game is Worcester v Gainsborough, where despite having utilised frost covers, a Friday pitch inspection is being sought. Tests at the St George's Lane ground showed pitch temperatures already at minus 10 on Thursday.

Also at Hyde, "There will be a pitch inspection at 8.30am on Saturday morning to decide whether the home game against Workington can go ahead. The match is in doubt due to the freezing temperatures which saw Monday's fixture at Ewen Fields between Manchester City EDS and Tranmere Rovers postponed."

And in the Trophy, Guiseley report that "club officials have spoken to Cambridge United who are trying to arrange a pitch inspection early afternoon on Friday. This is in advance of the team departure and is also designed to replicate as near as possible kick-off conditions".

Pitchero Non-League tells us that "Harrogate Town have re-signed forward Chib Chilaka, who has moved back up north after a short spell with Braintree Town. The 25-year-old Nigerian front man spent time on loan at Wetherby Road last season and scored three goals in eight games. He joined Alan Devonshire's Iron side in the summer but has seen his chances restricted due to the form of twenty-goal strike partnership, Sean Marks and Ben Wright. Chilaka has made just one start for the Iron, making a further dozen substitute appearances and has scored two goals.

Harrogate boss Simon Weaver said, 'Chib was a fans` favourite, so it's great to have him back... It just gives us another option'. Chilaka returns to Harrogate after making his mark during a loan spell from Bradford City last season".

According to the Coventry Telegraph, "On-loan striker Andy Brown has suffered the thin end of the wedge since his arrival at Nuneaton Town from AFC Telford last month but there's no doubting the all-action forward is key to manager Kevin Wilkin's plans. Wilkin is looking to extend Brown's stay for another four weeks and possibly until the end of the season when he has talks with Bucks boss Andy Sinton during the next few days to decide the short-term future of the former Hinckley hitman.

Wilkin said, 'Andy has not had things go his way too much since he joined us and in two of the games he's played we've suffered a sending off and he has had to furrow a lone passage up front. But while chances have been few and far between, I believe he's a major asset to us, even when he doesn't find the net. The lad is a tremendously hard worker, is totally honest in his game and has a great attitude'. Brown, who netted 20 times in 43 appearances in his previous spell with Nuneaton back in the 2007-2008 season, was credited with the goal that earned Boro a 1-1 draw at Workington in his first match back at the club but has been off target in the three latest outings".

The Tameside Advertiser reports that "Hyde FC boss Gary Lowe insists it is not time to panic despite seeing his side pick up just one win from their last six games. The Tigers' difficult start to 2012 continued at the weekend with a last minute defeat at Solihull Moors after the visitors had dominated throughout.

Having picked up just two points from four games and scored only two goals in that same time, questions have been asked of the Blue Square Bet North leaders but manager Lowe believes his side have simply been unlucky of late and continues to focus on the positives. 'It's important at this stage of the season not to get too negative', he said. 'All we've done is lose a football match but we're playing well and there's no reason to be too disappointed. Maybe we're not quite getting the breaks that we did towards the start of the season but we're keeping possession well, our passing is good and we're still making opportunities'...

Recent form aside, Hyde are still sitting comfortably at the top the table, 12 points clear of Guiseley, Stalybridge Celtic and FC Halifax, Hyde's only concern will be that all three of those sides have at least three games in hand over Lowe's team. In fact, Guiseley's four spare fixtures mean that the West Yorkshire club could join Hyde on the league summit – if they won all four. For Lowe, however, it is much more important to have points on the board.

'If you asked any of the managers of the sides below us where they'd rather be, then they would swap places with us in an instant', he explained... 'What we mustn't do is get wrapped up with how the sides around us are doing. Our job is to focus on ourselves and make sure we win our games... We expect to pick up points against everybody to be honest, but yes we should be looking to bounce back in these games. We're a confident side but you have to respect the likes of Workington and Bishop's Stortford. These sides have their own agenda, their own fight. There are no easy games in this league and we know that'".

According to the Daily Post, "Soccer bosses hope to get the go ahead for a new stand next week. Colwyn Bay FC want to build a 500-seater stand at their Llanelian Road ground – otherwise they would face relegation from the Blue Square North League under new rules. The regulations require a minimum of four rows of seating in stands, and currently the Llanelian Road stand has only three. There will be no increase in numbers of spectators.

On Wednesday, Conwy County Council planning committee members are set to back the application for a new cantilevered stand to cover the existing concrete terrace. The club must have work underway by March 31 or be relegated. It could be to the Evo-Stik Division One North or South, or even the North West Counties. Councillors will be told the stand would have a green, steel roof and walls. Council officers believe the stand's walls, some 2.9 metres above the embankment at the top of the current terrace, would not spoil views for neighbours'".

Over in Lincolnshire, the Boston Standard reports that "Ryan Semple's return from injury has been put on hold, following a setback. The influential winger hoped to be fit and available for Saturday's victory at Corby, but instead he may now be sidelined for some time after a reaction to his knee problems last Wednesday.

'He's worked really hard to try to get fit and we thought he wasn't far away but he's not quite right', said manager Jason Lee. 'He trained (last) Tuesday and we thought he did all right. but he had a reaction on the Wednesday. He may well need someone to have a look – be it a scan or whatever it is. He may have an underlying problem. It's a blow to us because Ryan's an option we don't have right now, and we all know what his game is all about. It's an opportunity for others to come in and move the team forward. Others need to worry about their performances and help us win games. We need to leave him alone for a bit and help him have time to get it right'".
---
2 February 2012
TWO IN, ONE OUT
Today, Altrincham FC have signed two new players and released a third.

The player released is midfielder Brian Summerskill. 20 year-old Brian was signed from Northwich Victoria during last summer. He had previously been a regular for Wrexham's reserves. After making just one start and seven substitute appearances for Altrincham, Brian went on loan to Nantwich Town for 28 days from 4 November 2011, a spell which was extended until he returned to the Altrincham squad on New Year's Day, 2012. He made just one further appearance for The Robins, from the bench, before being released today. The Club would like to thank Brian for his services and wishes him well for the future.

Arriving at Moss Lane are two players recently released by Stockport County. They are defender Mark Lynch, who played regularly at Moss Lane during his lengthy spell with Manchester United, for whose reserves he played at full-back. Mark, born in Manchester on 2 September, 1981, signed forms for Manchester United in 1999 and remained at Old Trafford till 2004/05 season, but made just one appearance for the first-team. In the interim he had started 20 times for St Johnstone, up in Perth, on loan in 2001/02 season. On leaving United, he joined Sunderland (7+6 appearances), then Hull City (15+2), Yeovil (34+4), Rotherham United (35+3) and Stockport County (39+2).

Joining him at Moss Lane is forward/midfielder John Miles, who is just 26 days younger than Mark. Fazackerley-born, John's former clubs include Liverpool (no first-team appearances), Stoke City (1 sub appearance), Crewe Alexandra (3+7 app's), Macclesfield Town (85+53), Accrington Stanley (99+12), MK Dons 7(+5), Fleetwood Town 8(+2), Droylsden and Stockport County 11(+3).
LEE REACTS TO DEFEAT
In the Sale & Altrincham Messenger "Lee Sinnott has called for a positive response from his Altrincham players after their four-match unbeaten run was halted by promotion rivals Gainsborough Trinity. Despite new keeper Joe Collister distinguishing himself with a penalty save less than two minutes into his debut, Alty were second best for most of a 2-0 defeat that left them six points off the play-off places.

The task of making up ground will scarcely be any easier on Saturday, with third-placed Stalybridge Celtic visiting Moss Lane, but Sinnott has urged his players to rise to the challenge.

'We were on the wrong end of the result at Stalybridge in October, but we must view Saturday as a chance to redress the balance, just as we must when Gainsborough visit our place', said the Alty boss.

'We simply didn't get out of the traps last Saturday, but there is still a lot of football to be played. What counts is how you react to the pressure, as it starts to build. Teams are starting to bunch up a bit at the top. We are on their coat-tails, and it is important we begin dictating games again, and playing to our true capabilities, starting on Saturday.

Joe's debut could end up being a quiz question, saving a penalty with his first touch. I thought he did really well. He commanded the box and had a presence about him, and he communicated well. He was also extremely annoyed with their second goal, and berated some of our defenders, which is what you want from your keeper.

The only shame is he didn't see what we are capable of as a team. Let's hope we show him on Saturday'.

Sinnott is running the rule over versatile defender Mark Lynch and striker John Miles, who have been training with Alty after being released by Stockport. On the injury front, keeper Stuart Coburn could be out another couple of weeks, but Simon Richman, Marlon Broomes and Chris Lynch all trained on Tuesday and will be monitored ahead of Saturday".
LEE PLANS THE RUN IN
In the "Sale & Altrincham Advertiser", Lee Sinnott comments on the defeat at Gainsborough. "We never got going.. We didn't get anywhere near the standards we set ourselves. Maybe it's because it was our fourth away game in five, which is a big ask. But we've taken 10 points out of 15 from those games, which is above average. We're starting to get into the nitty-gritty part of the season and we've got to repeat that kind of form and maybe better it.

It's starting to bunch up from second to fifth and there's going to be lots of twists and turns. If you look at this weekend's fixtures alone, there's a few tasty games going on.

If we get the win [v. Stalybridge] we'll close the gap to four points and things will bunch up even more. We know what we need to do'".

The article adds that Lee Sinnott "has made several changes to his squad in recent weeks and there could be more signings in the run-in. 'Teams are always evolving', he said. 'You're always looking to improve and we're working towards where we want to get to'".
SHAUN'S DOUBLE LIFE
The Hale, Altrincham and Sale Independent has an article on Alty captain, Shaun Densmore (left). It says that Shaun "is aiming to score at two careers; his first love, football, and as a quantity surveyor... Shaun is realistic enough to be working towards a second career by taking a part-time course at John Moores University, leading to a degree in quantity surveying, and a job which will outlast his footie playing days...

Shaun enjoys all sport, having also excelled at cricket, and now finds time for golf. His father, Peter, played for Liverpool as a youth before joining Altrincham. However, he never pushed Shaun into following his career path... It was Shaun who decided to open up the option of a second career in quantity surveying but specifically chose part-time, he attends one day a week and is in his third year of a six-year course, so that he could still pursue his football ambitions.

To enable this, he still works as a trainee at the Altrincham based Mere Park Construction company".

Regarding football, Shaun said, "Every game we play is a tough one as we are seen as a big club, so everyone wants our scalp".
LADIES' GAME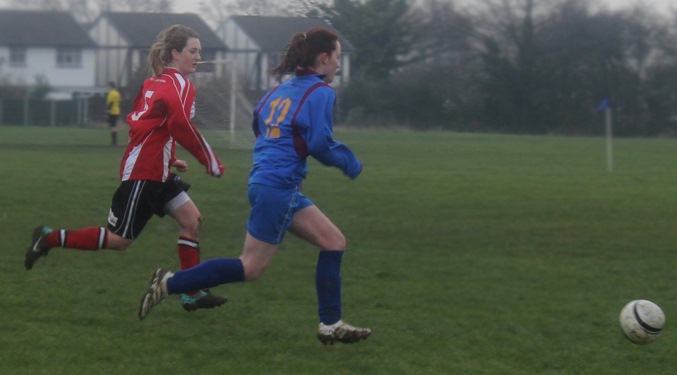 Altrincham FC Ladies Team Manager, Keith Edelston heads his report on last Sunday's game, "Positives in defeat..."
Keith continues, "We made the short journey down the M6 to our near Cheshire neighbours, Sandbach United, for our first League cup game of the season. It was a very cold and wet afternoon but all the squad and coaches were looking forward to a good game of football and we weren't going to be disappointed....!!
Right: Action from the Ladies' match; photograph courtesy of Keith Edelston.
We kicked off on a pitch where, on the wings, there was plenty of mud and to say it was 'stodgy' would be an understatement. Anyhow, both teams from the off played decent, open, attractive football, which belied the heavy conditions and chances were created at both ends.
However, in the 28th minute, Sandbach took the lead with a shot from outside the box which Rosie got a finger to but couldn't prevent from going in (0-1). This did not deter us and we used both wings to great effect, with Nat on the right and Brogan on the left, and the midfield pair of Hannah and Kate threading balls through and causing a lot of problems for their defence. Unfortunately, from an inswinging corner, Rosie was crowded out and the ball went over her head and nestled in the bottom corner (0-2).
Half Time 0-2.
After a bit of a chat about a few things and what we could do differently, we grabbed the game by the scruff of its neck and set about Sandbach with renewed vigour. We were creating chances but they just weren't falling right. Myself, Chris and Jamie thought this wasn't going to be our day when, in the 79th minute, Kim sent Natalie scampering down the right wing and she put a cross in which Brogan forced the ball home to half the deficit (1-2). We were back in it now and the last 10 mins were our best period, with wave after wave of Alty attacks forcing panic in the Sandbach defence, but they managed to stand firm and see the game out.
Full time 1-2.
A lot of praise again to both teams for playing good football and putting on a great game to watch on a pitch that was 'stodgy' at best. Myself, I took a lot of positives out of Sunday's game; the passing/movement and general all round play are coming on and this squad of ladies is going to be a force to reckon with next season
Squad :- Rosie Emerson, Rachel Bullock, Tallulah Anton, Louise Edleston, Becki Collins, Natalie Thornley, Hannah Kibble, Kate Rawthore, Brogan Walsh, Faye Howard, Jaquie Farrah, Ella Taylor, Lauren Thorneycroft, Kim Latham
Up the Alty...!"
BSBN NEWS
Mansfield Town confirm that "Defender Joe Kendrick has joined Conference North strugglers Blyth Spartans on loan until the end of the season. The 28-year-old has made 14 appearances for us so far this season".

Meanwhile, Guiseley "announce the signing of 21-year-old Norwegian midfielder Tomas Skaret Halvorsen on a non-contract basis. Previously with Eidsvold Turn and FC Norway, Tomas has impressed in training over the last few weeks and is currently in England for college. He is Leeds-based and is seen by the management team as a real prospect".

But, "Guiseley midfielder Gavin Rothery has been diagnosed with a broken toe, sustained in a tackle during last night's West Riding County Cup victory over FC Halifax Town. Gavin left the pitch at half time with his foot wrapped in ice and the Lions have had it confirmed that the goalscoring midfielder could be out for a number of weeks. Gavin was making his return to the team following a three match suspension".

Pitchero Non-League reports that "Rob Oddy has made the short journey to sign for Barwell from neighbours Hinckley United... He signed for Nuneaton Borough in 2004. He made over 250 appearances for Boro and then the re-named Town. He signed for Hinckley in June 2011".

Blue Square Bet announces that, "In the Blue Square Bet North the 'manager of the month' award for January goes to Colwyn Bay player/manager Jon Newby. The former Liverpool trainee celebrates three months in the role with the honour. Newby's side had to negotiate four away trips in the league during the month – winning all four – including victories at promotion chasing Altrincham and one-time title favourites Stalybridge Celtic. Their one home game was a goalless draw at with Vauxhall Motors, which added to four clean-sheets during the period too.

In the Blue Square Bet North the 'player of the month' for January is Dan Holman from Histon. The Stutes' striker notched seven goals from six league matches during the month, including a brace in the 2-2 draw at home to promotion chasing Guiseley".
CHESHIRE NEWS
Interesting news on the Northwich Vics' situation comes from the Northwich Guardian. It says "Thor wishes to announce that it has now completed the purchase of the Victoria Stadium at Wincham. However, we are disappointed to advise that negotiations with Northwich Victoria Football Club (2007) Limited, which would have allowed the team to use the stadium for the rest of the season, have broken down.

Thor has made every effort to assist, but at the last minute the club changed what Thor believed to be an agreed deal and has rejected the proposal. The headline terms of the proposal on offer by Thor were as follows:
1. The club could continue to play at the Victoria Stadium for the remainder of the season, including play-offs.
2. A reduced rent would have been charged.
3. Thor would have donated the rent to the supporters' fund.
4. Thor would have been willing to discuss assisting with the cost of ground sharing arrangements for next season.
5. Thor would have maintained and paid for security for ground access and would have opened up at 8am each morning during the season and closed at 10pm. Where there was a late kick-off, the ground would have remained open until midnight.
6. Northwich Victoria Developments Limited, Jim Rushe and the club would have agreed to vacate by the end of the season and the club could, if it wished, haveremoved the Dane Bank and main stand. Thor however wanted to ensure that, if the club did remove the stands, they would only be used for the benefit of Northwich Victoria in the future.
7. As part of the overall deal and as a gesture of good faith, the club and Mr Rushe would have agreed not to object to any future planning application.
8. An agreed press statement would have been issued outlining the deal and thanking the parties for concluding negotiations in an amicable manner.

Beaconet Limited, the company owning the stadium, went into liquidation in January 2009.

Thor believes that the club has had the opportunity to buy the site but has not done so.

The receivers of Beaconet [Deloitte Touche] granted to Northwich Victoria Developments Limited, a company of which Mr Rushe is a director, a licence in August last year allowing use of the stadium. But this could be ended by the receiver on three days' notice.

The club was allowed to play last Saturday's match at the stadium as a gesture of good faith in the hope that a deal could be concluded for the rest of the season.

Thor regrets the action of the club in not agreeing to the deal proposed. As a result, the club will now not be able to play at the stadium.

Thor is happy to meet with representatives of the club's supporters to explain the situation and its rejected offer in more detail.

Thor has now been placed in a position where it has had to withdraw an offer which it had no obligation to make in the first place.

Thor is a British-owned company. It has purchased the ground in good faith in order to expand its business which will be of benefit to the local community."

In light of the above, the FA has announced that Vics are playing their FA Trophy match this weekend at Macclesfield Town. Alty Youth were scheduled at the Victoria Stadium this Sunday.

Despite their lack of a home ground, PItchero Non-League reports that "Northwich Victoria have appointed Paul Simpson as their new manager... with Alan Wright brought in as assistant manager. Simpson - most recently at Stockport County - has had spells in charge of Carlisle United, Preston North End and Shrewsbury Town... A winger in his playing days, Simpson started out at Manchester City, and also played for Derby County and Wolves in a 23-year career.

Wright spent time at Fleetwood Town last year, but is best known for an eight year spell in the Premier League with Aston Villa, during which time he made over 200 appearances for the club".
---
1 February 2012
YANKEE JACKPOTS - ONE WON, ONE LEFT
Last week, one lucky client, (who had code 5829), won £5,000 for just a £1 stake in the Altrincham FC Saturday Yankee fundraising competition - and there is more good news as another £5,000 jackpot is currently on offer. As well as last week's big winner, two other clients each won £100 for winning trebles. For details of how to join the Yankee, click here.

From the beginning of March, a new Altrincham FC Saturday Yankee collector is needed for a round of about 80 customers in the Timperley (Park Road) area. If you can help, please contact Jenny Heslop at Moss Lane (0161 928-1045) or e-mail the club office. Collectors receiver weekly commission as well as additional payment if their clients win.
BSB NORTH NEWS
BSB North says that "Lincoln City have announced the signing of versatile player Peter Bore from Harrogate Town. Bore turned down a new contract from Grimsby at the end of last season and subsequently had trials at Bournemouth and Shrewsbury Town. However, the 24-year-old was unable to secure a deal with one of the Football League sides and went on to join Harrogate.

Harrogate recently extended Bore's contract, with his initial deal expiring in January. He was ever-present for Simon Weaver's side this term... Lincoln boss David Holdsworth told This is Lincolnshire, 'I've admired Bore for a long-time, ever since he started playing for Grimsby. He can fly down the right wing and can put in some dangerous crosses. He's got a lot of talent'".

Pitchero Non-League "Boston United's 16-year-old striker Jordan Nuttell has signed Conference forms for the Pilgrims. Nuttell will be handed the opportunity to impress in first-team training and be given friendly and bench experience with the senior side. Having starred for the youth team and reserves during the first half of the season, both at the heart of defence and in attack, the versatile son of former Boston United legend Mickey Nuttell... has netted eight times in twenty-nine appearances for the youth team and reserves this season".

Mansfield Town report that "Manager Paul Cox has made his second signing of the day with the capture of burly striker Matt Rhead on a free transfer from Corby Town. The 27 year old has netted 13 goals in 24 appearances for Corby Town this season. Rhead has previously enjoyed spells with Congleton Town, Nantwich and Kidsgrove and joins us until the end of the season.

Manager Paul Cox told mansfieldtown.net, 'Matt is the type of centre forward which we have been looking for for some time now. However, we were quoted a huge fee upon our initial approach to sign him from Corby'".

From Cambridge News, we learn that "David Livermore was proud of his players after the 10 men of Histon dug deep to secure a 1-1 draw at Worcester [on Tuesday]. The evening got off to a bad start for Histon when delays on the A14 resulted in them arriving more than an hour late, so kick off was put back to 8.15pm...

'I'm proud of the lads', said Livermore. 'They've worked really hard and played some good football at times. We've had to dig in at the end to get the point after going down to 10 men... Having less time to think about the game can sometimes go in your favour'".

Meanwhile, Corby Town say that "Graham Drury has added two players to his squad ahead of Wednesday night's Hillier Cup tie at Steel Park. Former Scunthorpe United first-year professional striker Jordan Thewlis and ex-Northampton Town trainee Tom McGowan come into consideration for the match against Long Bucky.

19-year-old Thewlis was released by the Iron on Monday where, whilst he didn't make a professional apapearance, he had been named on the bench on occasions this season... Midfielder McGowan has represented Cogenhoe United, Biggleswade and St Ives after he was released by the Cobblers.

Graham Drury commented 'We have invited them in so we can have a close look at them and they have a chance to show that they are good enough to deserve an opportunity here. They both bring something different to the squad'".
OLD BOY
He was briefly an Alty player himself and his father is a well-known figure at Altrincham FC, helping Dave Johnson staff the front door at Moss Lane on matchdays and assisting George Heslop in his youth team duties, but now "Congleton Town have appointed the experienced Jimmy Vince [junior] as their new manager". Jim junior has previously been manager at Witton Albion as well as at various other local clubs.
OLD FOES
The Argus reports that "Crawley have turned down a £1.9million joint bid from Peterborough for Tyrone Barnett and Kyle McFadzean. Reds insisted earlier today that no more players would be leaving the club following top scorer Matt Tubbs' £800,000 move to Bournemouth yesterday... Meanwhile, Crawley are expected to announce a new signing which could be striker Billy Clarke from Blackpool "
---
FOR EARLIER NEWS, CLICK HERE
---