Archived News and Information
30 October to 7 November, 2003
---
---
7 November 2003
SATURDAY
Niell Hardy (right) is expected to be fit for Saturday's game at Worksop after missing the match at Gateshead with a hip injury. However, at least one Alty player has been suffering from flu this week. Speaking to SAM, Graham Heathcote said of Worksop, "I went to see them beat Radcliffe... and they are a good side. One thing is for sure, we will have to play better than we did against Gateshead". Alty have now won their last four games, conceding just one goal.
Meanwhile, Worksop Today quotes Worksop manager Steve Ludlam "after they bounced back from a run of defeats with three wins in eight days. 'It's amazing how quickly things can turn round in your favour after a bad spell'", he said. "Ludlam has been particularly pleased with the defence and he added: 'The back four have done really well... Ludlam has a largely healthy squad to choose from going into tomorrow's home clash with Altrincham (3pm) with only Ryan Davis (hamstring) struggling for fitness. Gary Townsend and Matty Caudwell are expected to recover from flu'". Familiar faces to look for in the Worksop team include former Alty captain and midfielder Steve Hawes, who played at full-back last week, and the Tigers' former Emley striker Simeon Bambrook.
OLD BOYS
In the MEN, it states that Nicky Daws is expected to be released by Rotherham and that he "would relish a move back to his roots" - by which they probably mean Bury rather than Alty.
UNIBOND NEWS
The
UniBond League
state that Alfreton's latest signings are "central midfielder Matt Fisher (27) signed from Tamworth and former Burton Albion and Ilkeston Town striker David Holmes (31), who has joined from Worcester City".
IC Cheshire quotes Runcorn player-manager Chris Lightfoot. "It is down to the lad and whether or not he wants to come", said Lightfoot of a Conference striker he is pursuing. "Wing-back Danny Salt has joined Witton Albion for £500, having rejoined on a free transfer in the summer. Meanwhile, the club are stinging from the loss of skipper Chris Price and top scorer Steve Daly to Southport. Both opted to join former boss Liam Watson despite being offered improved terms. The Linnets have got £3,000 for the pair with a big sell-on clause for Daly... The Linnets' boss said events had not soured his relationship with Watson... Having already lost Watson as a player and club captain Dominic Morley for the rest of the season after an industrial accident, the last thing they needed was Matty McGinn suffering a freak injury. The young wing-back was left with a bruised toe when a radiator dropped on his foot at work and has been advised to rest for a couple of weeks".
Former Hucknall boss Phil Starbuck has been confirmed as Leigh RMI's new manager.
---
6 November 2003
OLD BOYS

Jamie Phoenix, who had the dubious distinction of being sent off in the only game he ever started for Altrincham, (against Kendal Town in the FA Cup on 28 September 2002), has joined Nantwich Town. At Nantwich he joins ex-Alty first-teamer Vernum Rowland and former Youth striker Wes Wilkinson, who scored twice on Tuesday night. He is seen, right, on the way to his early bath.
UNIBOND NEWS
NL Daily
reports that David Lloyd, manager of Alfreton Town will make "three signings in time for this Saturday's home clash with Barrow". They are left-sided defender Scott Jones (28) and "two more vastly experienced players in midweek",whom he refuses to name. They are "a highly-regarded central midfield player from a Conference club and a proven goalscorer currently with a Dr Martens Premier Division side". Jones once cost £200,000 when he moved to Bristol Rovers from Barnsley.
Southport have "for a second time approached Marine with a request to release James Connolly for a return to Haig Avenue".
Runcorn FC Halton still await international clearance for ex-Evertonian Tony Thomas. The club has also signed "Scott Parkinson, a youngster from local football".
---
5 November 2003
DROYLSDEN GO JOINT TOP - ALTY DROP
UPL
Barrow 1 Southport 1
Burscough 1 Runcorn FC Halton 3
Radcliffe B. 1 Worksop T. 2 (Danny Hooper scored for Boro)
Vauxhall M. 2 Droylsden 4 (Motors led 2-0; Leroy Chambers got Bloods' fourth).

FAT1 Replays
Lancaster C. 3 Ashton U. 2
Prescot C. 1 Alfreton T. 4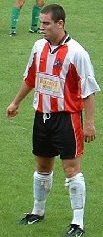 OLD BOY
Former Alty striker Chris Young is pictured in the Pink playing for Grey Horse (Failsworth) in the MEN County Shield. He is seen right in his Alty days last season.
TRANSFERS
Ryan Hardy (ex Emley to Frickley A.)
Matthew Daly (Goole -ex Frickley A. to Ossett T.)
Karl Leneghan (ex Bradford PA to Wakefield & Emley)
UNIBOND NEWS
IC Cheshire says that Owen Brown, Vauxhall's new boss "was described as 'the outstanding candidate from a quite exceptional shortlist' by Vauxhall chairman Alan Bartlam. Brown has won the UniBond Premier League with Barrow and also managed at Prescot Cables, coached at Altrincham and the Liverpool Academy". Owen added "I was lucky enough to be full time at Liverpool for two years and... I played against Bob Paisley, Joe Fagan and Ronnie Moran on a regular basis and it is only now that I realise how much they were passing on from all their experience in the game... I don't think there is a massive job to be undertaken here or that wholesale changes need to be made".
---
4 November 2003
COINCIDENCE
Alty have drawn Southport in the FA Trophy (see below) just as they did in 1999-2000 when, after a goalless draw at Haig Avenue and a 1-1 draw at Moss Lane, Altrincham lost 3-4 on penalties. By coincidence in the previous round that year Altrincham had beaten Gateshead (1-0 at Moss Lane) as we have done this year (2-1 away).
MOTORS APPOINT EX-ALTY MAN
Vauxhall Motors have appointed former Alty coach Owen Brown as their new manager to replace Alvin McDonald. It was Brown's arrival at Moss Lane, along with Stan Allan in December 1999 which led to Graham Heathcote's resignation as Bernard Taylor's coach and ended with a slide to relegation from the Conference the following May. Brown left Moss Lane at that point, along with Allan.

Brown played at Vauxhall during his career and also played for Liverpool, Carlisle United, Tranmere Rovers, Crewe and Chester. He has managed Prescot Cables and Barrow (1996-98) and since 1999 has been employed by Liverpool FC, where he is Community Officer and also helps in coaching the Reserves, "a position he will continue to be involved with", according to the UniBond League. Ironically his first game in charge of Vauxhall is at home to Droylsden who sacked him as manager in April 2001 after a few weeks in charge. Brown had joined Droylsden at the same time that the Bloods sacked their coach, Paul Rowlands, the ex-Alty player and manager, who coincidentally has been caretaker of Vauxhall for the last few weeks.
WORKINGTON DELIGHT
Referring to their UniBond Cup draw at home to Altrincham on 18 November, Workington chairman Dale Brotherton told The News and Star, "I'm delighted with the draw. Altrincham are one of the biggest clubs in non-league football, a Conference club in all but name". Manager Tommy Cassidy said: "We're looking forward to Altrincham but it's way in the future".
MORE FROM GATESHEAD
Gateshead manager Derek Bell told IC Newcastle of last Saturday's game: "I thought we were outstanding. Altrincham have a good side but they got out of jail".
UNIBOND NEWS
The UniBond League Fair Play award in the Premier Division, for October, went to Gainsborough Trinity. Over the season so far, Altrincham lie 15th in the fair play league though the statistics claim we had someone sent off in October, which is puzzling.

Harrogate whom we meet in mid-November "confirmed long-term casualties Scott Bonsall and Robbie Whellans are still ruled out for a series of games which, according to [manager John] Reed, may define the fate of Town's campaign".

Hucknall Today says "manager Steve Burr... has been strongly linked with the vacant manager's post at his former club, Macclesfield Town... and such an icon is Burr at Macclesfield, that in 2000, he was voted the club's player of the Millennium". Also, Burr "confirmed yesterday he had lodged offers for two un-named players and was waiting for their clubs to get back to him... Former skipper Paul Mitchell (25) finally left Watnall Road this week to join local rivals, Eastwood, for a nominal fee. And Town's resources were further stretched when midfielder Gary Patterson called time on his fight against injury... He has left the club by mutual consent".

IC Cheshire says that "former Tranmere and Everton defender Tony Thomas has joined Runcorn. The 32-year-old, a former Tranmere team-mate of assistant Runcorn boss Eddie Bishop, has signed on a non-contract basis to end a 12-month spell out of the game".

Blyth hope to have ex-Villa man Graham Fenton fit again "in a week or so" says IC Newcastle.
---
3 November 2003
TROPHY DRAW
Altrincham have a home draw against Southport in the 2nd Round of the FA Trophy, to be played on Saturday 29th November. Prize money is £3000.
GATESHEAD 1 ALTRINCHAM 2
Report here on the Great Escape.
STAR AGM AND FORUM
An unofficial report of the successful STAR (supporters' trust) AGM and fans' forum held last Friday is here. Please visit the STAR site (link above) for fuller details.
YOUTH WIN
Please visit the Youth Page for a report on the fine 5-1 win by the Alty Youth team yesterday at Eagley. Right, Steven Howarth (5) heads clear as Kelvin Lugsden (4) and Adam Douthwaite help out, whilst Steve Lunt lurks in the background.
GATESHEAD GAME
IC Newcastle says that "Gateshead... deserved better than the smash-and-grab raid that dumped them out of non-league's top competition yesterday... Altrincham pinched the most unlikely of victories with two goals in the last three minutes... But two controversial decisions and wasteful finishing from youngster Michael Dibie eventually proved decisive. How Carlisle referee Chris Brumwell failed to award the most obvious of penalties following a second-minute Stuart Coburn foul on Dibie remains a mystery. And the first of Robins substitute Nick Welton's two late goals was clouded in controversy after he blocked David Morgan's headed clearance with his arm". Manager Derek Bell added, "We dominated from start to finish but were ultimately undone by two refereeing decisions. The penalty was clear cut and there was a blatant hand ball for the late equaliser which allowed Altrincham to get out of jail".
OLD BOYS
Vauxhall Motors "expect[ed] to announce their new manager on Sunday afternoon, 2nd November. Interviews with their short listed applicants will take place then... One manager who will not be interviewed, however, is Paul Rowlands [ex-Alty] who withdrew from the race after the dismal showing at home to Radcliffe Borough where they were soundly thrashed 5-0. Paul, who had done his best under very difficult circumstances, obviously had seen enough and had lost all heart, like most supporters, after the performance. The committee hopes that he will continue in his post of Assistant Manager to the West Cheshire League [reserve] side".

Steve Tobin has joined Mossley from Skelmersdale. There is an article on Derek Goulding, Burscough's new boss, in the NLP.
NEXT GAME
Alty travel to Worksop on Saturday where on Thursday the club were "given the go-ahead to start vital building work at their Sandy Lane home. The club was given Bassetlaw Council's full backing to extend its current capacity to 4,000... The Tigers must have any ground work finished by 31st March if they are to apply for a place in the Football Conference", says Worksop Today.
SOUTHPORT GAME
The Southport Visiter has a report on Alty's win over Southport last Tuesday. "Despite dominating the game territorially, the Sandgrounders ultimately paid for lacking a cutting edge in the final third of the pitch and lost central defender Tony Hallam who was dismissed for a second bookable offence five minutes from time. Disappointed boss Liam Watson said afterwards: "We had the lion's share of possession but without hurting them". The report adds "after the interval it was clear that Robins' manager Graham Heathcote was going to try to hang on to their slender lead and hit Southport on the break... Tony Hallam, booked in the first half for a foul on Rod Thornley, received a second yellow card, for retaliating against Niell Hardy, who was fortunate to see his blatant kick at Hallam go completely unpunished... [Southport] were well shackled throughout by a very hard working Altrincham defence for whom Peter Band was outstanding".
UNIBOND NEWS
At Southport, "The Club are pleased to announce that two new players have agreed terms with Port and are due to sign tomorrow, Monday... 28 year old centre midfielder Chris Price, who has league experience with Wigan as well as having played for Morecambe and Marine played for Runcorn yesterday and should be in the gold & black shortly. Also coming in from Runcorn is centre forward Steve Daly who's roots are in local football although he was on trial for 3 months at Wigan and is a former Everton trialist". Southport's new manager is former Runcorn boss Liam Watson.
---
2 November 2003
THREAT TO CONFERENCE REVAMP
The UniBond League has issued a statement "in Conjunction With The Football Conference And The Southern Football League. The above three Leagues have received notification from James Chapman & Co, Solicitors acting on behalf of the Isthmian [Ryman] Football League, of its intention to seek through arbitration to vary or rescind the decision of the Football Association of 21st June 2003 relating to a national structure of 1-2-3-4 competitions from season 2004/2005. The Football Conference, together with the Northern Premier League and Southern Football League, is disappointed that the Isthmian League seek the destruction of the Alliance that has achieved so much since March this year... Whatever the outcome of the Isthmian League's actions significant legal costs will be incurred which will indirectly have to be funded by member clubs at the very time football is seeking to preserve its finances whilst progressing the game at all levels in the national leagues". The UniBond League's Duncan Bayley told the NLP, "I don't know why the Ryman are doing this... but I don't see any reason to be worried at this stage".

Meanwhile "The UniBond League has received 32 applications from its feeder league clubs for membership... next season. The figure includes 13 former members of the UniBond League attempting to regain their lost status. The bulk of the applications come from the North West Counties League with 17 clubs having applied followed by 11 from the Northern Counties East League and four from the Albany Northern League". Local applicants include Nantwich Town, Congleton Town, Curzon Ashton, Mossley, Salford City, St Helens Town, Trafford, Warrington Town and Woodley Sports".

The October Endsleigh Sports Insurance goalscoring award for the Premier Division has gone to Radcliffe Borough.

Moves:
Paul Moore (Telford U. on 3 month loan to Hucknall T.)
Andrew Kelly (Middlesbrough to Whitby T.)
Spennymoor "have signed Chris I'Anson from Albany Northern League side Horden Colliery Welfare. The signing is a big coup for The Moors, as the player has drawn interest from many big clubs, and has just had a month's trial with Premiership club Birmingham City". Meanwhile Nicky Mohan has been released by the Moors "and signed 26 year-old Andrew Bowes... from Bedlington Terriers, after previously playing for Moors".
HOT SEAT
Graham Heathcote wrote the "Hot Seat" column in today's Pink. He writes: "I hate to say I told you so, but we've got some good players here amd at long last our results seem to be proving that". Graham admits we were lucky to win at Hyde, however. He adds "It's noticeable that since Stuart Coburn returned...we've kept three successive clean sheets which, for me, is the most pleasing aspect of those three wins... We're already reaping the rewards of his organisational ability". But "We won't get carried away because we've had a good little run... If we hadn't picked up those 6 points against Burscough and Southport, we'd be in a pretty desperate situation... Over the first third of the season, we've done well away from home...Our problem has been finishing teams off at our place...I'm sure we'll be okay because I have every confidence we'll continue to pick up points on our travels... Rod Thornley's now my main concern. If I can get him firing, that will be a massive step forward."
OLD BOYS
Mark Quayle (Scarboro), James Glendenning (Colwyn Bay), Steven Clegg (Hyde), Martin McDonald (Cheadle Town), Mario "Sergio" Daniel (Atherton C.), Marc Limbert (Rhyl) all scored yesterday. Steve Hawes (Worksop), Danny Adams (Macclesfield) and Adam Farley (Droylsden) played for their sides yesterday whilst Danny McGoona (Caernarfon), Leroy Chambers (Droylsden) and Stuart Terry (Connah's Quay) were all subs yesterday.
---
1 November 2003
NO GAME ON MONDAY
Because Ashton United drew in the FA Trophy today (see below), Altrincham now have no game this Monday. The next match is therefore, away, at Worksop Town on 8 November.
SATURDAY SCORES
FA Trophy 1
Prize money is £1,800. Ties involving UPL clubs only:
Alfreton T. 0 Prescot C. 0
Ashton U. 1 Lancaster C. 1
Frickley A. 5 Radcliffe B. 1
Gateshead 1 Altrincham 2
Guiseley 2 Gainsborough T. 0
Marine 1 Bamber Bridge 0
Runcorn FC Halton 7 Bishop Auckland 0
Wakefield & Emley 1 Blyth S. 2
Workington 0 Spennymoor Utd 3

UPL
Bradford PA 6 Vauxhall M. 2
Droylsden 2 Whitby T. 1
Hucknall T. 3 Barrow 1
Southport 2 Worksop T. 3
Stalybridge C. 1 Harrogate T. 2
STAR SUCCESS
Left: STAR's Phil Taylor (left) greets Alty legend Jackie Swindells..
The STAR (supporters' trust) AGM last night was a very successful event, which also featured the annual prize draw and a very entertaining fans' forum featuring Jackie Swindells, Mark Maddox, Graham Heathcote, and Dave Boyle of Supporters' Direct. Topics discussed ranged from Freddie Pye's mohair coats to Rio Ferdinand's drug-test, via Mark Maddox's wonder-goal last weekend! Fuller report to follow.
HELP
Darren Gregory, chief steward at Altrincham FC, is continuing the high standards of stewarding which he inherited from the previous incumbent, Doug Ashton. Darren now requires more stewards both for Altrincham and Manchester United Reserves' games at Moss Lane. He will welcome all applicants, including any who may also steward for other clubs, for these voluntary positions. Darren can be contacted by e-mail or through the club (928-1045).
SWANICK MOVES AGAIN
Former Alty defender Dave Swanick has now moved to Bamber Bridge from Leek Town.
UNIBOND NEWS
Droylsden have signed former Bury captain Martyn Forrest. NL Daily says "The 24-year old midfielder, once viewed as a key figure in an emerging generation of young talents at the Bury's disposal, has seen his career at Gigg Lane brought to an end after the directors cancelled his contract... Forrest had not featured in the team in a senior level match this season but had played 6 times on loan for Leigh RMI... Meanwhile, [Droylsden manager, Dave] Pace has been full of praise for striker Dave Cameron... Pace said: "The first game at Harrogate Town he was mediocre but he's put it in at training and done well and I think there's more to come. I've got him for 3 months initially with a view to taking him on board permanently".
WORKINGTON
Though the Cumbrian press reported that our ULCC opponents Workington's striker Graham Goulding was being stalked by Chester City, the Cheshire club has denied this. Chester boss Mark Wright said, "I've never heard of Graham Goulding and it's the first I've heard of us being interested in the player". But Workington chairman Dale Brotherton said: "We had no notification from Chester that they were watching him, but we've been informed they were".
---
31 October 2003
HELP
Gary Warrington would like to hear from anyone wishing to volunteer to help with the half-time STAR bucket collections at half-time of matches at Moss Lane. All proceeds go to STAR and onwards to the Football Club, so please help if you can. You can e-mail Gary here. The collections have raised over £500 so far this season.
WORKINGTON
Workington, our hosts on 18 November in the 2nd Round of the UniBond Challenge Cup, play at Borough Park - 143 miles from Moss Lane. Their record crowd was 21,000 in January 1958 when they hosted the Busby Babes in a 3rd Round FA Cup tie. They currently play in the UniBond 1st Division but were a Football League side from 1951 until 1977. Their website is here.

Last season, Workington beat Stalybridge in the FA Cup but Alty's most memorable cup meeting with Workington was when we drew 0-0 away and won the replay 4-0 on the way to the Trophy Final in 1978.

The Workington News & Star states that Workington's "sensation Graham Goulding is being tracked by Chester City. The Nationwide Conference outfit watched the in-form hitman during last week's home defeat by Kidsgrove... Goulding, who was watched by Lincoln City last year, has been outstanding since his return from a summer stint in the United States with Wilmington Hammerheads. He was joint top scorer for the North Carolina outfit this year and has been one of the reasons behind Workington's recovery from their poor start to the campaign... [but] the Reds are facing a crisis at the back ahead of Saturday's FA Trophy tie against Spennymoor. Defenders Neil Fitzhenry [ex-Leigh] and [skipper] Will Varty picked up groin injuries in Tuesday night's 2-1 win over Gateshead, with Fitzhenry probably out for at least a couple of weeks... Manager Tommy Cassidy [ex-Newcastle Utd] said, "We're not that well covered for defenders and I'll have to chop and change a wee bit".
UNIBOND NEWS
Gainsborough Trinity have won the UniBond Premier Club of the Month award for October.

"At tonight's Special Meeting of the Bassetlaw District Council the committee agreed to the Planning Application presented to them by Worksop Town FC by a majority vote 16-2... This is a step in the right direction as Chairman Howard Raymond takes the club forward once more", says the Worksop site.

The Radcliffe website reports: "It's official from the Unibond League Jody Banim has created a new league record by scoring in 13 consecutive games, it has beaten all previous records by a long way and will now be registered within the Unibond League records."
---
30 October 2003
AWAY AGAIN
After away draws in the FA Cup, Trophy, and ULCC1, we are now away again, at Workington, in the UniBond League Cup 2nd Round on 18 November. By coincidence Workington beat Gateshead, Saturday's Trophy opponents for Alty, to reach Round 2 of the ULCC.
Ashton U. v Southport
Bradford PA v Bishop Auckland (19/11)
Droylsden v Chorley (17/11)
Frickley A. v Hucknall T.
Guiseley v Harrogate T.
Lancaster C. v Radcliffe B.
Lincoln U. v Alfreton T.
Marine v Burscough
Matlock T. v Belper T.
Spennymoor U. v Ossett T.
Stalybridge C. v Prescot Cables
Vauxhall M. v Rossendale U.
Whitby T. v Bridlington T. (19/11)
Witton A. v Barrow (17/11)
Workington v Altrincham
OLD BOYS
Salford City report that "Manager Chris Wilcock has released 11 players". They include two ex-Robins, Nathan Comley-Excell and Stuart Locke. Leek Town report that ex-Alty "defender, Dave Swanick, who joined the club earlier this month from Rossendale United, has been released by mutual consent". Alfreton's Tony Hemmings netted a penalty last night against Wakefield. Trafford report that their former Alty Youth striker Rico Richards fractured his right leg on Tuesday in the Manchester Premier Cup defeat at Salford City.
RESULTS
FAC4Q Replay
Whitby T. 2 Bromsgrove R. 1

ULCC1
Bishop Auckland 2 Blyth S. 0
BETS
Skybet has Hucknall as 3/1 favourites to win the league followed at 9/2 by Barrow and Harrogate. Alty are 200/1, followed by Burscough 250/1, Whitby 250/1, Frickley 1000/1 and Wakefield & Emley 2000/1.
UNIBOND NEWS
Frickley have lost Chris Kamara to Goole Town.
---
FOR EARLIER NEWS, CLICK HERE
---