Match Report
---
ALTRINCHAM (0) 0 STEVENAGE BOROUGH (0) 1
Blue Square Premier match
played on Wednesday, 14 April 2010, at 7.45pm
---
SUMMARY: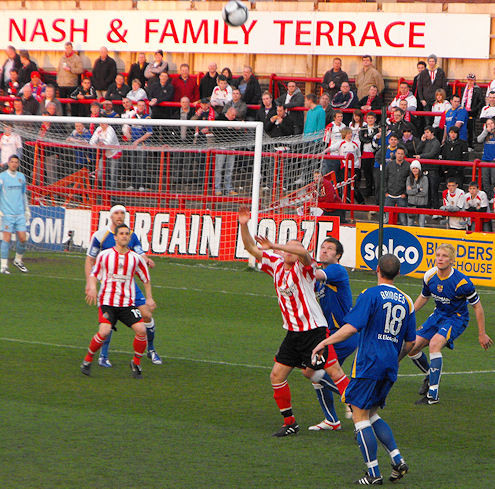 Altrincham, with two wins (but seven draws) in their last 13 games and already missing three players through injury, had bad news before kick off as keeper Stuart Coburn was ruled out with a back injury and Chris Denham was unfit following a road accident- someone had run into the back of his vehicle earlier this week.
Right: Peter Doran prepares to goes up for the ball as Chris Senior looks on.
Nevertheless, the Robins gave the champions-elect a very good run for their money. Indeed, Alty struck the bar twice. First Senior's header came back off the underside of the bar in the first half and in the second half a Nicky Clee shot deflected off Bostwick over the stranded keeper but again hit the framework.
Stevenage did not look like a top-place team for much of the game with sloppy passing and an inability to get clear sights of Alty's goal. But they got the winner seven minutes from time when Saunders did well to beat out a rare Sills shot only for Griffin to tap in the loose ball. Alty drop a place, on goal difference, to 13th, having now lost four games against the top three this season - all by a 1-0 scoreline.
---
SCORERS
83 mins: Charlie GRIFFIN (Altrincham 0 Stevenage Borough 1)
---
REFEREE: Mr M. Brown
---
ATTENDANCE: 907
---
TEAM NEWS
Alty's already small squad was reduced by two before kick off when goalkeeper Stuart Coburn (back) and Chris Denham were ruled out. Denham's vehicle had been struck from behind on the motorway earlier in the week, which had caused him a back problem. So, with Coburn unfit but on the bench, all the other 15 fit first-team players at the club were included in the squad tonight. The good news was that Nicky Clee returned after missing six games with a hip problem. Colin Little and John McAliskey dropped to the bench, as Chris Senior also returned to the starting line-up as the lone front man, supported by Doran and Clee.
---
BACKGROUND:
Stevenage arrived as league leaders but Alty had taken a point off them earlier this season at Broadhall Way. After Oxford United last weekend, and with Luton the opponents on Saturday, today's game was one of three in succession for Altrincham against the top three in the division.
---
LINE-UPS
ALTRINCHAM (Red & white striped shirts, black shorts, red socks): 13. Russell SAUNDERS, 2. James SMITH, 12. Robbie WILLIAMS, 5. Greg YOUNG, 27. Ryan BROWN; 6. Shaun DENSMORE, 7. Robbie LAWTON (capt), 16. Anthony DANYLYK, 11. Nicky CLEE, 21. Peter DORAN, 19. Chris SENIOR. SUBS: 9. Colin LITTLE, 17. John McALISKEY, 18. Michael WELCH, 1. Stuart COBURN, 24. Adam CARDEN,
STEVENAGE BOROUGH (All blue): 16. Chris Day, 25. Ronnie Henry, 5. Jon Ashton, 14. Mark Roberts (capt), 3. Scott Laird, 23. Andy Drury, 24. Michael Bostwick, 13. Joel Byrom, 18. David Bridges, 11. Yemi Odubade, 17. Tim Sills. SUBS: 1. Ashley Bayes, 30. Paolo Vincenti. 8. Stacy Long, 9. Charlie Griffin, 2. Lawrie Wilson,
---
REPORT
Stevenage kicked off on a bright, but chilly, Spring evening. Within 45 seconds Stevenage had hoofed the ball out of the ground but Alty's young keeper, Saunders, made a confident start with an excellent catch from a Laird cross (3 mins). The Alty management had cause to criticise referee Brown in the fifth minute when Doran got free inside the box only to be harshly penalised as Laird appeared to slip rather than be fouled by the Alty man.
A Henry shot from 25 yards comfortably cleared the Alty bar (9 mins) before Danylyk received a lengthy talking-to from the referee for what he judged to be a foul. Henry's freekick, from 45 yards out, was again well caught by Saunders (11 mins). Stevenage were looking quick going forward but the Alty defence and midfield was closing them down well and preventing any clear sights of goal. Bridges did then get in a shot which the Alty keeper saved (13 mins) only for Alty immediately to have a shot at the other end as good work from Clee allowed Senior an effort, which he dragged wide.
Stevenage gained a corner, on their right, off Clee, from which Roberts's goalbound header was cleared off the line at the near post by Densmore (16 mins). There were ironic cheers when referee Brown gave Alty a freekick for a foul on Clee as the man in black had been perceived by the Alty bench and spectators alike as missing several earlier fouls. From Clee's freekick, 40 yards out on the left, a glancing header from Young went wide of the back post.
Alty were playing well against the league leaders and from a cross by Clee, the ball came out to Danylyk whose well struck shot from the edge of the box only narrowly cleared the bar (20 mins). At the other end, Sills headed narrowly over from a Bridges cross. Densmore was impressing for Alty with some good advances up the right flank but Stevenage almost capitalised on a miscontrol by Danylyk, going on to hit the side netting through Drury (26 mins). Play continued fairly evenly as the game passed the half-hour mark with Stevenage kicking the ball out of the ground for the third time, following a long throw from Clee (31 mins).
Lawton now won Alty a corner and from Clee's kick, keeper Chris Day dropped the ball but got away with it (32 mins). Altrincham continued to play well and they hit the cross bar in the 34th minute. Good work from Clee on the right led to Senior getting an unmarked header in the centre of the goalmouth. His effort beat the despairing one-handed attempted clearance by Day but the ball came back off the underside of the bar (34 mins). Next, Densmore fired narrowly over as Altrincham enjoyed a purple patch.
Sills then saw an effort saved by Saunders before Williams just did enough to prevent a Drury cross from reaching a Stevenage head in the goalmouth (38 mins). Before the interval Alty suffered two head injuries. First Greg Young had to come off for a couple of minutes with a facial injury (41 mins) and, then, as Alty pressed forward, Senior came off worse in a clash of heads with Roberts, the ex-Northwich defender for Stevenage (44 mins).
When Danylyk was flattened on the left touchline just inside the Borough half, Bridges was booked (45 mins). Half time soon arrived with Altrincham good value for the 0-0 score line after a first half in which they had closed down their opponents well and got forward themselves with threatening attacks.
---
Half-Time: ALTRINCHAM 0 STEVENAGE BOROUGH 0
---
Unusually, Altrincham came out three or four minutes early after the interval and went through a sustained warm-up routine, led by assistant manager Ken McKenna. It worked to the extent that they won two early corners. But then a period of head tennis followed. Although Stevenage were committing regular unforced errors they did now win a corner through Sills (53 mins).
Alty then had a scare as Borough advanced on the left, with Laird getting past Densmore, but his cross was palmed away by a back-pedalling Saunders, who then gathered the ball (55 mins). The first substitution arrived in the 57th minute as Stevenage replaced Bridges by the Alice-banded Wilson.
Now, three times in six minutes, Alty got progressively closer to a goal as they showed no deference to the prospective champions. First, a slick Alty counter-attack almost produced a goal when Clee's smart flick on to Brown saw the left-back fire in a well-struck volley from outside the box which Day only held at the second attempt (60 mins). An even better chance arose four minutes later and again Clee was instrumental in creating it. His quickly taken long throw from 35 yards out on the left found the alert Senior who had evaded any marking and got free inside the left of the box. But Alty's leading scorer unfortunately miskicked his shot at the keeper (64 mins). And, then, it was Clee again who drove a fierce, but misdirected, shot from 25 yards which struck the back of Bostwick, looped well over keeper Day, and hit the crossbar for the second time in the match (66 mins). The resulting corner came to nothing.
Stevenage's concern translated itself into a bizarre episode when the Boro' management handed Ronnie Henry a handwritten note. It must have had quite some detail on it that could not be conveyed verbally as the defender took several protracted looks at the sheet of paper as play continued. After a Stevenage corner, Alty made a change as Carden came on to replace Clee (68 mins).
Whether Henry's missive from the manager had scripted it or not, Stevenage now got Drury to the by-line left of goal but Saunders saved well at the near post as play was now entertainingly end to end. Odubade then wasted a half chance with a very wide shot before referee Brown called over the Boro' captain, Roberts, to talk to him about the behaviour of one of his players.
Alty produced more good play as a pinpoint 40-yard ball from the left, by Carden, found Doran just outside the box but his shot was blocked for a corner (70 mins). Stevenage, as Alty do, drew all eleven men back for the corner and then counter-attacked effectively, with Laird having a shot blocked (77 mins).
Now Odubade was taken off and replaced by Griffin, the former Salisbury target man (78 mins). Just before he came on Griffin had been given an A4 folder to study on the bench; presumably it comprised the Borough game plan. Densmore soon had to make an acrobatic overhead kick to clear his lines, with a Stevenage player going down as if Densmore had caught him. But the victim soon got up when no penalty was forthcoming.
Stevenage now pressed again, prompted this time by Byrom. Sills got in a well-struck shot which Saunders saved well, low to his right, near the post. But whereas his opposite number Day had twice spilt easier shots than this and had twice also had to rely on his crossbar to keep his goal intact, Saunders enjoyed no luck whatsoever and Griffin was on hand to turn the loose ball into the net from an acute angle, near the upright to make it 1-0 to the Boro' (83 mins).
Alty now brought on Little to bolster the attack, as Lawton was withdrawn (86 mins). But the visitors had too much strength to allow Alty back into the game and they won a time-consuming corner as the minutes ticked by. In the last of four added minutes Vincenti came on for Sills as Borough all but clinched promotion to League Two. A win in their next game would confirm their elevation, on which they are to be congratulated.
But Altrincham were far from outplayed and arguably had more clear chances to score than Stevenage. In five league games so far against the top-three full-time clubs this season, Altrincham have drawn once (away at Stevenage) and lost the other four narrowly - all 0-1 defeats. That is a wonderful achievement of which our astute management and their part-time squad, (depleted for much of the season by serious injuries to three regulars - Johnson, Doughty, Kearney), can be justifiably proud.
It may now only be two wins for Altrincham from their last fourteen league games - and a rampant Luton, away, is the next tough fixture - but there are plenty of reasons to be cheerful at Moss Lane this season whatever the final three games may bring. And picking a player of the season this year is going to be very difficult after another excellent team performance; for this game, Anthony Danylyk was a deserved Man of the Match.
---
Full-Time: ALTRINCHAM 0 STEVENAGE BOROUGH 1
---