Match Report
---
ALTRINCHAM (2) 3 KIDDERMINSTER HARRIERS (2) 2
Blue Square Premier match
played on Saturday, 3 April 2010, at 3pm
---
SUMMARY: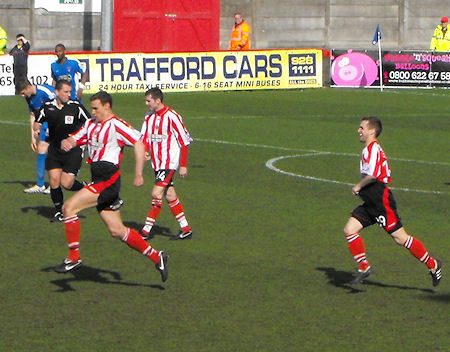 Altrincham secured only their second win in their last eleven games with this narrow win over Kidderminster Harriers. With Nicky Clee not in the squad - he has been ill as well as being injured - Alty started brightly as Carden, McAliskey and Densmore all had early shots. But the visitors took the lead in the 15th minute when McPhee got to the by-line, left of goal. Matthews headed the former Gravesend and Torquay man's cut-back firmly past Coburn.
After 26 minutes, Chris Denham equalised, at the back post, from John McAliskey's knock down and, with Kidderminster still enjoying more of the possession, Denham broke away two minutes before the interval. He fed Carden, to his right, whose shot was beaten out but Denham headed the loose ball into the net. However, immediately, the Harriers levelled with a similar goal to their opener. This time McPhee cut the ball back from the right by-line for Matthews to bundle it home.
The scoring was completed four minutes after the interval when centre-back Greg Young ran 60 yards from his own half up the inside-left channel before beating the Kidderminster keeper. The Harriers had plenty of attacking possession but could not get an equalizer. though it took a Densmore clearance off the line in the last minute of normal time to make sure. Alty have now only lost twice in their last 12 matches.
Right: Greg Young's strange goal celebration consisted of his pulling his shorts up to his waist and then running back to his own half, as shown!
---
SCORERS
15 mins: Rob MATTHEWS (Altrincham 0 Kidderminster Harriers 1)
26 mins: Chris DENHAM (Altrincham 1 Kidderminster Harriers 1)
43 mins: Chris DENHAM (Altrincham 2 Kidderminster Harriers 1)
44 mins: Rob MATTHEWS (Altrincham 2 Kidderminster Harriers 2)
49 mins: Greg YOUNG (Altrincham 3 Kidderminster Harriers 2)
---
REFEREE: Mr B Khatib
---
ATTENDANCE: 889 (64 in away end)
---
TEAM NEWS
Altrincham were without Nicky Clee, who had missed the last couple of games with injury, to which was now added illness. In addition, long-term injured Dale Johnson, Matt Doughty and Dale Johnson were all missing. Anthony Danylyk and Adam Carden returned to the starting line up as Peter Doran and Michael Welch reverted to the bench.
---
BACKGROUND:
Kidderminster Harriers went into this game, lying tenth, a point ahead of Altrincham. The Harriers had beaten Alty 3-0 at Aggborough earlier this season. Following Mark Yates's departure, former Macclesfield striker Steve Burr was now the visitors' manager.
Today's gate was very disappointing, not being helped by Trafford's other team being in action at lunchtime and Manchester City also having a fairly local away game. There was also a lower than normal away following reflcting their club's failure to secure a play-off place.
---
LINE-UPS
ALTRINCHAM (Red & white striped shirts, black shorts and red socks): 1. Stuart COBURN, 6. Shaun DENSMORE, 12. Robbie WILLIAMS, 5. Greg YOUNG, 27. Ryan BROWN, 10. Chris DENHAM, 16. Anthony DANYLYK, 7. Robbie LAWTON, 24. Adam CARDEN; 19. Chris SENIOR, 17. John McALISKEY. Subs: 9. Colin LITTLE, 21. Peter DORAN, 18. Michael WELCH, 13. Russell SAUNDERS [gk], 2. James SMITH
KIDDERMINSTER HARRIERS (All blue): 30. Ross Atkins; 2. Duane Courtney; 6. Martin Riley, 33 Luke Prosser, 17. Tom Sharpe; 7. Chris McPhee, 8. Dean Bennett, 27. Jack Byrne 14. Brian Smikle; 10. Darryl Knights, 21. Robbie Matthews. Subs: 12. Jasbir Singh [gk], 25. James Lawrie, 9. Marc Goodfellow, 11. David McDermott, 31 Lloyd Kerry
---
REPORT
Altrincham kicked off towards the Golf Road end and, after barely thirty seconds, the ball was kicked out of the ground for the first time. Alty had the first shot when Senior fed Carden but his effort cleared the bar from just outside the box (3 mins). Next McAliskey got in a fine shot which Atkins caught above his head. Kidderminster were having their share of attacking movements but it was Alty who were getting the clearer openings as, now, Densmore was allowed to advance and from 25 yards his shot was pouched by Atkins (10 mins).
Former Salisbury striker, Matthews, was proving a handful for the Alty defence with his aerial power and it was he who broke the deadlock in the fifteenth minute. Riley, Prosser and Smikle were allowed to convey the ball forward up the Harriers' left before it reached McPhee on the left by-line. He cut the ball back for Matthews whose bullet-header flashed into the net from close range at the near post; 1-0 to Kidderminster.
Kidderminster enjoyed the better of the next few minutes as Altrincham struggled to get their play flowing. But following a Brown throw from the left, Carden got in a cross which McAliskey nodded on from the centre of the box to Denham, beyond the back stick. He turned well to place a low shot across the keeper and into the far corner for a well-taken equalizer (26 mins).
McAliskey was doing well in the air but neither side went very close as the game passed the half-hour mark. Kidderminster were making more of the running than the hosts as Altrincham continued to give the ball away too cheaply. Kidderminster won two corners in as many minutes and even Chris Senior, Alty's leading scorer, was seen clearing the ball from his own by-line (38 mins).
McPhee then fired over the bar for the Harriers before Denham shot wide at the other end, from 30 yards out (40 mins). Following a foul by Young, Kidderminster won a freekick inside the penalty box "D" but Knights's effort hit the Altrincham wall and went for a corner (42 mins). Smikle had an effort blocked from the corner and the ball broke for Denham to race up the middle of the pitch at the Harriers' goal. With Carden to his right, Denham fed the ball to the midfielder whose shot was beaten out by Atkins but as it looped into the air, Denham headed it into the unguarded net to give Altrincham the lead against the run of play (43 mins). This was his tenth league goal of the season and marked the first time since 2003-04 that Alty have had two league goal scorers in double figures (Denham and Senior). Craney (12 goals) and Hallows (10) were the two leading scorers six years ago.
Straight from the re-start, Kidderminster equalised with a mirror image of their first goal. This time, Bennett cut the ball back from the right by-line, just as McPhee had done from the left for the first goal. And, again, it was Matthews who was the recipient, this time the big striker bundled the ball into the net from close range (44 mins).
In added time, Denham shot over the bar but the interval arrived with the four goals scored being shared evenly between the two sides.
---
Half-Time: ALTRINCHAM 2 KIDDERMINSTER HARRIERS 2
---
After a fairly uneventful opening to the second half, what turned out to be the winning goal arrived in extraordinary fashion. With Williams having just given the ball away to Kidderminster's Knights, Alty's other centre-back, Young, made an interception to regain possession. He then set off running from well inside his own half and though he faced a half-hearted challenge as he reached the box up the inside-left channel, Young got through with only Atkins to beat which he did very coolly. He then set off on a bizarre celebration routine, running to the right, pulling his shorts up to above his waist and adopting a kind of gallop back to his own half. But he can be forgiven that for what was a very well-taken goal (49 mins).
Alty had a scare straight from the re-start when Young sliced clear for a Kidderminster corner. But then another excellent Alty counter-attack ended with Lawton having an effort blocked inside the box (51 mins). However, Lawton now had to limp off to be replaced in midfield by Doran (52 mins). As so often happens at substitutions the game was held up for an age as the crowd was treated to a double failure to get the substitutes' display board to show the right numbers. After twice showing number 14 as being replaced by number 3, (neither of which Alty numbers were even on the pitch), Alty's number 7 gave way to number 21.
Four minutes later Kidderminster brought on Chesterfield-midfielder Lloyd Kerry for the limping Courtney, who had been caught by a foul by Danylyk (56 mins). Densmore then made an important interception to see off Bennett. The visitors threatened again when a mis-header from Williams set Smikle free but he failed to take advantage. Smikle did a bit better soon afterwards with a shot from the right which only just cleared the bar (65 mins).
Each side now made a change with Kidderminster captain McPhee being replaced by Burton loanee Goodfellow, and Alty withdrawing McAliskey in favour of Colin Little (66 mins). Brown then had to cover after a slip by Densmore as the visitors continued to have more of the ball and more of the attacking play.
When Alty left Goodfellow in acres of space, left of goal, Densmore covered well to concede a corner, which was immediately followed by a second flag kick. After this, Prosser, yet another loanee in the Kidderminster team, headed wide (74 mins). Graham Heathcote told his charges to "Get higher up the pitch and stop them getting the ball into our box".
Having allowed "advantage", at the next stoppage the referee now called over Peter Doran and booked him for a foul (78 mins). Next, Lawrie came on for Kidderminster, replacing Knights (79 mins). Alty remained on the back foot as the game went deep into its final ten minutes. In the 88th minute the Harriers won another corner which Smikle headed wide. Kidderminster went even closer in the 90th minute when a goalmouth scramble saw Densmore have to clear off the line, after which Coburn was forced into action. Three added minutes were announced and in the second of these, Michael Welch replaced Carden (90+2 mins).
With the referee allowing the game to run into the fifth added minute, Altrincham held on and when the whistle finally sounded, Prosser, Kidderminster's Port Vale loanee, was booked for an offence committed a little earlier as referee Khatib allowed "advantage" (90+ 5mins). Prosser and his team mates will have been disppointed at losing a game in which they won the corner count 9-0 and had 56% of the possession.
At a stroke, a run which had seen Alty win only one of their previous ten games, became a run of just two defeats in twelve league matches. The win also took Alty above their full-time opponents and back into the top ten. Alty's next four matches are against four of the top five clubs so the Robins could have a big say in who goes up to League Two next season.
Chris Denham was named Man of the Match but Greg Young's goal was surely the best he has ever scored and would have also made him a worthy winner of the award.
---
Full-Time: ALTRINCHAM 3 KIDDERMINSTER HARRIERS 2
---