Match Report
---
MANSFIELD TOWN (0) 1 ALTRINCHAM (0) 1
Blue Square Premier match
played on Tuesday, 23 March 2010, at 7.45pm
---
SUMMARY: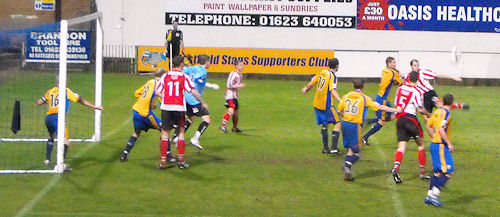 Above left: The scene seconds before Alty scored their goal as Robbie Williams (being held by a defender) gets in a shot. The ball then came to Senior, who found Young (also being held by a defender in this picture), who headed the ball past Marriott. Above, right, Alty celebrate the goal.
Altrincham, without Nicky Clee and Anthony Danylyk who joined the injured list last Saturday, were only deprived of a win by an equalizer from sub Jake Speight in the fourth added minute. In wet conditions on a pitch that cut up, Alty went ahead after 70 minutes when Greg Young scored with a header after Mansfield failed to clear a Doran corner. The Stags equalized with a scrappy goal but on this showing they look unlikely to reach their play-off target. Alty's excellent performance with a much weakened team (nine of the 16-man squad had started a dozen or fewer league game for the club this season), extends their unbeaten run to seven games - six of them draws!
---
SCORERS
70 mins: Greg YOUNG (Mansfield Town 0 Altrincham 1)
90+4 mins: Jake SPEIGHT (Mansfield Town 1 Altrincham 1)
---
REFEREE: Mr Andy Halliday
---
ATTENDANCE: 2,364 (65 in away end)
---
TEAM NEWS
Altrincham were much weakened, with Danylyk and Clee's absences meaning that John Bennett came into the squad from the Youth team. Carden and Denham were restored to the starting line-up in a 4-4-2 formation. Mansfield were unchanged from Saturday's 5-0 win at Histon. James Smith retruned on the bench, after injury.
---
BACKGROUND:
The previous two games between these sides this season, at Moss Lane in the BSP and at Field Mill in the FA Cup, had left Altrincham with four red cards, including the infamous "Trial by You Tube" when James Smith got retrospectively "sent off" on the basis of a video clip sent to the footballing authorities by Mansfield Town. Thankfully, this game was not preceded by the press-orchestrated hype that had marred the FA Cup encounter.
This game was played in horrible conditions, with swirling steady rain falling for much of the game. Mansfield started in eighth place, with Alty lying tenth with a game in hand.
---
LINE-UPS
ALTRINCHAM (Red & white striped shirts, black shorts and red socks): 1. Stuart COBURN, 6. Shaun DENSMORE, 12. Robbie WILLIAMS, 5. Greg YOUNG, 27. Ryan BROWN, 10. Chris DENHAM, 7. Robbie LAWTON, 21. Peter DORAN, 24. Adam CARDEN, 19. Chris SENIOR, 17. John McALISKEY. Subs: 18. Michael WELCH, 9. Colin LITTLE, 13. Russell SAUNDERS, 20. John BENNETT, 2. James SMITH.
MANSFIELD TOWN (Yellow and blue): 1. Alan Marriott, 18. Andrew Nicholas, 16. Gary Silk, 6. Scott Garner, 37. Andrew Burgess, 25. Jon Challinor, 4. Gary Mills, 36. Michael Brough, 32. Blair Sturrock, 7. Louis Briscoe, 19. Kyle Perry, Subs: 33. Neil Collett, 8. Matthew Somner, 26. Kyle Nix, 10. Jon Shaw, 17. Jake Speight
---
REPORT
As Mansfield got the game under way, with Altrincham playing into the gusty wind, the rain temporarily eased off. Mills soon gave referee Halliday a dirty look after he had played the ball against the referee's shins, rather than finding a team mate. After Densmore had made a good tackle, Mansfield escaped with a foul throw, (the throwers' feet were over the touchline), which yielded a corner for them (5 mins). A Mansfield cross into the Alty box soon followed, as the home side went forward. However, Alty won themselves a corner in the 13th minute when Doran fed Brown who got to the by-line, left of goal.
Doran's flag kick immediately produced a second corner as the rain intensified once more. Next, Challinor was caught offside before Sturrock also strayed offside (20 mins). The home side were showing more attacking intent but were not threatening any serious breach of the Alty defence with their neat but unincisive approach play. From a clearance by Marriott, Sturrock fired well over the Alty bar (25 mins) and then Young had to hack clear for Alty after a misheader from his otherwise reliable centre-back partner, Williams. Defending was not easy in the wind and rain and on a very greasy surface which was soon cutting up.
Mansfield put together four successive crosses inside a minute into the Alty box but the defence held firm (27 mins). When Mansfield did get a sight of goal they were profligate as typified by Garner's header which cleared the bar by a big margin.
Alty then wasted a promising breakaway when Denham went forward but played a poor final ball (30 mins). Mansfield won another corner in the 34th minute as the rain continued to sweep down the pitch. Mr Halliday was allowing a significant number of off the ball nudges, holds and pushes to go unpunished as Silk now lifted a shot very high over the target for Mansfield (38 mins). Play drifted on fairly uneventfully before Mr Halliday decided to blow for half-time just after McAliskey had been fouled on the half-way line, so avoiding the need to award a freekick (45 mins).
Mansfield had had the better of the first period but without testing Coburn once, thanks to a mixture of disciplined defending and woeful finishing.
---
Half-Time: MANSFIELD TOWN 0 ALTRINCHAM 0
---
Altrincham started the second half the more positive of the two sides and Denham got in an early volley which went wide (46 mins). This was followed by Carden's surge forward up the left and then by an Alty freekick. Next, Williams got in a decent header which went over the Mansfield bar (50 mins). The rain now had eased once more before another promising breakaway from Denham was again undone by a poor lay off at the end of the wing man's run (54 mins).
Denham nearly made amends moments later when he timed a run very well to get on the end of a Densmore throw. But unfortunately Denham was unable to connect with the ball at the by-line to get it back into the box. Next, Carden again broke away but had no support and the move faltered. So the hour mark arrived with Altrincham looking pretty comfortable.
Afterr this, when Densmore tackled Silk, both players ended on the floor and from a seated position the Mansfield man waved his arm at the Alty midfielder, an incident which would no doubt have featured in a You Tube clip had it been the other way round (61 mins). But Altrincham were proving incapable of keeping the ball upfield for any length of time. Another surge forward, this time by Lawton, foundered on lack of support from his team mates whose discipline was ensuring that they remained tight in midfield and defence but were not able to get forward quickly enough in sufficient numbers on the break.
Shaun Densmore then executed the tackle of the game when he stopped Briscoe after he had got behind Young up the middle (66 mins). A seemingly insignificant but nonetheless smart piece of thinking from Carden then led to Altrincham scoring a goal. Carden cleverly back heeled a ball against a Mansfield player to win a throw on the left, 20 yards out. Brown's throw, in turn, led to a corner off Briscoe on the Alty left. With referee Halliday seemingly blind to blatant holding on Williams, whose attempted shot was hampered by his marker having a handful of his shirt for several seconds, the ball came out to Senior. He played it back into the goalmouth where Young headed it firmly into the net to give Alty the lead (70 mins).
Immediately, Mansfield brought on Shaw for Perry (70 mins), followed by Welch coming on for McAliskey for the visitors (71 mins). Next, Mansfield won a corner at which point Challinor was replaced by Speight for the Stags (74 mins). Soon Speight scuffed a weak shot to Coburn (78 mins) before Carden, at the other end, got in a good shot which just cleared the bar (79 mins). Speight was wasteful again soon afterwards with a shot which hit row Z of the stand behind the goal (81 mins).
After 84 minutes Mansfield made a final change with Briscoe withdrawn and replaced by Nix. Brown then caused Marriott to back -pedal to catch a lob from half way as Alty looked reasonably comfortable with their lead. But when Mansfield won a corner, Coburn had to make his first serious save of the night, from Burgess, at the near post (86 mins).
Mills was lucky only to see a yellow card when he lunged late at Brown on half way, as the Alty man advanced up the wing. Brown was fortunate to escape without serious injury (88 mins). Four minutes of added time were announced and, in the first of these, Lawton was booked for a foul on Nicholas on half way. Alty then made a change as Denham was replaced by Little (90+3 mins).
With the game in its final minute Mansfield got their equalizer. Speight was the scorer after a Mansfield shot had initially been blocked (90+4 mins). In last Saturday's game Alty had gained a draw in the fourth added minute against Rushden so they could not be too upset at this late blow. Despite this late disappointment for Altrincham, after such a disciplined display by a team ravaged by injuries, the draw was a far more positive outcome for the visitors, who have now gone seven games unbeaten (five of those games being against top 8 sides), than for Mansfield whose play-off credentials were not enhanced by their showing in this game.
---
Full-Time: MANSFIELD TOWN 1 ALTRINCHAM 1
---