Match Report
---
ALTRINCHAM (1) 2 RUSHDEN & DIAMONDS (1) 2
Blue Square Premier match
played on Saturday, 20 March 2010, at 3pm
---
SUMMARY:
From an eventful match, Altrincham emerged with a point thanks to an equalizer from Chris Denham in the fourth minute of added time. The Robins have now taken five points from their three matches this week, all against top six opposition. Today's result was achieved despite the club being reduced, through injury, to an available squad of just sixteen players. Things got worse when Danylyk had to be replaced after 21 minutes but Altrincham then took the lead, against the run of play, in the 34th minute. A clever lay-off from Doran allowed Densmore to fire home from the edge of the box.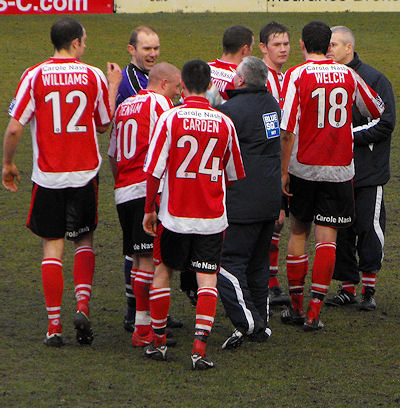 Right: Goalkeeper Stuart Coburn shows his delight at the end of the game with Rushden.
Greg Young headed an own goal to restore parity for Rushden after 40 minutes. After the visitors had got ahead, in the 73rd minute, when John Terry's brother, Paul, scored with a deflected shot, it looked as if the Diamonds would take all of the points. And when Denham hit the bar after 80 minutes that seemed to confirm it would not be Alty's afternoon. But a mix-up in the Rushden defence allowed Denham to lob the ball past the stranded keeper Roberts into the empty net in the fourth and last added minute.
---
SCORERS
34 mins: Shaun DENSMORE (Altrincham 1 Rushden & Diamonds 0)
40 mins: John McALISKEY(own goal) (Altrincham 1 Rushden & Diamonds 1)
73 mins: Paul TERRY (Altrincham 1 Rushden & Diamonds 2)
90(+4) mins: Chris DENHAM (Altrincham 2 Rushden & Diamonds 2)
---
REFEREE: Mr R J Wigglesworth
---
ATTENDANCE: 1,035
---
TEAM NEWS
Alty made two changes from Tuesday's win over Kettering, with Nicky Clee rested ahead of a busy run-in, to allow his tight hamstrings to recover, and Adam Carden giving way in midfield. Robbie Lawton returned after injury to captain the side and Michael Welch came in for his first start of the season in a back three. Danylyk sat in front of the back line in a 3-1-4-2 formation. Ryan Brown moved to left-midfield.
For Diamonds, Craig Farrell replaced Aaron O'Connor whilst Curtis Osano came in for the injured Simon Downer. Cliff Akurang returned returned on the bench.
---
BACKGROUND:
Altrincham had won the reverse fixture 1-0 at Nene Park but Rushden arrived at Moss Lane lying fourth in the table, with the Robins tenth. Rushden had not had a midweek game and had travelled up overnight so were well rested in comparison to Alty's part-timers who had battled for ninety-minutes in midweek against Kettering.
Watching today's game were Altrincham and Sale West MP, Graham Brady and former Altrincham defender, Gary Talbot, as well as a clutch of present and past BSP managers comprising Chris Wilder (Oxford), Martin Foyle (York) and former Cambridge boss, Gary Brabin.
---
LINE-UPS
ALTRINCHAM (Red & white striped shirts, black shorts and red socks): 1. Stuart COBURN, 18. Michael WELCH, 12. Robbie WILLIAMS, 5. Greg YOUNG, 16. Anthony DANYLYK, 6. Shaun DENSMORE, 27. Ryan BROWN, 7. Robbie LAWTON, 21. Peter DORAN, 19. Chris SENIOR, 17. John McALISKEY, Subs: 24. Adam CARDEN, 11. Nicky CLEE, 9. Colin LITTLE, 13. Russell SAUNDERS, 10. Chris DENHAM
RUSHDEN & DIAMONDS (All yellow): 1. Dale Roberts, 2. Curtis Osano, 3. Kurt Robinson, 4. Max Porter, 5. Jamie Stuart (Capt), 9. Craig Farrell, 10. Lee Tomlin, 16. Michael Corcoran, 20. Mark Byrne, 24. Paul Terry, 27. Jefferson Louis, Subs: 7. Aaron O'Connor, 19. Sam Smith, 13. Joe Day (GK), 18. Matt Pattison, 25. Cliff Akurang
---
REPORT
Rushden kicked off, attacking the away end, on a dull and damp afternoon, with the floodlights already switched on. The visitors started the better of the two teams, with Ryan Brown having a particularly difficult start on the Alty left of midfield as Tomlin, in particular, showed some early threat for the Diamonds. But Alty put together a neat move in the 6th minute which ended with Doran's surge forward and the ball being taken off Senior's boot in a promising position.
Soon, Coburn had to be alert to kick clear and then he did even better to beat out Tomlin's attempt and then manage to kick the loose ball clear from a prostrate position (8 mins). When Tomlin threatened again, it took a Young header to clear and concede a throw in the right-hand corner. But Alty then won themselves a corner after a good move which culminated in Senior crossing the ball from the left where it just evaded Doran in a central position before reaching Densmore, whose deflected effort won the flag-kick (13 mins). Brown's corner was poor and on the counter-attack Rushden were only stopped by excellent covering back by Doran.
Following an error by Welch, Jefferson Louis struck the outside of the Alty upright (17 mins). There was then a comical moment as Alty got to the edge of the Rushden box only for Senior and Densmore to collide and knock each other over. But Rushden soon threatened at the other end as Porter's cross from the right went across the goalmouth but just evaded Farrell (18 mins). Corcoran and Byrne then conspired to win another Rushden corner, following which Alty had to withdraw Anthony Danylyk, who was presumably injured, in favour of Adam Carden (22 mins).
After this, Rushden gained another corner before Farrell fired wide of Coburn's goal. Coburn than had to make a decent save from Tomlin (25 mins), which McAliskey headed clear, winning a freekick in the process. Next Jefferson Louis, on loan from cash-strapped Crawley found the side netting as the visitors continued to have the better of the proceedings. But then Altrincham scored, against the run of play. The ball was played in from the Alty left to Doran, in a fairly central position, just outside the box. He cleverly took a touch, which deceived the defence, before relaying the ball further right where Densmore drove it past Roberts to put Alty ahead (34 mins).
The goal lifted Alty, who enjoyed a good few minutes during which Senior went down in the box to no avail. In the 39th minute Diamonds gained another corner which was half-cleared but, with all eleven Alty men behind the ball, it soon came back into the goalmouth via a curling cross from the Rushden right by Porter. Facing their own goal a couple of Alty players stretched to reach it, with the ball deflecting off one of their foreheads into the net for an own goal. The own goal was originally assigned by the Press to Young but, later, it emerged that John McAliskey was the one responsible (40 mins). Though its manner was unfortunate for Altrincham, the Rushden equalizer was deserved on the balance of play.
Just before three added minutes started, Farrell fired a fierce freekick just over the Alty bar. But when Tomlin, for the third time in the half kicked the ball away after the referee's whistle had gone, he was remarkably lucky not to be booked for his behaviour. The petulant Tomlin then rode his luck still further as he crassly objected to being forced to go off to have attention to a blood injury to his knee (45+2 mins). There was still time for Louis, who was proving a handful for Williams, to get a cross into the Alty goalmouth but the ball went through the six-yard box harmlessly (45+3 mins).
Rushden had had the better of the half but Altrincham had stuck to their task and worked hard to remain on level pegging at the interval.
---
Half-Time: ALTRINCHAM 1 RUSHDEN & DIAMONDS 1
---
Early in the second half, former York front-man, Farrell, fired narrowly wide (47 mins) before Louis missed a sitter when Tomlin's quick low cross from the right found the big man almost on the goal line. Somehow Louis managed to divert the ball away from goal, to Altrincham's relief. The Robins heaved a further sigh of relief when, following a freekick award against Welch, Young waded in unnecessarily and pushed over a Rushden player. Fortunately, Young only saw a yellow card (52 mins).
Indeed, the game now got a little petulant as Robinson got himself booked for a spat with Lawton, at which point Chris Denham came on for McAliskey (54 mins). After a Denham cross had been fielded by the visitors' former Dagenham keeper, Roberts, Louis tried an ambitious shot from 45 yards out on the left wing, which Coburn caught under the bar.
Soon, however, Farrell went closer than his fellow striker when a great cross from the right by Tomlin was headed by him firmly against the crossbar. But Alty replied with a neat attack of their own which ended with Brown's deflected shot which landed on the roof of the net. Following the resulting corner, Alty gained a freekick 30 yards out. Welch hit this well but it just cleared the bar (63 mins).
Byrne was then booked for pulling back Brown after the left-sided midfielder had got the better of him as he enjoyed a better second half than his first 45 minutes. With the game now past the hour mark, Rushden won a corner. After this Little came on to replace Doran (69 mins). Alty had half a chance when Denham's cross found Senior but the ball ran off his shins (71 mins). Next, Diamonds brought on former Gresley, Mansfield and Grays man, Aaron O'Connor to replace Farrell (72 mins). Within a minute the visitors had gone ahead with a slightly fortuitous goal as Terry's shot was deflected off Welch past Coburn (73 mins).
Rushden then played the ball round to keep possession and frustrate Altrincham and when a Densmore surge ended with Denham striking the bar, with an effort from left of goal, it seemed it would not be Altrincham's afternoon (80 mins). Paul Terry, brother of England and Chelsea defender, John, was then booked for a foul in the build-up to Denham's effort after the referee had allowed a good advantage.
Ex-Woking man, Matt Pattison, now came on for Rushden's Tomlin (83 mins) and he soon got in a low cross from the right which found O'Connor, who put the ball narrowly wide of goal. Rushden appeared to be successfully heading towards the final whistle as four added minutes were announced. Nevertheless, Alty kept going but, despite a couple of promising freekick positions, time seemed to have run out. But then, in the dying seconds, Osano and keeper Roberts got in a mix-up in the front right of the Rushden box. The ball came to Denham who, from wide left of goal, expertly lobbed the ball into the far corner of the unguarded net to send the Moss Lane faithful home happy as their depleted squad earned its fifth point from the three top-six full-time sides who have visited Moss Lane in the past week. But Denham may yet rue getting himself unnecessarily booked in the closing seconds; his ninth card of the campaign.
This was Alty's fifth draw in six unbeaten games as they now prepare to face more play-off aspirants in the shape of Mansfield Town, this Tuesday. Rushden left disappointed that their often impressive football had not brought them three points but, given that their two goals comprised an own goal and a deflection, they cannot claim too much of an injustice.
---
Full-Time: ALTRINCHAM 2 RUSHDEN & DIAMONDS 2
---