Match Report
---
WREXHAM 0 ALTRINCHAM 0
FA Trophy Round One match
played on Saturday, 12 December, 2009, at 3pm
---
SUMMARY: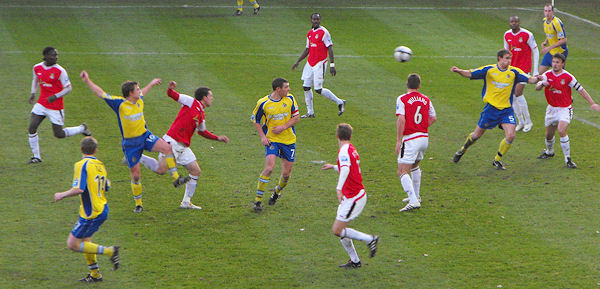 Above: Space is at a premium in this shot of the Alty game at Wrexham. The Alty players (in yellow) are Clee, Danylyk, Lawton, Young and Williams.
The defences were on top in this FA Trophy game at The Racecourse, with both keepers only having to make a couple of decent saves apiece. Altrincham looked more of a threat after Denham had come on during the second half and posed a danger on the break. Alty survived a third-minute penalty when Doughty was penalised but Sakho pulled his penalty wide with Coburn allowing it to pass for a goal kick.
---
SCORERS
None
---
REFEREE: Mr I Smedley
---
ATTENDANCE: 1,065 (129 in away end)
---
TEAM NEWS
Colin Little returned to the squad after illness but winger Nicky Clee was preferred up front in a starting line-up which featured Tom Kearney in the hole behind Clee and Senior. Greg Young again played at left back as Smith and Williams continued their central defensive pairing.
Wrexham brought in keeper Russell, who had started the season as first-choice. Both Gareth Taylor and Frank Sinclair were sidelined by injury.
---
BACKGROUND:
This was the first of what could be four games against the Welshmen in the space of three weeks. The sides meet twice on the League over Christmas and a draw today would mean a replay next Tuesday of this FA Trophy tie. The gate was predictably disappointing with the approach of Christmas and a game which falls outside season ticket coverage.
---
LINE-UPS
WREXHAM (Red and white shirts, white shorts and socks): 1. Sam Russell, 2. Curtis Obeng, 4. Ashley Westwood (capt), 5. Mansour Assoumani, 6. Mike Williams, 16. Silvio Spann, 14. Nathan Fairhurst, 18. Wes Baynes, 19. Andy Fleming; 22. Lamine Sakho, 24. Matty Wolfenden. Subs: 27. Chris Maxwell, 7. Mark Jones, 8. Hedi Taboubi, 10. Marc Williams, 17. Adrian Cieslewicz
ALTRINCHAM (Yellow and blue shirts, blue shorts and yellow socks): 1. Stuart COBURN; 2. James SMITH, 12. Robbie WILLIAMS, 5. Greg YOUNG; 6. Shaun DENSMORE; 7. Robbie LAWTON, 16. Anthony DANYLYK, 3. Matt DOUGHTY; 4. Tom KEARNEY; 19. Chris SENIOR, 11. Nicky CLEE. Subs: 9. Colin LITTLE, 13. Russell SAUNDERS, 10. Chris DENHAM, 18. Michael WELCH, 21. Andrew PEARSON
---
REPORT
The game kicked off in wintry sunshine, with Altrincham changing ends to attack the end where their supporters were housed. The visiting supporters were in good voice but it was Wrexham who gained the game's first corner when Fleming's shot went narrowly wide of Coburn's right post with the aid of a deflection. The corner was half cleared but then Smith played a pass inside the box to Doughty which put the left-sided midfielder in difficulty. In attempting to retrieve the situation, Doughty was judged to have made a foul tackle on Spann and a spot-kick was awarded. The matchday programme's cover photo was captioned "Sakho's Trophy test" but the Senegalese, who played for Leeds United in the Premiership, flunked his examination and underhit his shot. It went just wide of Coburn's left post but at a pace which even allowed the Alty keeper the luxury of having time to pull out of a save when he saw the ball heading wide.
For Alty Senior was caught offside (6 mins), before an important James Smith tackle yielded another corner for the Dragons which was badly overhit (7 mins). A third Wrexham corner arrived after eleven minutes when Fleming's shot hit Robbie Lawton. From Baynes's flag kick, Mike Williams had a clear header but put it wide.
The sides now cancelled themselves out as Altrincham sought to contain the Welsh men and there was little goalmouth action at either end. A poor tackle by Baynes on Densmore left the Alty defender needing treatment and as he later waited to come back on he appeared to exchange words with Wrexham boss, Dean Saunders, in his technical area. The referee restarted play with a bounce up (20 mins).
Play was fairly uneventful till Clee and Senior combined to win an Altrincham corner which led to a bit of a melee in the Wrexham box but no more than that (28 mins). The hosts conceded a number of fouls with Baynes especially fortunate to evade a booking for three or four infringements. Wrexham won another corner just after the half hour mark when Robbie Williams had to make a clearance after Fleming and Sakho had combined.
Alty looked threatening on the break and soon Senior was chasing a long ball which Westwood did well to clear. After another foul by Baynes on Densmore a Wrexham corner followed. From the corner Assoumani's header forced a fine save by Coburn with his legs.
A foul on Kearney then gave Alty a freekick which led to three successive corners for the Robins. A foul by Baynes on Kearney yielded another freekick but still no firm action from Mr Smedley. But when Westwood took out Senior from behind, the Wrexham captain did see a yellow card (39 mins). When Clee fouled Fairhurst, the previously reticent referee produced a lightning- quick yellow card to wave at the Alty forward (41 mins).
A testing cross from the right by Spann narrowly evaded Sakho but went for another Wrexham corner (42 mins), After this Sakho made a hash of a shot, which ended up in Row Z. Kearney was felled for at least the third time in the half, When Fleming brought him down, but the freekick came to nothing though Senior did win a corner on the 45th minute. Wrexham won yet another corner after an error by Densmore led to a misheader by Williams, but the interval arrived to conclude a first half in which there had been relatively little for the supporters to get too excited about.
---
Half-Time: WREXHAM 0 ALTRINCHAM 0
---
A fine ball from Sakho to Wolfenden saw Wrexham start the second half as they had concluded the first, with a corner. Alty as usual pulled all eleven men back. Soon afterwards a fine Robbie Williams tackle started a ten-pass Alty move but generally play continued in a fairly low key vein. Towards the hour mark, Wrexham won a corner as they continued to press into the Alty half. An excellent Young tackle saw off a subsequent attack.
On the hour mark, Obeng was replaced by Cieslewicz with Spann moving into the back line of a 4-3-3 set up. Matt Doughty then got booked for what looked like dissent after a freekick had been awarded against him (61 mins). Alty made their first change after 63 minutes when Chris Denham came on for Nicky Clee. His arrival was to spark some more lively attacking from the visitors who had been comfortably soaking up Wrexham pressure in the second half so far.
Soon Senior forced a save from Russell at his near post as Alty now came more into the game. Wrexham responded by withdrawing Wolfenden and bringing on last season's top scorer, Marc Williams (67 mins). When Fleming's elbow caught Senior, the Wrexham man was cautioned (68 mins). Next a good shot from Denham underlined Alty's threat on the counter-attack (69 mins). Alty captain Robbie Lawton then needed treatment after being fouled and limped on once Mr Smedley had allowed him to come back onto the pitch. Another fine tackle by Young stopped another Wrexham probe before Baynes's cross shot struck the outside of Coburn's right post when he should have tested Coburn (76 mins).
As Wrexham continued to attack, Smith made an important tackle for Altrincham before an Alty breakaway threatened at the other end. Two Wrexham corners came in quick succession (84 mins), before Denham did well on the left but undid his work with a poor cross (85 mins). Altrincham continued to defend well with Williams the hero as he stepped in with a fine tackle just before the end of the ninety minutes. Four added minutes were signalled. In the second of these Assoumani brought down Senior just inside the Wrexham half and was arguably the last man, but he was only shown a yellow card. Little then hooked an effort to Russell before Wrexham gained a very late corner (90+4 mins). With the game into its sixth added minute Mr Smedley finally ended proceedings to leave the sides facing a replay at Moss Lane this Tuesday.
This was a strong Alty team performance but with their third successive failure to score it is up front rather than in defence where improvement is a priority.
---
Full-Time: WREXHAM 0 ALTRINCHAM 0
---