Match Report
---
KIDDERMINSTER HARRIERS (2) 3
ALTRINCHAM (0) 0
Blue Square Premier match
played on Saturday, 29 August, 2009, at 3pm
---
SUMMARY: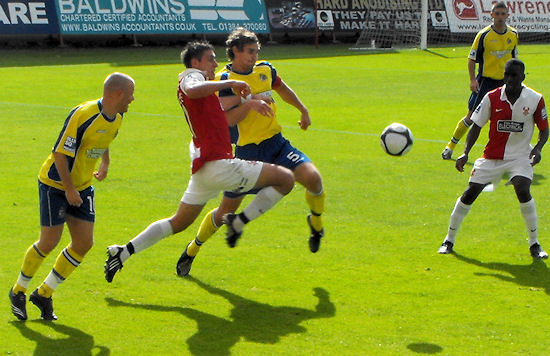 Right: Greg Young (in yellow) in action at Kidderminster.
For the second year running, Altrincham had the better of the opening stages only to fall behind after having an early goal disallowed for offside. Kiddy took the lead from their first real attack after Danylyk had lost possession in midfield; Coburn had to come out to stop Hadley and the ball rebounded to the Harriers, who scored through Smikle from close range (11 mins). When Johnson was tripped by last man Riley, the Harriers' man saw a red card. Alty continued to look the better side but Barnes-Homer was allowed to score when he received the ball in what looked an offside position but Alty did not play to the whistle. The striker played on and lobbed the ball over Coburn (23 mins).
After 36 mins Densmore was sent off for a two-footed tackle on Smikle to level the sides at ten apiece. The game was finally settled just 37 seconds into the second half when Smikle scored from close range after Hadley had been allowed to advance up the Kiddy right and get in a cross. It got even worse for Alty when Chris Senior was stretchered off with ankle ligament damage. The remainder of the second half was largely unmemorable though each side struck the bar in the closing minutes.
---
SCORERS
11 mins: Brian SMIKLE (Kidderminster Harriers 1 Altrincham 0)
23 mins: Matthew BARNES-HOMER (Kidderminster Harriers 21 Altrincham 0)
46 mins: Brian SMIKLE (Kidderminster Harriers 3 Altrincham 0)
---
REFEREE: Mr M A Naylor (Sheffield)
---
ATTENDANCE: 1,415 (114 through the away turnstiles)
---
TEAM NEWS
Alty had been rocked on the eve of the game by the departure to Australia of midfielder Matty Crowell, who had been forging an impressive partnership with Tom Kearney. This left Altrincham with just fifteen fit players for today's game but the injured Lawton was named on the bench as the fifth sub. Danylyk and Heffernan came into the side replacing Crowell and Williams.
Kidderminster hoped to have striker Robbie Matthews fit again for this match but he was not named in the squad.
---
BACKGROUND:
In their last eight league visits to Kidderminster, Altrincham had failed to win though they have drawn six times, five times the score being 1-1.
---
LINE-UPS
KIDDERMINSTER HARRIERS (Red & white shirts): 1. Dean Coleman, 2. Duane Courtney, 5. Gavin Caines, 6. Martin Riley, 3. Lee Baker, 7. Chris McPhee, 8. Dean Bennett, 4. John Finnigan, 16. Kyle Hadley, 9. Matthew Barnes-Homer, 14. Brian Smikle, SUBS: 10. Darryl Knights, 15. Liam Dolman, 12. Jasbir Singh (gk), 11. David McDermott, 17. Tom Sharpe
ALTRINCHAM (Yellow and blue shirts, blue shorts and yellow socks) 1. Stuart COBURN, 4. James SMITH, 5. Greg YOUNG, 6.Shaun DENSMORE, 16. Anthony DANYLYK, 6. Tom KEARNEY, 3. Matt DOUGHTY; 14. Dale JOHNSON, 19. Chris SENIOR, 10. Chris DENHAM, 20. Danny HEFFERNAN, SUBS: 7. Robbie LAWTONJ, 13. Russell SAUNDERS, 9. Colin LITTLE, 12. Robbie WILLIAMS, 11. Nicky CLEE.
---
REPORT
Alty kicked off defending the away end at Aggborough and soon settled as the better of the two sides. Kidderminster were having trouble finding their men which allowed Altrincham to go forward. Both sets of supporters were strangely quiet in the opening stages as Alty went close from Denham's low cross from the right (8 mins). A minute later, Senior had the ball in the net from Kearney's feed but was ruled to have been offside. From virtually their first attack the Harriers took the lead, much as they had done in last year's fixture. Danylyk saw an attempted clearance, 25 yards out, cannon back off an opponent and the ball was then played forward by Bennett. Coburn had to rush out to the side of his box to challenge Hadley but unluckily saw his block rebound past him. The resulting cross from the right allowed Smikle to score from close range, much against the run of play (11 mins).
Heffernan's ball forward was then excellently won against the odds by Johnson who poked the ball towards the penalty area. As he got clear of defender Riley, the Kidderminster man brought him down and was shown a straight red card as he was the last defender (16 mins). Kearney's freekick for this offence was saved, low down, by Coleman. Altrincham continued to press and won two corners in the next five minutes. From a freekick Young then powered a header over the bar as an equalizer looked on the cards (21 mins).
But after Kearney had lost possession Kidderminster played the ball forward and with Barnes-Homer receiving the ball in a seemingly very offside position, Alty's defence stopped. However, linesman Ward's yellow flag stayed by his side and the striker coolly lobbed the ball over the advancing Coburn to give the scoreline a highly flattering 2-0 margin to the Harriers (23 mins). Two minutes later the scorer went down injured but resumed after treatment.
Alty responded to their setbacks by winning another two corners (27, 28 mins). And with Altrincham still looking like they could retrieve something from the game with their extra man advantage, Sharpe came on to replace the ailing Barnes-Homer for the Harriers (33 mins). McPhee, who had gone into defence after Riley's dismissal now moved forward as the new man went into the back line.
Densmore then executed a perfect tackle on Smikle but a minute later he jumped into another challenge two-footed on the same player and was sent off to level the sides at ten apiece (36 mins). Soon after this, Mr Ward again failed to flag for offside when McPhee received the ball but the former Ebbsfleet man shot weakly (38 mins). The officials' bad afternoon continued as Mr Naylor failed to caution Baker when he pulled over Denham. Following another Alty corner, Heffernan headed wide but then Kiddy won their first corner of the match, just a minute before the interval. From this, Smikle's low drive was deflected over the bar by one of his own players. In the two minutes of added time, Kearney was booked for a routine foul near half way as the hosts went in 2-0 ahead after an eventful half in which Altrincham had looked the better side for much of it.
---
Half-Time: KIDDERMINSTER HARRIERS 2 ALTRINCHAM 0
---
Colin Little replaced Danny Heffernan at the interval but with just 37 seconds gone, the game was up for Altrincham. The allowed Hadley to advance unchallenged up the right wing and cross to Smikle, who side footed the ball into the net to make it 3-0 (46 mins). Coburn survived an appeal for handling outside his box a minute later, before another Hadley cross just evaded the incoming Finnigan. When McPhee got past Young, the Alty captain chased back to make a fine recovery tackle at the cost of a corner (51 mins).
Chris Senior then chased down a loose ball near the right corner flag and his foot and that of a defender seemed to arrive at the ball at the same time. The Alty man went down in obvious agony and had to be stretchered off with what was later diagnosed as ankle ligament damage (55 mins). With Densmore now suspended and Senior injured, Alty are reduced to 13 fit players, including two goalkeepers. Nicky Clee came on for Senior (57 mins).
Johnson then fluffed Alty's only chance of the half so far, shooting weakly wide from close range (59 mins). Much of the rest of the game was unremarkable, as the home side were comfortably ahead and Altrincham were unable to get forward in numbers. They did win three corners in the ten minutes after the hour mark before McDermott replaced Finnigan for the Harriers (71 mins). The crowd was quiet as the game drifted on with Alty now playing 3-3-3, comprising Clee on the left, Danylyk on the right and Doughty in central midfield. But it took a magnificent point blank save from Coburn to keep out a Smikle effort which gave the hosts a corner. At this point, Hadley was replaced by Knights (77 mins).
Altrincham were resorting too much to the long ball as the game went into the last five minutes. Little then got in a shot which went easily to the keeper before Clee screwed an effort badly wide. At the other end Kidderminster's Bennett hit the bar following a good build-up (90 mins). Ironically it was not till the four minutes of added time that Altrincham looked their most dangerous in the second half. After Clee and Doughty had combined well up the left, Denham's downward header bounced up to strike the bar (90+3 mins). Then, when Doughty again got up the left, Little headed his cross wide from a difficult angle.
So what had started as a promising Altrincham peformance turned into a disastrous afternoon in which they not only went down 3-0 but also lost Densmore to a three-match ban and Senior to possibly an absence of several weeks.
---
Full-Time: KIDDERMINSTER HARRIERS 3 ALTRINCHAM 0
---