Match Report
---
ALTRINCHAM (2) 2
BURTON ALBION (0) 3
Pre-season friendly match
played on Saturday, 1 August, 2009, at 3pm
---
SUMMARY: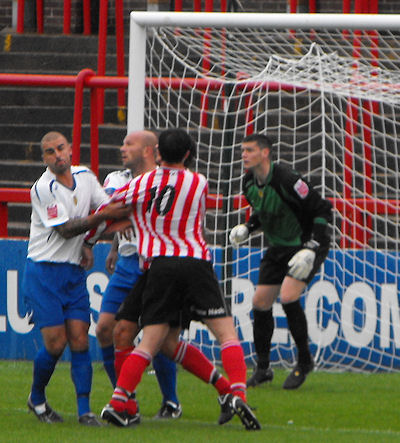 Right: Dale Johnson proves a handful to the Burton defence - no penalty was given!
With Altrincham deservedly 2-0 up against a Burton side showing little punch up front, Dale Johnson's superb shot, two minutes after the interval, came back off the underside of the bar to rob the hosts of a third goal. But after that, Burton changed up a gear and hit Altrincham with three goals in seven minutes during a second half which saw 13 substitutions, 9 by Burton. The impressive Johnson had put Alty ahead in the 35th minute when Clee got clear on the left and provided the striker with a close-range goal. On the stroke of half-time, Chris Senior made it 2-0 from Johnson's feed with a well struck shot into the far corner of th net.
Richard Walker pulled one back for Burton (67 mins) when a cross came to him at the back post off an Alty head. Maghoma made it 2-2 four minutes later with a finely struck shot from just outside the box. And, as the Alty defence wobbled, substitute Shroot beat Stuart Coburn to a nod forward into the box and headed the winning goal (75 mins). But though the Robins regained some composure in the closing stages, they scarcely troubled Albion's substitute keeper, Ross Atkins.
---
SCORERS
35 mins: Dale JOHNSON (ALTRINCHAM 1 Burton Albion 0)
45 mins: Chris SENIOR (ALTRINCHAM 2 Burton Albion 0)
67 mins: Richard WALKER (ALTRINCHAM 2 Burton Albion 1)
71 mins: Jacques MAGHOMA (ALTRINCHAM 2 Burton Albion 2)
75 mins: Robin SHROOT (ALTRINCHAM 2 Burton Albion 3)
---
REFEREE: Mr Anthony Taylor
---
ATTENDANCE: 417
---
TEAM NEWS
Stuart Coburn returned in goal but Robbie Lawton remains sidelined by his groin injury and Michael Welch continues his post-operative recovery. Otherwise everyone else was in the named squad of 16 today apart from keeper Richard Acton. With Aaron Chalmers deciding he would be better off elsewhere, there were no trialists on view as Robbie Williams and Russell Saunders have now signed on for the season.
Alty played 4-4-2, with Crowell on the right and Nicky Clee, making his debut, on the left. James Smith came back despite his recent foot problem and he replaced the departed Mark McGregor. Greg Young was the captain in Lawton's absence.
Burton included former Kettering defender Guy Branston in central defence. Stoke man Jimmy Phillips, who had signed before the game from Stoke City, was on the bench.
---
BACKGROUND:
Burton had a lot for which to be grateful to Altrincham; had the Robins folded against Cambridge United on the final day of last season, the Brewers would not now be a League Two club! Since then they had changed their manager with Roy McFarland giving way to former Birmingham City star, Paul Peschisolido.
The game was preceded by a week of almost incessant rain and much of this match was played in rain, the sun only appearing after 86 minutes! The match officials wore microphones and ear-pieces which are not a normal sight in the Blue Square Premier. Kick off was delayed when a prickly customer had to be ejected from the ground; a hedgehog was found on the pitch before the warm-up and spent the match in a cardboard box awaiting collection by the RSPCA.
---
LINE-UPS
ALTRINCHAM (Red & white striped shirts, black shorts and red socks): 1. Stuart COBURN, 2. Shaun DENSMORE, 4. James SMITH, 5. Greg YOUNG (capt), 3. Matt DOUGHTY; 7. Matty CROWELL, 6. Tom KEARNEY, 8. Anthony DANYLYK, 11. Nicky CLEE; 9. Chris SENIOR, 10. Dale JOHNSON. Subs: 13. Russell SAUNDERS (gk), 14. Colin LITTLE, 15. Chris DENHAM, 16. Robbie WILLIAMS, 17. Danny HEFFERNAN.
BURTON ALBION (White shirts, blue shorts and socks): 13. Shane REDMOND; 21. Mark EDWORTHY, 15. Ryan AUSTIN, 20. Guy BRANSTON (capt), 2. Paul BOERTIEN; 16. Russell PENN, 6. John McGRATH, 19. Jacques MAGHOMA, 14. Mark GOODFELLOW; 10. Richard WALKER, 18. Greg PEARSON. Subs: 1. Ross ATKINS, 4. Michael SIMPSON, 5. Tony JAMES, 7. Darren STRIDE, 8. Andrew CORBETT, 9. Shaun HARRAD, 12. Robin SHROOT, 17. Jimmy PHILLIPS, 22. James KNOWLES.
---
REPORT
Burton kicked off towards the Golf Road end in pouring rain and soon both sides were showing a determination to pass the ball around rather than resort to the long ball. Soon a fine cross from the left by Clee went across the goalmouth, just evading Dale Johnson near the back post (7 mins). Play was end to end at this stage but it was Altrincham who won the first corner of the game following fine play by Johnson (13 mins).
Smith then had to be alert to see off Penn as he advanced into the right side of the box. Alty continued to pass the ball about pretty well but the next effort at goal came when Maghoma fired wide from 22 yards (17 mins). When a Johnson cross went across goal, Alty gained a corner off the Burton keeper as Chris Senior closed in. Not long afterwards, another Alty corner followed from which the ball was cleared out to Clee, who shot wide (22 mins).
A fine ball forward from Goodfellow gave McGrath an opportunity but he skied his effort over the bar (25 mins). Play overall was fairly even at this stage but Burton then won two corners, the second arising when Johnson sliced an attempted clearance wide of goal. However, Altrincham now took the lead as Kearney, Smith and Young got the ball to Densmore whose long ball forward evaded the Burton right-back, allowing Clee to get free into the box. From there he did well to lay the ball across the face of goal to Johnson who converted comfortably from close range to give Altrincham the lead (35 mins).
Burton responded by winning two corners in a minute. A third Brewers' corner arrived when Coburn made a superb save, diving to his left to beat out McGrath's 30-yarder (42 mins). Goodfellow than fired over the bar (44 mins). As half-time approached, Alty boss Graham Heathcote suggested his players take the ball into the corner to preserve their lead but Dale Johnson had other ideas, feeding Chris Senior who got behind the defence and advanced towards goal before slotting a shot into the far corner of the net from left of goal (45 mins). Moments later the half-time whistle sounded with Alty two goals to the good.
---
Half-Time: ALTRINCHAM 2 BURTON ALBION 0
---
Burton made three changes after the break. Atkins took over in goal from Redmond; James replaced Edworthy and debutant Phillips took over from Goodfellow. Alty almost wrapped up the game ninety seconds into the second period when Danylyk advanced well and fed Johnson whose superb shot from the edge of the box beat the keeper but came out from the underside of the bar (47 mins). Next Alty's new man, Clee, showed his long-throw prowess with a prodigious ball launched into the goal mouth, which Burton allowed to bounce the box towards Johnson at the back post, but the Brewers got the ball away. After a Burton corner had come and gone, the visitors, who had now upped their game, were denied by two superb stops by Coburn. After beating out a shot from Pearson, following Burton's advance up the left, the ball ran loose but the prostrate Altrincham keeper made a remarkable block from Walker's follow-up (51 mins).
Burton were now having the better of play and then made their fourth change of the half, bringing on Shroot up front in place of Pearson (58 mins). Shroot almost immediately forced a save from Coburn before Altrincham made their first change as Heffernan replaced Clee (61 mins). The fourth official made four failed attempts to get the substitute display board to show the correct numbers but lamentably failed to master the technology to the amusement of the crowd and Graham Heathcote, who called for the old-fashioned numbered boards to be brought out (61 mins)!
Maghoma then made a hash of an opening following his own excellent one-two into the box. He lifted his shot badly over the target with only Coburn to beat (62 mins). However, the writing was on the wall for Alty, who were being kept on the back foot. When Burton won a corner, on their left, they got a goal back. They took the corner quickly and, from it, the ball skimmed off an Alty head near the penalty spot and continued onwards towards the far side of the box, from where it was swept into the net, from close range, by Walker to make it 2-1 (67 mins).
Immediately, Johnson was withdrawn and Colin Little came on for Alty (68 mins). Within a minute Burton had the ball in the net again but Walker's' header was ruled out for offside. Two minutes later Danylyk was withdrawn in favour of Williams, which prompted Densmore's move into midfield as the tall defender moved into the back four (70 mins). Within a minute Burton had levelled the score when a neat passing move teed up Maghoma who scored a fine goal from the edge of the box (71 mins). Alty were now reeling and soon conceded a corner but they survived until Harrad came on for the Brewers, replacing Walker up front (74 mins). A minute later Burton had taken the lead with their third goal in eight minutes. This came as a ball was nodded forward into the goalmouth. Coburn came out to punch but was beaten to it by a header from Shroot which found the net (75 mins).
It briefly seemed as if Burton were going to score at will. Alty now swapped keepers as Saunders replaced Coburn (76 mins). But Altrincham now steadied themselves and Senior soon did very well to win the ball left of goal but Little was only able to hook the resulting pass over the bar (80 mins). With just seven minutes left, Burton made a quadruple substitution with Knowles, Corbett, Stride and Simpson replacing Austin, McGrath, Maghoma and Branston, bringing Burton's substitutions to nine in the second half (83 mins).
Altrincham had weathered their rocky period but neither side seriously threatened a goal in the closing stages though it took good covering from Williams to stop Harrad after he had got the better of Young (88 mins). So, Altrincham's unbeaten pre- season run came to an end but they had shown that they were capable of living with a League Two side until the second half substitutions had tilted the game the visitors' way.
---
Full-Time: ALTRINCHAM 2 BURTON ALBION 3
---