Match Report
---
ALTRINCHAM (2) 3
NANTWICH TOWN (0) 0
UniBond Cheshire Senior Cup Final
played on Monday, 23 March 2009, at 7.45pm
at Wincham Park, Witton Albion FC
---
SUMMARY: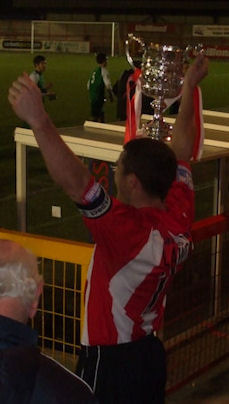 Right: Robbie Lawton receives the Cheshire Senior Cup.
Altrincham's depleted squad worked hard to secure a comfortable win over the holders, Nantwich Town, in the Cheshire Senior Cup Final at Wincham Park. In a game played in a difficult, strong wind blowing from one end of the pitch to the other, Colin Little netted his fourth goal in nine days to open the scoring, heading home from Johnson's flick from right of goal in the 18th minute. Chris Lane lashed home a second goal nine minutes later as Alty mastered the windy conditions and bobbly pitch more successfully than the Dabbers. Dale Johnson was withdrawn as a precautionary measure at half-time, because of tightening hamstrings, Alex Meechan taking his place. A superbly struck 35 yard freekick from Shaun Densmore made it 3-0 (68 mins).
---
SCORERS
18 mins: Colin LITTLE (Altrincham 1 Nantwich Town 0)
27 mins: Chris LANE (Altrincham 2 Nantwich Town 0)
68 mins: Shaun DENSMORE (Altrincham 3 Nantwich Town 0)
---
REFEREE: Mr. J.P. Dowd
---
ATTENDANCE: 689
---
TEAM NEWS
Alty were so short of players that Alex Meechan was the only first-team regular outfield player fit enough to be on the bench. Joe O'Neill and Chris Senior were both also named as subs but neither was fit to play and the other two substitute places went to keeper Richard Acton and Danny Heffernan, who has yet to play in the BSP. Chris Lane was restored to the starting line-up in the absence of the suspended James Smith.
---
BACKGROUND:
This was a repeat of last season's Final at the same venue which the Dabbers had won after a penalty shoot out following a disappointing show from Altrincham.
---
LINE-UPS
ALTRINCHAM (Red & white striped shirts, black shorts and red socks): 1. Stuart COBURN 2.Chris LANE, 4. Mark McGREGOR, 5. Greg YOUNG, 3. Matt DOUGHTY, 21. Shaun DENSMORE, 7. Robbie LAWTON (capt), 16. Anthony DANYLYK, 11. Warren PEYTON,14. Dale JOHNSON, 9. Colin LITTLE. Subs: 23. Richard ACTON, 15. Alex MEECHAN, 20. Danny HEFFERNAN, 19. Chris SENIOR, 12. Joe O'NEILL.
NANTWICH TOWN (Green shirts, shorts and socks): (Green & white shirts, green shorts and socks): 1. Roberts, 2. Richard Smith, 3. Dave Tickle, 4. Darren Tinson, 5.Charlie O'Louchlan, 6. Phil Parkinson, 7. Rodney Jack, 8. Dave McPherson, 9. Dave Walker, 10. Mike Lennon, 11. Danny Griggs. Subs: 12. Ashley Carter, 14. Dave Whittaker, 15. ???, 16.Robin Gibson, 17. Glyn Blackhurst.
---
REPORT
The sides changed ends so that Altrincham kicked off into a very stiff and cold wind. Not surprisingly, it took the teams some time to adjust to the conditions but, soon, Dale Johnson was showing good form for Altrincham. In midfield, Anthony Danylyk was soon snapping at the opponents' heels as the Robins made a far better start to this game than they had done in the Final last year.
Chris Lane helped Alty progress up the right with three successive throws. This was a ploy which paid off handsomely a few minutes later. This time, Lane, starting with a throw-in near his own right corner flag prompted three more successive throw-ins as Alty advanced 80 yards up the right flank in stages. From the last of these four throws the ball was played into the box by Densmore, flicked on by Johnson, and Little arrived to head home from the centre of the goalmouth. After a barren spell, Colin has now scored four times in nine days and has amassed 15 goals in all competitions, a total likely to secure him once again the position as the club's leading scorer this season.
Walker threatened for Nantwich on the right but when he played the ball in from the right, Nantwich were forced to play the ball back into midfield by some tight marking from Young and McGregor. Soon afterwards Walker forced a decent save from Coburn before Alty went to the other end where Johnson's shot was deflected out for the first corner of the night (26 mins).
This corner was not cleared properly, a Nantwich header from the far side of the box coming back to Lane in the inside right channel from where the right-back volleyed a fine shot past the keeper to make it 2-0 (27 mins). It was Chris's second goal of the campaign, following his winner at Newcastle Blue Star in the FA Cup.
Referee Dowd was proving fairly lenient as he allowed Walker to get away with a lecture after the Nantwich striker had pursued an "up and under" and deliberately charged keeper Coburn after he had caught the ball rather than make any attempt to play the ball. After treatment, Coburn re-started play with a freekick. A Densmore cross, following more good work from Johnson, yielded another Alty corner soon after this. Nantwich were enjoying their share of possession at this stage but without threatening to score. Next a promising Alty move ended with a strong cross from the right by Johnson but Peyton was unable to control it, just outside the box, and the half-chance went.
On the stroke of 45 minutes, McGregor was penalised for a trip on the lively winger, Griggs. From Griggs's freekick Coburn did well to tip the ball round the base of his left post but the Alty keeper was annoyed with the referee, seemingly for allowing the kick to be taken without due warning. Alty survived the resulting corner to go in with a two-goal lead at half time, just as they had two days earlier at home to Forest Green. That game had ended in a 2-5 defeat so Altrincham fans were less confident than they might otherwise have been with such a favourable situation!
---
Half-Time: ALTRINCHAM 2
NANTWICH TOWN 0
---
Interestingly Altrincham came out early for the second half and did a warm-up routine, which is something not previously seen this season. It may have stemmed from last Saturday when Alty's opponents Forest Green came out earlier than Alty, scored a goal after two minutes and had Alty on the back foot for the entire 45 minutes, scoring five times. Clearly, Graham Heathcote and Graham Barrow were not going to have their team caught cold again. Also, at half-time, Alex Meechan came on, up front, for Dale Johnson who was withdrawn as a precautionary measure with tightening hamstrings.
After a few minutes, during which Nantwich tried to applied some pressure, it was Altrincham who won the half's first corner. Densmore's inswinger used the wind well but the keeper caught it under the bar. Lawton and Meechan then combined for Densmore to shoot but his effort went wide. When Danylyk was fouled after the ball had gone, Mr Dowd again kept his card in his pocket. From the freekick, 35 yards out, Peyton hammered the ball into the wall and from the rebound Greg Young won a corner on the left. A short-corner routine led to another corner, this time on the Alty right. This came out to Lane, whose fine shot produced an excellent save from Roberts at the cost of a third corner.
Next a good ball from Lawton set Little free but his curling shot went wide (58 mins). After a Nantwich corner had been dealt with, the Dabbers made a double substitution. On came Whittaker and Carter whilst Lennon and Jack departed (64 mins). Altrincham remained comfortably in control as Peyton fired a shot wide. But when Peyton won the ball well, some 35 to 40 yards out, he was fouled and a freekick awarded in a central position. With the wind behind him, Densmore fired a superb shot into the keeper's top left corner to make it 3-0 (68 mins).
Northwich responded with a freekick themselves, from a similar range, but this went narrowly wide (71 mins). A foul by Parkinson, not his first, on Lawton gave Alty a freekick and, soon after this, Meechan was set free but sliced his effort off target (76 mins). Griggs became the first player to be booked when he clattered Chris Lane. He picked the wrong man in Alty's right back as Chris got up to confront the offender (77 mins)!
With the game into its final ten minutes, Blackhurst replaced Parkinson for Nantwich (81 mins). Walker then had a good shot at goal well held by Coburn (84 mins) but Altrincham rode out the final stages without any more real alarms and duly claimed the Cheshire Senior Cup for the first time since 2005. This was a thoroughly professional performance from a side which had reacted positively to the experience of the second-half drubbing by Forest Green 48 hours earlier.
---
Full-Time: ALTRINCHAM 3
NANTWICH TOWN 0
---