Match Report
---
EASTBOURNE BOROUGH 1 (1) ALTRINCHAM (0) 0
Blue Square Premier match
played on Saturday, 30 August 2008, at 3pm.
---
---
SPONSORS:
Match:
Away Team Match Sponsor:
Ball:
Programme:
---
SUMMARY: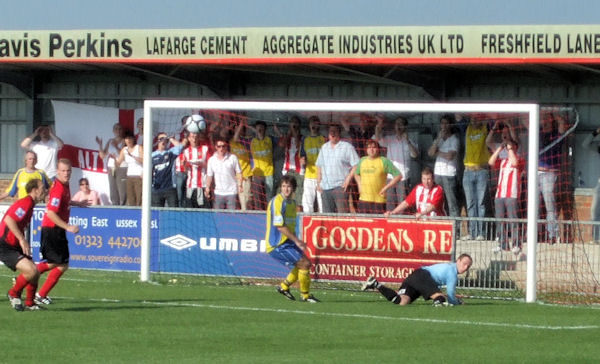 Above: Warren Peyton's 25-yard freekick has just crashed back off the underside of the crossbar, evading Dale Johnson.
Altrincham contrived to lose this game despite dominating the second half. Indeed, they were also more than holding their own before Armstrong scored the game's only goal in the 28th minute. An Alty attack broke down and Eastbourne quickly played the ball over the top of the Robins' defence to set Armstrong free, despite suspicions of offside. Alty keeper Coburn rushed out of his goal, then stopped, and the Sports' captain clipped a fine shot over him into the net. Alty had proved reluctant to shoot in the first half but had several decent second-half chances as they went forward time and again. Peyton was very unlucky to see a superbly struck freekick come back off the bar but the home defence held out, with home keeper Hook lifting the man of the match award.
---
BACKGROUND:
This was the clubs' second-ever meeting; the first having been Alty's 2-1 win at Stoke in the Conference North v South play-off final in 2005. Borough were a point ahead of Alty after two wins on the road. Priory Lane is a very well-appointed ground with friendly staff and supporters, and the match was unsegregated.
---
SCORERS
28 mins: Paul ARMSTRONG (Eastbourne Borough 1 Altrincham 0)
---
REFEREE: Mr I J Cooper
---
ATTENDANCE: 1,170
---
TEAM NEWS
Chris Lane had served his suspension for getting his body in the way of a Kidderminster shot last Saturday, but there was no place for him in today's starting line-up. So, Richard Battersby continued at right-back. However, Colin Litle was not fit enough to start, as he has a neck problem, so Chris Denham came into the line-up alongside Chris Senior, up front. Warren Peyton again played at left back, with Matt Doughty again in left midfield. With Lane on the bench, there was no place for sub keeper Andy Ralph.
---
LINE-UPS
EASTBOURNE BOROUGH (shirts, white shorts and socks): 1. Lee HOOK; 2. Darren BAKER, 3. Neil JENKINS, 6. Marc PULLAN, 5. Ben AUSTIN; 7. Pat HARDING, 4. Matt SMART, 8. Paul ARMSTRONG (capt), 13. Jay LOVETT; 14. Jean-Michel SIGERE, 10. Allan TAIT. Subs: 12, Andy BALLARD, 15. Nathan CRABB, 21. Mo HARKIN, 22. Chris WINTERTON, 31. Darren BUDD.
ALTRINCHAM (All yellow): 1. Stuart COBURN; 17. Richard BATTERSBY, 4.Mark McGREGOR, 5. Greg YOUNG, 11. Warren PEYTON; 15. Alex MEECHAN, 7. Robbie LAWTON, 16. Anthony DANYLYK, 3. Matt DOUGHTY; 10. Chris DENHAM, 19. Chris SENIOR. Subs: 2. Chris LANE, 6. Kevin STREET, 9. Colin LITTLE, 14. Dale JOHNSON, 18. Lee ELAM.
---
REPORT
On a hot, sunny afternoon Eastbourne kicked off, seeking their first win and goals of this season in their neat and well-tended Priory Lane stadium. Altrincham's Danylyk did well inside the first minute to feed Senior but the striker was muscled out of possession before he could get a shot in. Senior was soon involved again but his poor lay-off ended Alty's attack this time. He did better moments later but, stretching, he could only knock his shot wide (4 mins). But play was still pretty scrappy as Boro's Armstrong was caught offside by a late flag (10 mins). The game's flow was not helped by repeated delays for new balls to be produced every time the ball cleared the low terrace roof and went out of the ground. The first shot on target came from Eastbourne when Lovett turned well onto Jenkins's freekick but Coburn saved his hooked shot (13 mins).
Right: This shot from Chris Senior, in the second half, was blocked by keeper Hook.
However, Denham responded with a good 25-yarder for the Robins, which went narrowly wide. Indeed, Denham soon looked lively again but was penalised this time on the by-line, right of goal. Battersby was getting plenty of throw-in practice and he was also the provider as Senior forced a save at the end of a good Alty move (18 mins). But both sides were making too many unforced errors for it to be really entertaining fare. Alty won the game's first corner before Eastbourne enjoyed a good spell, culminating in Austin's powerful run and Tait's deflected shot for a corner (26 mins). Coburn then had to save well at the foot of his right post. When Denham found himself without help on the Boro by-line, he was dispossessed. Quickly, for the second time in the match, Armstrong was put free by a ball up the right channel, but this time linesman Venemore did not raise his flag for offside. Alty's exposed keeper, Coburn, dashed out but then stopped as he realised that Armstrong would get to the ball first. Boro's captain skilfully chipped the ball over the stranded Coburn to give his side the lead (28 mins). Alty boss Graham Heathcote protested, to no avail, that offside should have been given.
Lifted by their goal, Eastbourne's Tait now beat Young but shot wide (29 mins). At the other end, Senior was dispossessed inside the box. McGregor and Denham then fed Senior again, but he shot wide (35 mins). Alty were then fortunate that Tait made a hash of an attempted return pass to Sigère on the edge of the Alty box. However, Battersby and Senior then set up a 25-yarder for Lawton, which Hook saved (38 mins). Alty had another escape when Harding missed his kick from Sigère's pass from the right. Young was then lectured after he accidentally kicked Sigère in the head as they contested a ball. The resulting freekick went narrowly wide (42 mins). Meechan then mishit a twice-taken freekick before half-time arrived.
---
Half-Time: EASTBOURNE BOROUGH 1 ALTRINCHAM 0
---
After Alty had kicked off, Senior was seen off by Pullan, inside the box, before Meechan's cross yielded a corner with Peyton taking it, right-footed. After a scrappy few minutes, Alty made a double swap, Elam and Little replacing Meechan and Doughty (52 mins). So, Denham moved to the right wing. But then an ambitious 50-yard shot by Sigère only narrowly missed the target (53 mins). The Alty changes soon produced a corner before a wonderful cross by Denham found Little but the striker, who is carrying a neck injury, mishit his shot weakly to Hook (58 mins).
Peyton now conceded a corner, which Coburn did well to push out from under his bar. Next, Elam's run won a throw and, soon afterwards, Pullan was booked for foul on Little. From the freekick, 30 yards out, Peyton found Senior, who made space well but saw his shot from 12 yards out well blocked by Hook (62 mins). Alty were now getting on top, Young having a shot blocked before the referee denied Alty a corner, Elam being booked for his protest (63 mins).
Sigère got in a fierce shot across goal, but Alty's pressure continued with a corner, again taken by Peyton but headed wide by Battersby (68 mins). A shrewd pass from Danylyk found Little but he toe-poked the ball wide; chances were coming but Alty were not converting them. After a ball from Elam, which was neither cross nor shot, Coburn had to be alert to field Hook's huge punt from under his own bar (71mins). As Peyton conceded a foul on Sigère, for a Boro freekick 25 yards out, Johnson came on for Senior (73 mins). After treatment Sigère was subbed by Nathan Crabb (74 mins). Soon, Alty had a freekick, 25 yards out, for a foul by the already booked Pullan on Little. Peyton's brilliantly struck freekick beat Hook but cannoned out from the underside of the bar, in the keeper's top left corner (76 mins).
Crabb and Lawton then escaped bookings when they grappled with each other on the ground near halfway. But Armstrong was booked soon afterwards for a verbal offence following a foul by Harding (77mins). Boro were now on the back foot. Battersby's excellent freekick found Denham, whose smart turn and shot just missed the target. Harkin now replaced Harding (80 mins) but still the chances came as a fine cross from the right by Denham reached Johnson, but he headed over the bar (84 mins). Next, Battersby fed Denham and he got in a fine shot which Hook held at the near post (86 mins). Budd replaced Tait for Eastbourne as time ticked away for Alty (88 mins).
In added time Little threatened in the Borough box but was halted by Baker. As four added minutes of play ended, home keeper Hook was named Man of the Match, an indication of the pattern of the game, particularly in the second half. Alty dropped two places nearer the relegation zone but on another day, their pressure would have got some reward. In particular, Chris Denham had a fine game and did not deserve to emerge empty-handed.
---
Full-Time: EASTBOURNE BOROUGH 1 ALTRINCHAM 0
---