Match Report
---
ALTRINCHAM XI 0 STOCKPORT COUNTY XI 0
Friendly match
played on Tuesday, 19 August 2008, at 7.30pm.
---
SUMMARY: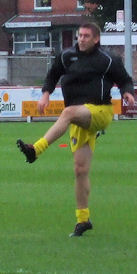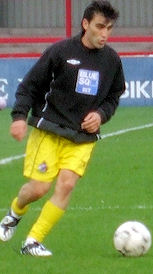 Pictured are Alty trialists - Dave Challinor (left) and Veysel Satiroglu (right). A Google search on the latter name finds one Asik Veysel Satiroglu who was an early 20th-century "Turkish minstrel and highly regarded poet of the Turkish folk literature" - not the same person, I think!
In an evenly-matched game between an Altrincham squad comprising eight first-team squad members and five trialists and a Stockport side which featured numerous players with first-team experience, the Robins were good value for their draw. The five Alty trialists included former Tranmere and Bury defender Dave Challinor, who has been a spectator at most of Alty's home games this summer. The other trialists included former Stockport County midfielder Damien Allen, making a return after having a pre-season spell at Moss Lane, and right-back Sean Densmore, son of former-Alty defender Peter Densmore. Sean, a product of Everton's youth system, had played against Alty in pre-season for Bradford City. The other two trialists were former Macclesfield Town youngster Chris Dykes and a Turkish player, Veysel Satiroglu, who played for 18 minutes on the left wing.
In the County team were Stephen Rose's brother Michael, and two former Alty loanees Greg Tansey and Paul Turnbull. County also brought some other familiar faces on the touchline, including manager Jim Gannon, kitman and former Alty striker Richard Landon and former Leigh RMI keeper Dave Felgate.
---
REFEREE: Mr Rick Bartlett
---
ATTENDANCE:
c.100
---
LINE-UPS
ALTRINCHAM XI (All yellow): 1. Andy RALPH, 2. Sean DENSMORE, 3. Warren PEYTON (capt), 4. Richard BATTERSBY, 5. Dave CHALLINOR, 6. Damien ALLEN, 7. Alex MEECHAN, 8. Anthony DANYLYK, 9. Joe O'NEILL, 10. Chris SENIOR, 11. Lee ELAM. Subs: 14. Chris DYKES, 16. Veysel SATIROGLU.
STOCKPORT COUNTY XI (Blue & black striped shirts, white shorts, blue/black socks). 1. Phil IMRAY, 2. L. McSWEENEY, 3. Michael ROSE, 4. Greg TANSEY, 5. J. TUNNICLIFFE, 6. L. HAVERN, 7. J. VINCENT, 8. Paul TURNBULL, 9. D. EDWARDS, 10. M. MAINWARING, 11. Anthony PILKINGTON. Subs: 12. D. GREEN, 13. F. RIGBY (gk), 14. D. PILKINGTON, 15. P. PIZZICA, 16. P. ENNIS, 17. A. HALLS, 18. L. JACKSON, 19. K. WILKIE.
---
REPORT
Warren Peyton was Alty's captain tonight as the visitors kicked off towards the Carole Nash end. The Robins were under the guidance of Graham Barrow as manager Graham Heathcote was with the remaining first-team players at training for the first part of this contest. Stockport soon settled to a neat passing game, keeping possession for sustained periods but not producing anything lethal at the end of it. Former Alty loan player Paul Turnbull was orchestrating much of the play from central midfield but ten minutes passed without either goal being threatened. The first significant shot came from Alty in the 13th minute when the hard working Meechan got in a decent effort from 22 yards but it went straight to trialist County keeper, Phil Imray, a New Zealander who has recently also trialed for Hibernian in Scotland.
But it was County who won the game's first corners, two in quick succession in the 22nd minute. After these, play stopped briefly for treatment to Meechan following the first significant foul of the game. Despite County's plentiful possession it was Alty who were showing a bit more incision as O'Neill turned well to get in a shot which just cleared the bar (26 mins). Indeed, Altrincham themselves were now getting more into the game and playing some neat passing themselves. A foul by Mainwaring then gave Alty a freekick just outside the box. From the freekick Peyton, Allen and Senior combined neatly in a pre-rehearsed routine which ended with Senior's dangerous low ball across the face of the County goal (29 mins).
County replied with two more corners as the defences remained on top. Alty then had a scare when Lee Elam pulled up with a yell on the left touchline. But after brief consultation with physio Sean Riley, the wing man resumed play (33 mins). More neat passing from both sides saw the game head towards half time. In the last minute of the half O'Neill did well from Peyton's feed and found Allen whose shot was deflected narrowly wide with Imray wrong-footed. The resulting corner came to nothing and the interval arrived with Alty having created three half chances whilst Ralph in the Alty goal had had virtually nothing to do.
---
Half-Time: ALTRINCHAM XI 0 STOCKPORT COUNTY XI 0
---
At the interval Elam gave way to Turkish trialist Satiroglu who took up the left-flank position. County's first-team boss Jim Gannon was soon making his views clear to his players as the game proceeded fairly uneventfully. Satiroglu did well to win possession and move in from the left to feed O'Neill who got in a shot at goal (51 mins). Soon Greg Tansey gave way to Green for County (55 mins). For the home side, Allen and Danylyk were performing tidily in midfield before Alty brought off their Turkish sub and replaced him on the left wing with Chris Dykes, a former Macclesfield Town youngster. The Turk had seen barely 18 minutes of action (63 mins).
After 67 minutes Wilkie replaced Edwards for Stockport. Danylyk then briefly pulled up before playing on, slightly uncomfortably. At the back, Richard Battersby in an unaccustomed centre-back role, was playing well alongside the experienced Dave Challinor who was rarely troubled by his opponents. Play continued fairly evenly but without too much goalmouth action until Allen needed attention for cramp after being fouled (86 mins). A poor pass by a County player gave Alty the chance to win a late corner when Senior forced the keeper to carry his shot over the by-line at the near post (88 mins). Imray made a strange upward punch from the corner by Meechan, when he could have caught the ball, but the game was destined to end goalless. For Alty, Allen was probably the pick of the trialists though Densmore was also generally efficient at right-back.
---
Full-Time: ALTRINCHAM XI 0 STOCKPORT COUNTY XI 0
---