Match Report
---
ALTRINCHAM (0) 1 KETTERING TOWN (1) 1
Blue Square Premier match
played on Saturday, 16 August 2008, at 3pm.
---
SPONSORS:
Match: The Jimmy Mac Family
Away Team Match Sponsor: Mike Garnett
Ball: Bob & Claire Allan
Programme: Tintagel Consultancy Ltd
---
SUMMARY: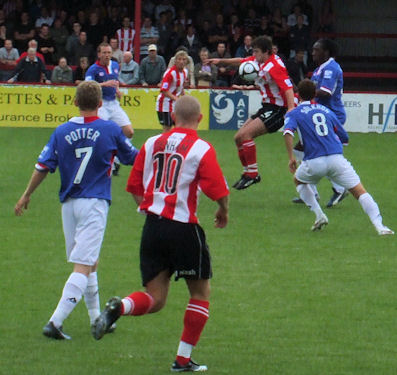 Right: Dale Johnson chests the ball down against Kettering.
After the seven-goal excitement at Moss Lane on Tuesday this was a hugely less entertaining spectacle. Alty got off to a poor start, surrendering the initiative from the kick off and falling behind when Robbie Lawton's foul gave the visitors a penalty, which former Hyde man Gareth Seddon converted in the sixth minute. Alty laboured for much of the next hour but the arrival of Warren Peyton as a substitute (65 minutes) helped Alty to capitalize on the territorial advantage and possession that they enjoyed in the second half. From his inswinging corne from the Alty right, keeper Harper, who had earlier made a stupendous double save from Little and Denham, fumbled the ball onto his own cross bar from where it dropped for McGregor to head his first goal for Alty with just six minutes left.
---
BACKGROUND:
This was the first meeting between these sides since Alty won the promotion play-off regional final from Conference North in 2005.
---
SCORERS
6 mins: Gareth SEDDON (penalty) (Altrincham 0 Kettering Town 1)
84 mins: Mark McGREGOR (Altrincham 1 Kettering Town 1)
---
REFEREE: Mr B Khatib
---
ATTENDANCE: 1,045
---
TEAM NEWS
After using the same starting eleven and squad for the first two matches, manager Graham Heathcote reacted to Tuesday night's home defeat by Barrow by bringing in Lee Elam at the expense of Alex Meechan. Chris Senior, despite his prolific pre-season, remained on the bench. Graham Heathcote also dispensed with goalkeeping cover on the bench, bringing Warren Peyton in for his first taste of BSP football this season, on the bench.
---
LINE-UPS
ALTRINCHAM (Red & white striped shirts, black shorts, red socks): 1. Stuart COBURN; 2. Chris LANE, 4. Mark McGREGOR, 5. Greg YOUNG, 3. Matt DOUGHTY; 10. Chris DENHAM, 6. Kevin STREET, 7. Robbie LAWTON, 18. Lee ELAM; 9. Colin LITTLE, 14. Dale JOHNSON. Subs: 12. Joe O'NEILL, 11. Warren PEYTON, 15. Alex MEECHAN, 16. Anthony DANYLYK, 19. Chris SENIOR.
KETTERING TOWN (Blue shirts, white socks and shorts): 1.Lee HARPER; 6. John DEMPSTER, 23. Exodus GEOHAGHON, 5. Guy BRANSTON (capt), 3. Tommy JASZCZUN; 4. Darren WRACK, 17. André BOUCARD, 8. Brett SOLKHON, 7. Alfie POTTER; 19. Gareth SEDDON, 10. Jean-Paul MARNA. Subs: 13. Stuart DORRILL, 2. Nicky EADEN, 9. Chris BEARDSLEY, 16. Luke GRAHAM, 18. Owain WARLOW.
---
REPORT
On a cloudy and breezy afternoon, Kettering Town kicked off towards the Golf Road end and within 15 seconds Greg Young had conceded a needless corner, which Kettering overhit out of play. Indeed Alty remained on the back foot for the opening five minutes Then Robbie Lawton rashly brought down the on-loan Peterborough player Alfie Potter in the outer reaches of the Alty box, well wide of goal, to concede a penalty. (Potter was a scorer for Havant in their FA Cup tie against Liverpool last season). Gareth Seddon converted the penalty though Coburn almost kept it out (5 mins). Frenchman Marna impressed for the visitors as did Potter as Alty remained on the back foot but then Lawton won his side their first corner on the left, whichwas cleared (11 mins).
A Kettering corner followed (14 mins) as the game continued in fairly unexciting fashion with no goalmouth action worthy of mention. Indeed the home side remained second best as the game passed the 20-minute mark, following which Little got in a tame shot - Alty's first of any note - at Harper from a feed by Johnson (21 mins). Elam on the left was tending to pass the ball back rather than take on his opponent. The big Kettering defence led by Branston was eating up all of the aerial balls and keeping both Johnson and Little quiet. However, Denham did get in a stooping header which went narrowly wide (26 mins) but neither side was giving the crowd much to get excited about as the half hour point was reached. It almost got worse for Altrincham when Kettering put the ball in the net after 34 minutes following a free kick for a foul by Lawton, but the effort was chalked off for handball.
As half time approached Alty did improve slightly with Little feeding Denham whose effort was pushed round the post by keeper Harper for a corner (40 mins). Denham was looking the liveliest of the Alty forward players and as the game went into added time, he was fed by Street but as he got into the box he trod on the ball and lost possession (45+1 mins). And so, half- time arrived with Alty trailing 0-1, as they had last Tuesday against Barrow.
---
Half-Time: ALTRINCHAM 0 KETTERING TOWN 1
---
The floodlights were put on at half time but they were barely needed despite the cloudy weather. Altrincham kicked off the half, attacking the Golf Road end and were to spend much of the half in the Kettering half. Their first opening came after 48 minutes when Lawton's chip from 25 yards just cleared the bar. But Kettering were still a problem on the break and Marna had to be halted as he got into the Alty box (50 mins). Elam then went close when a good run and cross from Denham on the right saw the Alty left winger rise well under a challenge but he could only knock his header wide of Harper's left post (51 mins). But Alty continued to undo their work with regular passing of the ball to the opposition, often when under no particular pressure. Alty saw Johnson poke an effort well wide (53 mins) before McGregor missed a ball forward by Kettering which caught Coburn unawares and he fumbled the ball before Young cleared the danger. Alty were now beginning to enjoy advantage as regards possession and territory but without showing an incisive streak.
The Alty management decided to change things after 59 minutes when Danylyk replaced Street in central midfield whilst Kettering brought on Graham for their captain, Jaszczun (59 mins). But Alty continued to give the ball away at regular intervals as the game drifted on without much to excite the spectators. After 65 minutes, Warren Peyton, a virtually ever- present player for Alty in recent seasons, came on for his first appearance of the 2008-09 season, replacing Elam who had again had a disappointing game (65 mins). Four minutes later Mark Cooper switched strikers as Chris Beardsley replaced Gareth Seddon (69 mins). Alty were grateful to Coburn soon afterwards when a long ball caught out the defence and the keeper had to come well out of his box to get a foot to the ball.
Altrincham almost levelled after 72 minutes when Peyton, who had brought an urgency to the game got on the end of Lane's freekick from the right. Peyton relayed the ball back from the left where Little forced a fine save from Harper and then an even better stop from the follow-up by Denham. An Alty corner resulted, which was delayed by treatment to the keeper. Alty now brought on Chris Senior for Dale Johnson who appears to be still in need of a bit more stamina to complete 90 minutes at this level (74 mins). Soon Senior was involved, getting to the left by-line before being halted.
Kettering's Warlow now replaced Boucard (78 mins). But it was the Poppies who almost doubled their lead when Potter forced a fine save from Coburn following an error by Doughty (80 mins). Doughty had a mixed game, doing some good work but then letting himself down with several passes straight to the opposition. From a punt by Coburn, taken by Senior in the right corner, Alty won a corner-kick (82 mins). The corner, taken as an inswinger from the right by Peyton, was touched onto the crossbar by Harper but dropped invitingly for McGregor to head into the net for Altrincham's equalizer (84 mins).
Branston was fortunate not to be booked for a foul on Little but soon afterwards Altrincham won a corner, again with Peyton involved in the winning of it. But though Alty were largely camped in the Kettering half they lacked the craft to break down the Poppies' defence again. Even four minutes of added time were not enough and so the points were shared, with Kettering recording their third successive draw whilst Alty climbed two places to tenth, with four points from three games so far this season.
McGregor was named Man of the Match for Alty, with Marna the choice for Kettering. But it was Peyton, the Alty sub, who probably had the most influence on the final outcome, as he brought a sense of urgency to the Alty midfield when the game was drifting towards a 1-0 away win for Kettering.
---
Full-Time: ALTRINCHAM 1 KETTERING TOWN 1
---